If you are looking for Reddit alternatives in the year 2021, you are in the right place.  At Reddit, you can join or create a community on any niche. The community members are allowed to share their stories or they can post images or unique links. You are armed to either upvote or downvote a particular story or a discussion and the stories with a higher number of votes are published on the top. The comment section allows you to discuss good or bad about the story and you can open up a debate with fellow community members. Said that the Reddit today has a huge number of members across the globe and covers the vast range of topics, in fact, anything you can imagine in this world.
Reddit has set its own rules and regulations and if someone breaks them, the member is banned from using the platform. To date, there are many other Reddit like platforms that allows you to share your opinions or images with much better UI and with lesser or no restrictions at all. As you read along, you will find yourself top sites like Reddit that are better alternatives for daily use.
10 Famous Sites Like Reddit – Better Alternatives You Must Check
With almost the same user interface, Voat can be called a true replica of Reddit. Founded in 2014, Voat allows you to post, comment or vote on any topic and are more lenient when it comes to content, posting, unlike Reddit which has gone hard in recent times to the type of content posted.
Just as the various categories in Reddit are called subreddits, the Voat has named them as subverses. You can create your own subverses, same as Reddit allows you to create subreddits. The voting in Voat can be done with a simple up and down arrows. In fact, the Voat's interface is more user-friendly when compared to Reddit.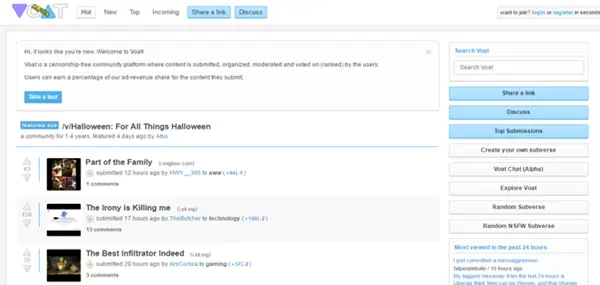 The value-addition done by Voat to its site is the partner program where they plan to share their revenue with the contributing users.
Read Also: Evernote alternatives for Windows OS
Quora is another open discussion site, you can look upon it as an alternative to Reddit. Quora has a respected list of followers and has gained huge popularity in recent times. More of a Question Answer forum, the user can ask questions on numerous topics and get replies to their queries from other users across the globe. Before posting a fresh question, you can search for your query in relevant topics and hopefully you will get your solution from the huge repository of questions and answers.
Quora allows you to register with them and you can subscribe to their helpful newsletter on a regular basis. If you are an already expert in any of your own field or want to gain more expertise, you have the good option to give your opinion or advice in a related category.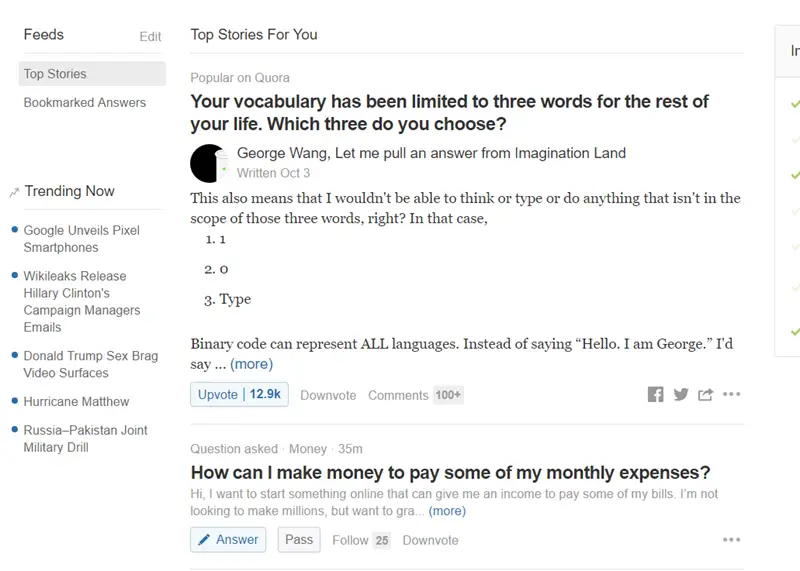 As the name suggests, Newsvine is a news-based platform and is the most searched for the latest news on varying categories. After registration, you can share your views on the comments form. Newsvine is an open platform where the crowd from any corner of the world can submit news. By using the seed button in your browser you can submit your own articles and if the content is unique and of high quality, it may get published on a front page which has readers in millions.
Apart from publishing their articles, the community members are allowed to indulge in a healthy debate on a number of topics worldwide. Founded in 2006, Newsvine is a Reddit-like community platform to read and share the news.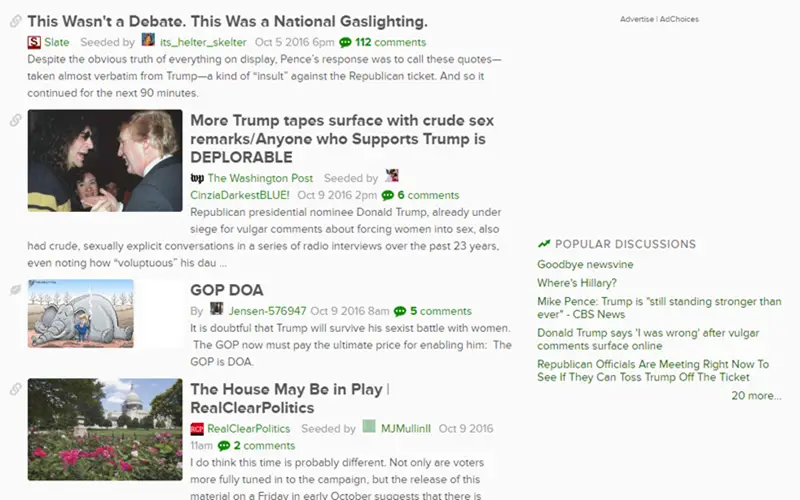 This favourite among the technology fanatics, HackerNews is not just about hacking news but instead covers vast topics on latest technologies, entrepreneurship, and startups. The site focuses entirely on the content in a simple way with no flashy bars but the news posted is produced at trustworthy sources like NYTimes, BBC, Github, Y-combinator, Microsoft, etc.
You can contribute to this authority site by submitting your articles and also by participating in a discussion with other contributors. Similar to Reddit, the hacker news allows you to downvote the post only after you accumulate 500 karma points. Found in 2007, the Hackernews is a great site for intellectuals around the world.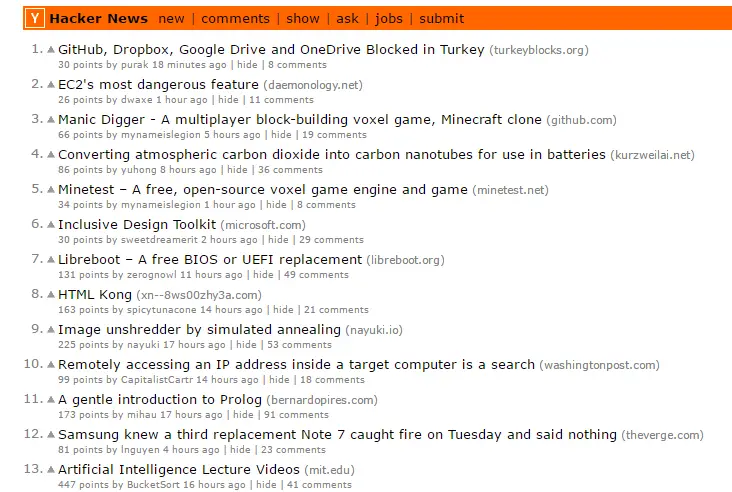 You can stumble upon various topics of your preference in this site like Reddit that lets you go through web pages of your interest. It can also feed you on a regular basis once you have picked your favorite areas. There are lots of websites on the internet that might be of your interest but are hidden on the web. StumbleUpon is one such platform that lets you come across various such sites that you might be interested in bookmarking them.
The Stumbleupon gets refreshed frequently and the site is flushed with new stuff every time you refresh it. Once you sign up, it allows you to share your unique content with other users and like or dislike other user's content.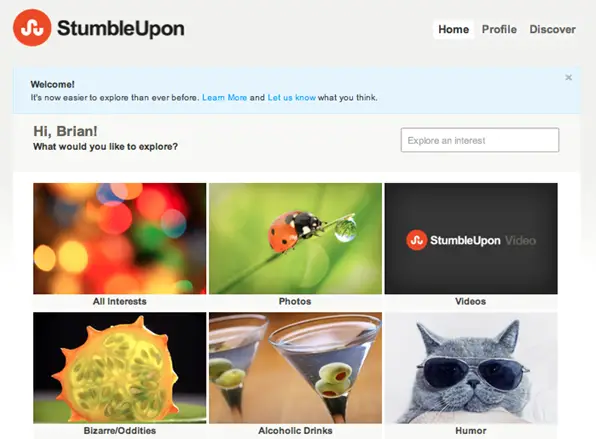 If you are looking for a Reddit-like website but with a cleaner user-interface, then Digg is the platform you can bet on. The articles and categories are well organized and with easy navigation, it's easy to find the content, best suited to you. The articles with maximum votes or maximum Diggs are featured on top of the homepage. Unlike other sites, the Digg promotes only quality stuff so be assured you will not come across meaningless or filler content.
The collection on Digg is awesome with content for every genre to select from. You can be a part of Digg either as a reader or can become a contributor by sharing some unique and valuable articles on this platform.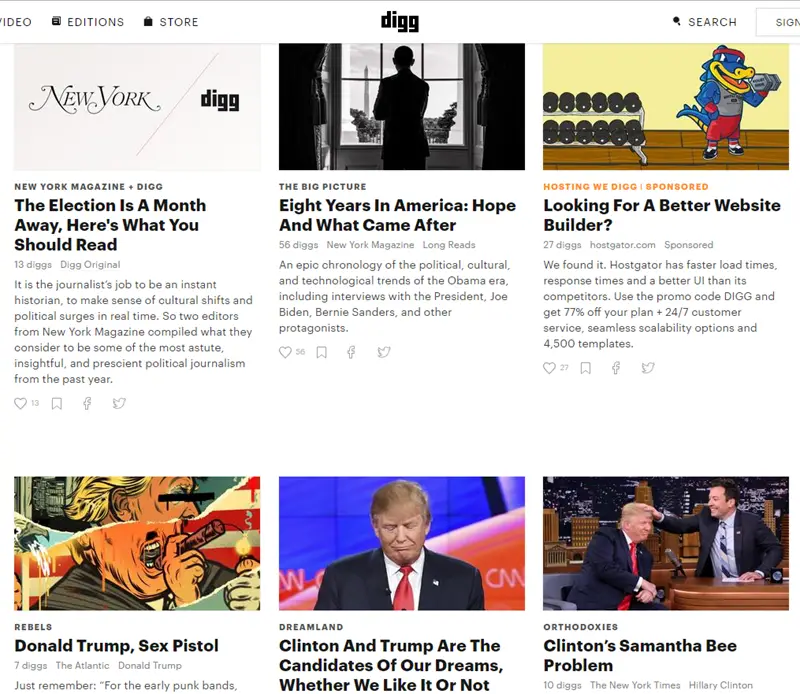 Do you want to know about the latest inventions or latest happenings in social media, video gaming, entertainment or technology? then Mashable is the blog you need to bookmark. Any new tool or App launched in the digital world is covered in this most respected and followed blog. The Mashable is not only just an alternative but a better option than Reddit since the Mashable is designed with better navigation and you can easily choose the relevant topic without putting much effort in searching.
Mashable lets you share the content and after signing up with Mashable you can create your own story, discuss a particular niche or share your best stories. Mashable today boasts of 45 Million unique visitors monthly, 28 million social media followers and approximately 7.5 million shares per month. Highly recommended for newbies, Mashable is a global technology and entertainment platform to look for.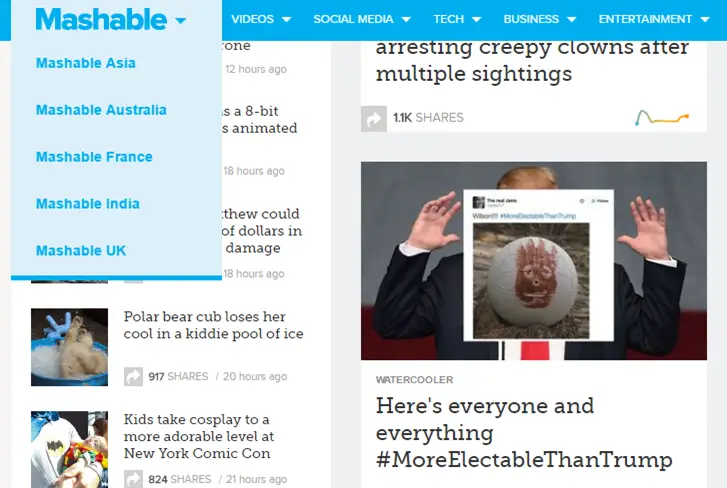 "Trending news around the world on a single web platform"- is what you can say about Popurls in one phrase. With Popurls, you need not pick a newspaper since all the latest happenings in the world are updated here at a lightning speed. Whether it is keeping up with politics, sports, technology, fashion or any other niche, it's only a click away. Whether you are at your home, a workplace or travelling, all you need a computing device and an internet connection and rest Popurls ensure that you have instant access to the latest world news.
Popurls is an aggregate of news headline links and with a clean UI which can be further customized by the user by a simple drag and drop method to select the news sites as per your choice. Established in 2006, the site is a perfect alternative to Reddit.

This is another alternative and there are few things that make 4Chan unique from other social blogs. This is the only Reddit like the platform that allows you to comment or do posting without having to register yourself. This a community board where anybody is allowed to paste images and comment on other images posted by other users.
The board consists of various categories like Japanese culture, Video games, Interests, Creative, and Miscellaneous. And the platform also allows you to post and share adult stuff and 4Chan won't reveal your true identity since you can share the adult images or cartoons by picking up any anonymous name.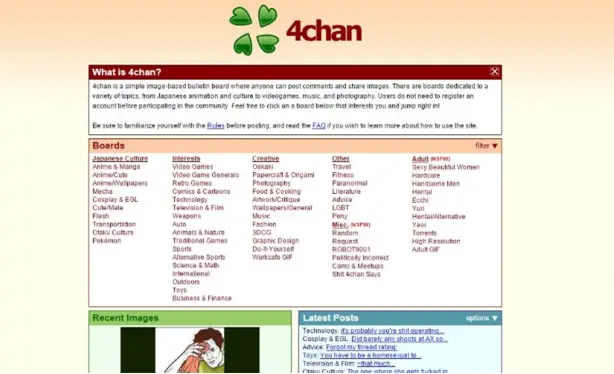 This is the platform meant to offer you the information about various categories of innovations and technologies available in the market. If you are searching for some products, gadgets or games to purchase then your hunt ends at Producthunt. Your search may not be limited to gadgets or products, you will be able to get the information about the latest website designs, the leading apps and anything you can imagine under the term technology. You name it and you have it.
Most of the users who stick to this platform are the ones who love to have their own space at their disposal to create their own list of informative articles to be shared with other like-minded readers and followers. If you want to have a real discussion platform on a technology or product, then producthunt is your destination.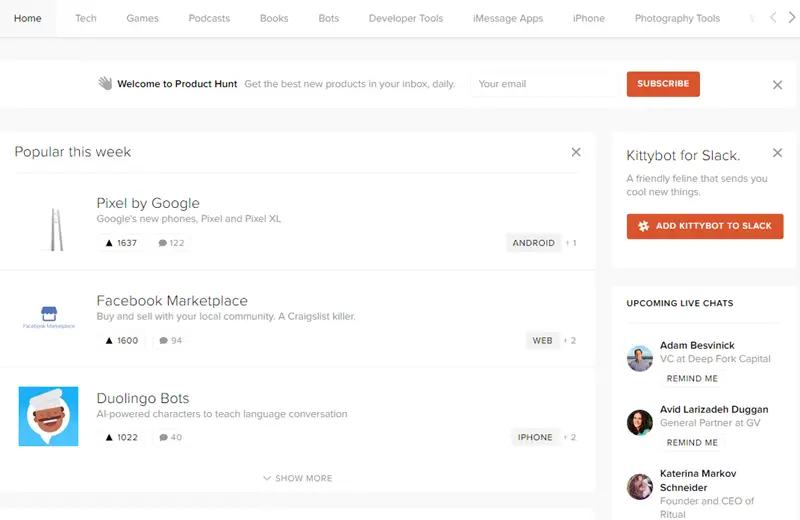 Final Words.
We hope our collection of sites like Reddit would be useful and to play around with alternatives. Although Reddit is one of the oldest and well-trusted platforms to share and discuss the stories, the above-mentioned Reddit alternatives give tough competition to it today. You just need to try some of these and find share your experience in the comment section here.