If you are looking for Reddit alternatives in the year 2022, you are in the right place. It is rightly said the world never sleeps so does the internet. Whatever happens in the world, it goes down on the internet through social media platforms like Facebook and Twitter that keep us busy with trends throughout the day. But these social media sites are now under the shadow of inauthenticity due to trolls and bots everywhere. Also, news/discussions on these sites are largely bogus without credibility. 
These reasons lead us to use a platform that has an entirely neutral online community. And Reddit is one of the platforms to look for if you are interested in every piece of breaking news. It gets the news even before the mainstream media keeps you updated about everything. From new technological inventions, every global political & entertainment news, the field of coverage is vast.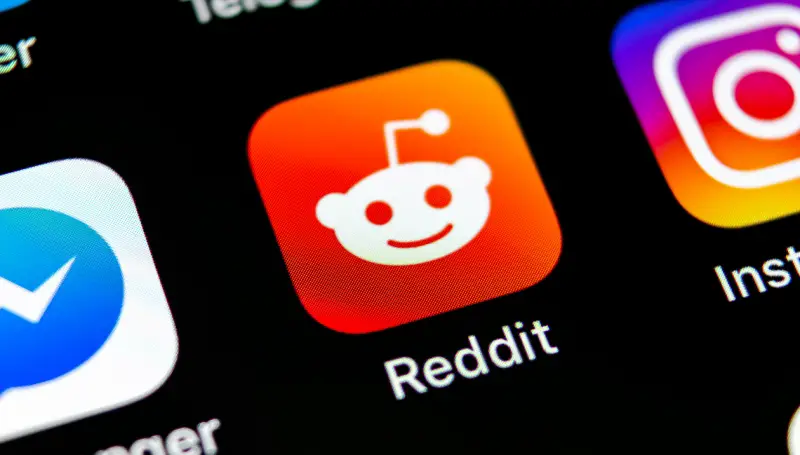 Reddit is the most popular website on the internet, even called a 'front page of the Internet.' Reddit has a huge audience. The best feature of Reddit that makes it so popular among the masses is that it allows the user to be completely anonymous so having a discussion is comfortable for everyone.
As an open platform, it allows everyone to participate, talk and discuss every topic ranging from Technology Sector to the entertainment industry, from cool inventions to world politics and share their views on these topics. One thing that makes Reddit is one of the most popular social media and news website is the fact that its users love it for the frequency of updates and the user community, and because of this, no other website can beat Reddit.
Another reason for this is that it has every news present on the internet regardless of the categories it belongs to. Also, Reddit allows users to build up communities, upvote or downvote any article, discuss with fellow community members, create a decent environment for debate on any topic, and the fact that you enjoy anonymity is a huge bonus. Reddit Gold comes at a $3.99 per month subscription that removes ads.
At Reddit, you can join or create a community in any niche. The community members are allowed to share their stories or they can post images or unique links. You are armed to either upvote or downvote a particular story or a discussion and the stories with a higher number of votes are published on the top. The comment section allows you to discuss the good or bad about the story and you can open up a debate with fellow community members. Said that Reddit today has a huge number of members across the globe and covers a vast range of topics, in fact, anything you can imagine in this world.
Reddit has set its own rules and regulations and if someone breaks them, the member is banned from using the platform. To date, there are many other Reddit like platforms that allows you to share your opinions or images with much better UI and with lesser or no restrictions at all. But if you need some more resources for finding information on any topic, then you can use these alternatives to Reddit, which provide more or less similar features to Reddit.
10 Famous Sites Like Reddit – Better Alternatives You Must Check
Quora is another open discussion site, you can look upon it as an alternative to Reddit. Quora has a respected list of followers and has gained huge popularity in recent times. More of a Question Answer forum, the user can ask questions on numerous topics and get replies to their queries from other users across the globe. Before posting a fresh question, you can search for your query in relevant topics and hopefully you will get your solution from the huge repository of questions and answers.
Quora allows you to register with them and you can subscribe to their helpful newsletter on a regular basis. If you are an already expert in any of your own fields or want to gain more expertise, you have the good option to give your opinion or advice in a related category.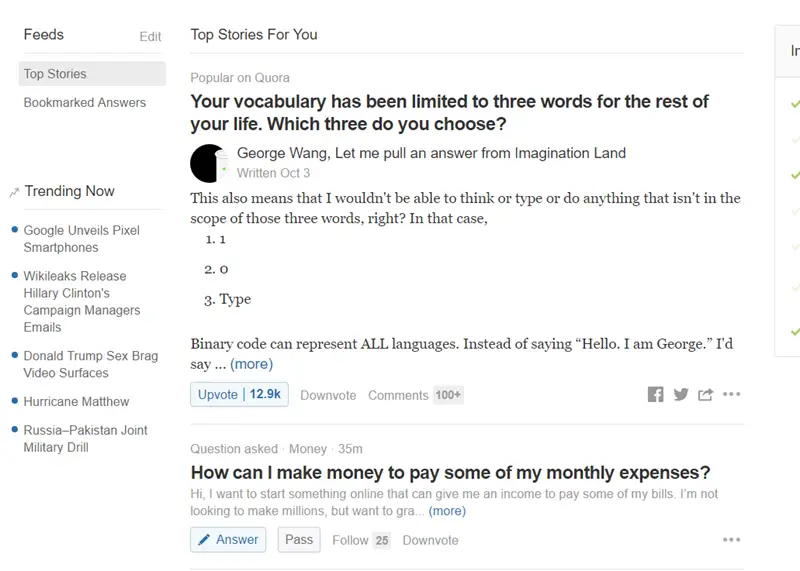 Read Also: Evernote alternatives for Windows OS
If you like a website with an intuitive, simple, and minimalistic interface that comes with sidebars, widgets, or flashy icons, then Hacker News is for you. Hacker News collects news updates related to tech from around the world. It is mainly for Hackers & Tech enthusiasts all over the world.
Hacker news is connected with The Washington Post and The New York Times, so its news is verified and credible. As the news item is posted, any user can freely indulge in discussions through comments. Each news item/ story gets votes, and its rank increases. And the most important thing, the news is presented in a basic and straightforward format.
This favourite among the technology fanatics, HackerNews is not just about hacking news but instead covers vast topics on the latest technologies, entrepreneurship, and startups. The site focuses entirely on the content in a simple way with no flashy bars but the news posted is produced at trustworthy sources like NYTimes, BBC, Github, Y-combinator, Microsoft, etc.
You can contribute to this authority site by submitting your articles and also by participating in a discussion with other contributors. Similar to Reddit, the hacker news allows you to downvote the post only after you accumulate 500 karma points. Found in 2007, Hackernews is a great site for intellectuals around the world.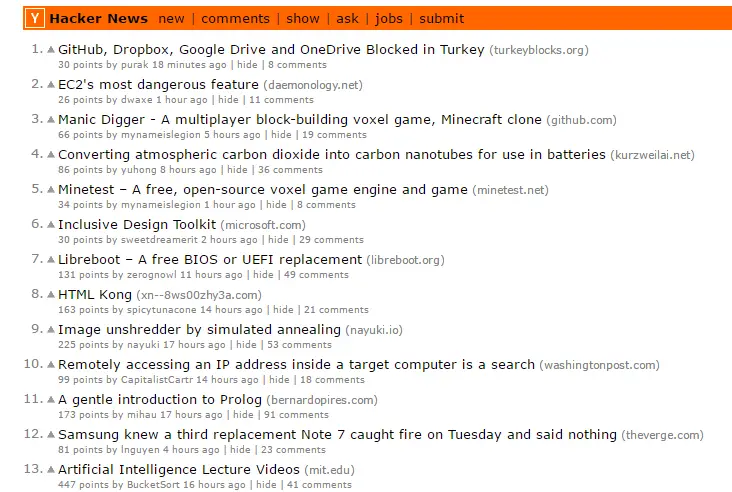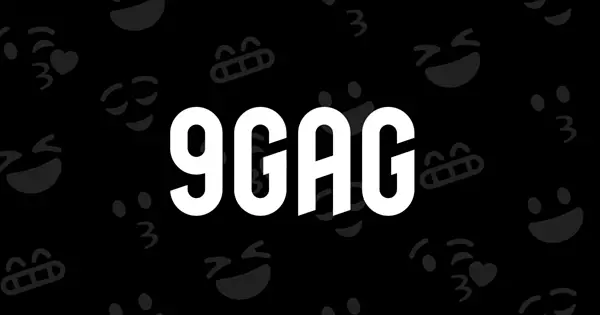 Started as a basic website for sharing memes and funny pictures, 9GAG has turned into a hilarious platform with a community of great people. It is not exactly a Reddit competitor. But now, with a lot of new sections based on people's interests, 9GAG has become an alternative to Reddit.
People can comment on posts and have discussions. While Reddit is informative, 9GAG is about entertaining yourself through memes & funny pictures and an even more comic comment section.
If you are looking for a Reddit-like website but with a cleaner user interface, then Digg is the platform you can bet on. The articles and categories are well organized and with easy navigation, it's easy to find the content, best suited to you. The articles with maximum votes or maximum Diggs are featured on top of the homepage. Unlike other sites, Digg promotes only quality stuff so be assured you will not come across meaningless or filler content.
The collection on Digg is awesome with content for every genre to select from. You can be a part of Digg either as a reader or can become a contributor by sharing some unique and valuable articles on this platform.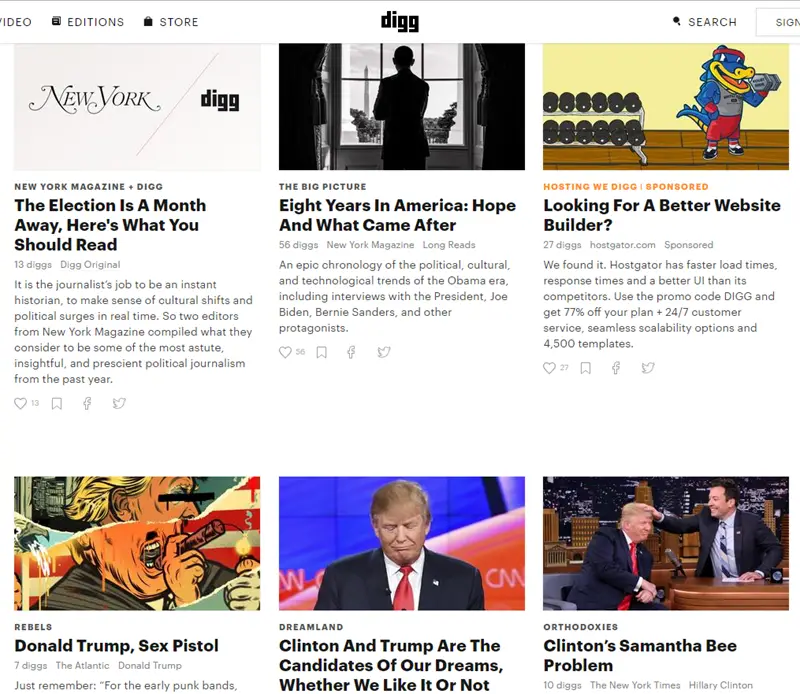 Imgur is an American online image sharing and hosting community site, liked by users from social media websites like Twitter & Reddit due to its ease of use and flexibility. It allows users to post images & animated files for free. The website supports advertising along with paid professional accounts.
These images are kept on the website for free unless it is accessed at least once in 6 month period. Users can post, comment, and share images. Although Imgur is spelt differently, it is pronounced as 'Imager,' which is directly connected to the ability to share images. Imgur has a history of playing April Fools' Day pranks on its users.
Do you want to know about the latest inventions or latest happenings in social media, video gaming, entertainment or technology? then Mashable is the blog you need to bookmark. Any new tool or App launched in the digital world is covered in this most respected and followed blog. The Mashable is not only just an alternative but a better option than Reddit since the Mashable is designed with better navigation and you can easily choose the relevant topic without putting much effort into searching.
Mashable lets you share the content and after signing up with Mashable you can create your own story, discuss a particular niche or share your best stories. Mashable today boasts of 45 million unique visitors monthly, 28 million social media followers and approximately 7.5 million shares per month. Highly recommended for newbies, Mashable is a global technology and entertainment platform to look for.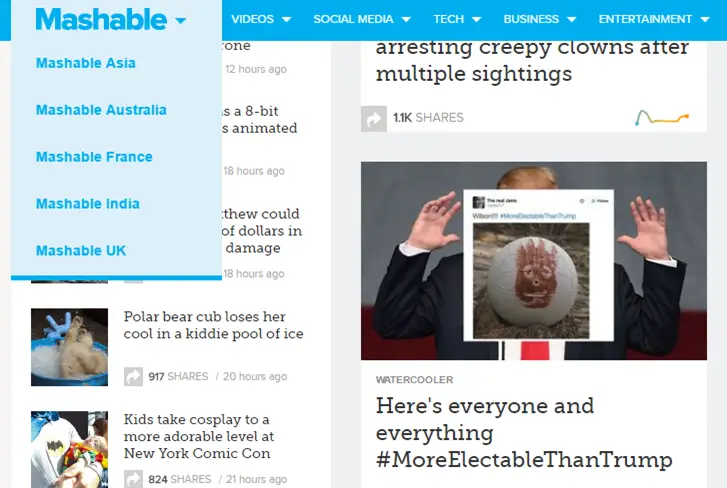 It is a Reddit alternative concentrating only on Technology. It sources news from various websites across the internet and provides them on its front page. Users interact with the post by commenting and discussing their opinions on the story. It is for tech-geeks who like to stay updated with every new Tech-news.
This is another alternative and there are a few things that make 4Chan unique from other social blogs. This is the only Reddit like a platform that allows you to comment or do posting without having to register yourself. This is a community board where anybody is allowed to paste images and comment on other images posted by other users.
4chan is an anonymous image posting website. Users can post on any topics ranging from video games, literature, politics, music, sports, anime, fitness & movies without registering. This allows users to be completely anonymous so that they can post without even the slightest threat of accountability.
The board consists of various categories like Japanese culture, Video games, Interests, Creative, and Miscellaneous. And the platform also allows you to post and share adult stuff and 4Chan won't reveal your true identity since you can share the adult images or cartoons by picking up any anonymous name.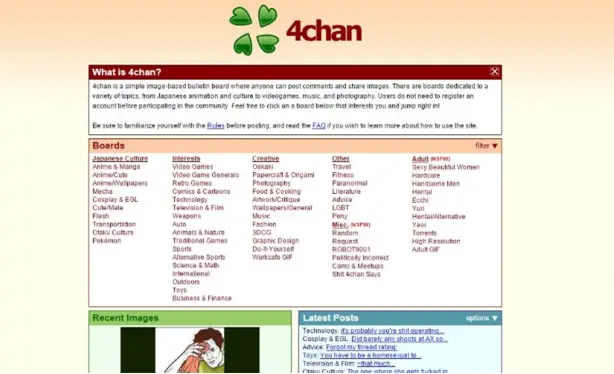 This is the platform meant to offer you information about various categories of innovations and technologies available in the market. If you are searching for some products, gadgets or games to purchase then your hunt ends at Producthunt. Your search may not be limited to gadgets or products, you will be able to get information about the latest website designs, the leading apps and anything you can imagine under the term technology. You name it and you have it.
Most of the users who stick to this platform are the ones who love to have their own space at their disposal to create their own list of informative articles to be shared with other like-minded readers and followers. If you want to have a real discussion platform on a technology or product, then Producthunt is your destination.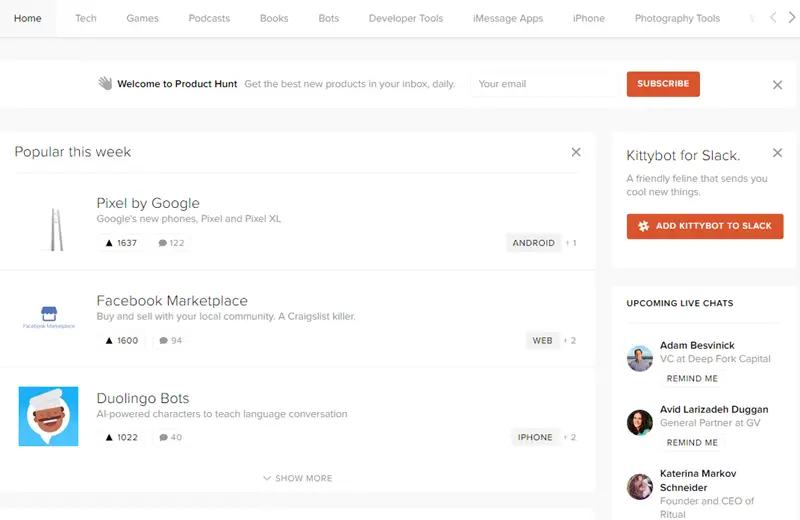 It is a blogging platform that allows its user to post their articles and blogs and earn money from them in the form of Cryptocurrency Steem (Steemit own currency). It never stores the content on its server but has a separate hosting like postimage. It is not a direct competitor to Reddit as its main aim is to encourage users to write.
Final Words.
So, there is plenty of open-source platform/website serving as a perfect alternative to Reddit. Some have paid features some do not. Some have almost similar features as Reddit. So based on your requirement, one can select any site from the above list.
We hope our collection of sites like Reddit would be useful and play around with alternatives. Although Reddit is one of the oldest and well-trusted platforms to share and discuss stories, the above-mentioned Reddit alternatives give tough competition to it today. You just need to try some of these and find share your experience in the comment section here.
Who are Reddit's competitors?
Mentioned in the article.
Is Reddit a safe site?
There is no moderation on Reddit, so a large amount of inappropriate content is present.