Backpage was an online classified advertising platform that started back in 2004 in the US. This website was working as a platform to post any new job requirements, events, property listing, and more.
Unfortunately, it also became famous for adult ads posted on Backpage, which lead to its closure by the United States Department of Justice on April 2018.
The reason behind the closing of Backpage was the adult ads section, which was used to post listing related to human trafficking, prostitution of children in different subcategories.
When in April 2018 Backpage was closed, the users started looking for an alternative to the Backpage website. In this post, we will talk about the top 10 sites like Backpage, those are legit, which offers a similar catalog of classified ads.
Top 10 Backpage Alternatives in 2020
Craigslist is one of the top alternatives to Backpage and used for a wide range for classified ads. This site offers services in various sub-continent like the US, Canada, Asia/Pacific/Middle East/Oceania/Latin America/Africa.
To start using this platform, end-user need to select their region, followed by State and City from the list. And they can see all the ads posted in that region.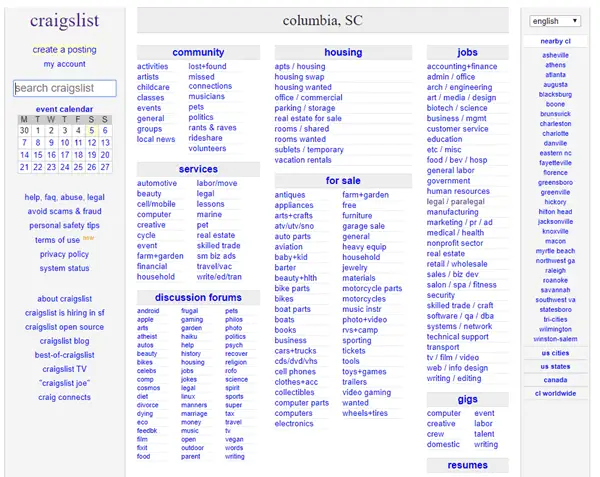 After selecting for the region, the site will show a list of categories divided by subcategory and filters to select appropriate criteria to get the best result.  
Craigslist offers many subcategories like Backpage and used to provide a section for personalized ads. The customized ad section was closed back in 2018 by Craigslist because it gained popularity in adult ads.
In the early days of Facebook, it used to be just another social media platform, but now it has grown up much and transformed into a completely new space.
Facebook now acts as an alternative to the Backpage by offering different sections to post classified ads, requirement, or demand.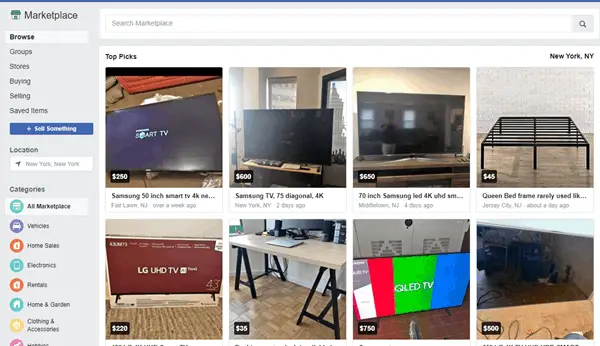 For example, users can post their requirements on their Facebook wall, which will then be used by the prospect interested party to connect.
Another way is to post the requirement on certain groups were like-minded users are available to interact, offer their service, or take one.
Being the world's number one social media platform attracts lots of users; hence cannot be ignored. 
Gumtree is an online classified advertising and community website based in the UK. Gumtree started back in 2000, intending to provide robust experience in terms of classified ads for end users.
A site like Gumtree offers ads in many verticals like jobs, property-related, pets, car/bike & their accessories sell and purchase, appliances, pc and other services like tuition classes, health, and beauty. 
There is a community category that allows an individual user to connect with like-minded people from different tastes and cultures.
Offerup is an excellent substitute for Backpage, as it offers features like buy, sell & offer up.
Started back in 2011, it provides a wide range of options to access the platform, i.e., via desktop, mobile, and app-iOS and android.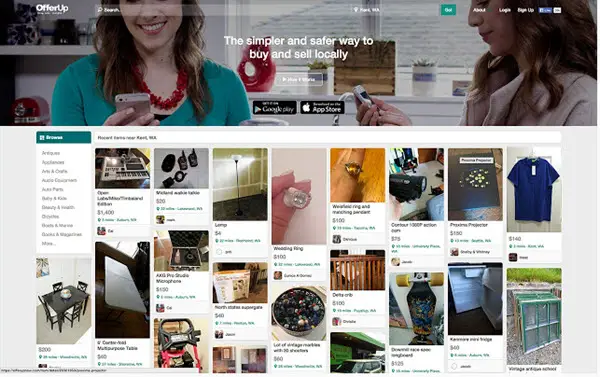 It also offers a chrome-based add-on that an end-user can use to quickly snap a photo of the item and post them on OfferUp.
OfferUp offers a great UI, selecting is very easy and helps end-user to get up and running in no time. It acts as a great local marketplace that competes with big players in the market like eBay, Facebook, Craigslist, and more.
ClassifiedAds offers a vast list of categories to post classified ads. It provides a wide range of categories such as jobs, vehicles, pets, services, and more. 
Posting a new ad on this platform is free, and it can be mapped to appropriate subcategories and demographics to make the ad reachable to the correct set of audiences.
The most popular regions in which ClassifiedAds are famous are the US, Canada, Australia, India, Mexico, and the UK.
Locanto is yet another site like Backpage, which initially started in Germany and is now available in more than 60 countries worldwide.
Due to the large user base present on this platform, it is easy to post and get prospective buyers for the item quicker and convenient.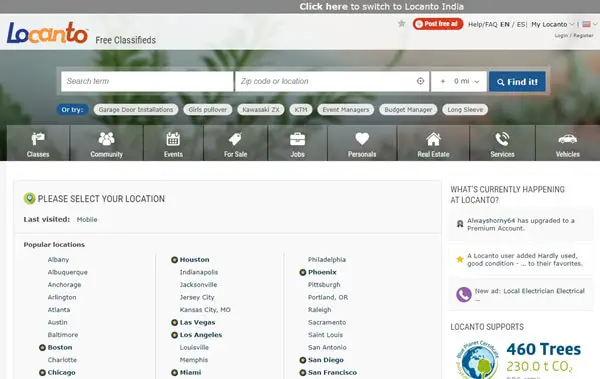 Locanto allows categories to post ads in automobiles, jobs, fashion, multimedia & electronics, baby and kids, personal ads, and more.
The subcategory on Locanto spread across many other verticals, which makes navigating and finding appropriate items easy and convenient.
For example, in the baby and kids' section is broken into kids' stuff, which is divided further into bottles, playmates, rockers, walkers, etc. It also offers keyword tags that one can use to access all related content that matches that keyword.
Oodle works in varied ways when compared with another platform. It aggregates advertisements from different channels like eBay, ForRent, Gumtree, and more.
The different category it offers is Vehicle, Rental property, Jobs, Pets, Services, Personals, Tickets, and Community.
Oodle is famous in countries like India, Ireland, United States, Australia, New Zealand, United Kingdom, Canada.  
Hoobly is another site like Backpage which offers a wide range of category to post ads. Hoobly is mostly famous for its pet supplies. i.e., people who want to buy or sell pet supplies prefer Hoobly over other classified ads platform. It offers a wide range of pet animals available for adoption like dogs, puppies, rabbits, cats, etc.
There are other sections also available in Hoobly, like real estate, jobs, vehicles, and others.
Here is another site that allows end-user to post ads in different verticals like merchandise, employment, rentals, real estate, construction, farm equipment, vehicles, and services.
Geebo started in the US, and it offers services to more than 3 million visitors. It provides a unique yet straightforward user-interface, which makes navigating on the site easy and convenient.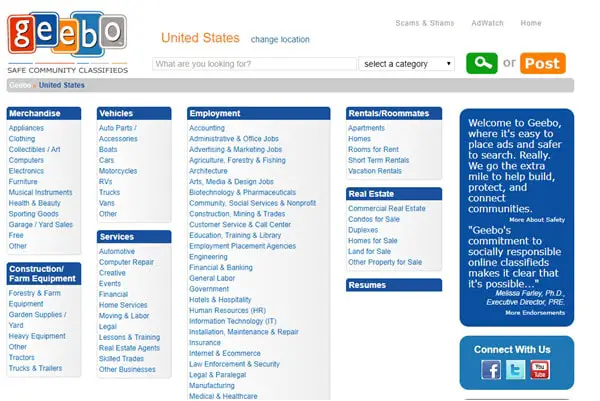 Geebo jobs section allows users to upload their resume, which connects to prospective employers who will then connect with the user for the selection process. 
The employer needs to register on this platform to access the prospect candidate's resumes and connect for further rounds. It is a paid listing where-in employer can pay for the duration of time they need access to the portal.  The pricing varies based on access for 1,3 or 6-months tenure for a price of $299,799 and so on.
FreeAdsTime is one of the alternative sites that offer a wide range of categories to post ads. The interface is like that of Backpage & offers easy to posts new ads without registering as a guest user.
Services of FreeAdsTime is spread across many cities and thus offers easy to connect with local buyer or seller in a short period. One should not miss this platform to post free classified ads.
These are the top 10 alternative websites for Backpage, we have selected these ten sites as compared to other platforms because of their excellent user interface, popularity in different locations.
Apart from these 10, there are other sites like:
Olx
Localfind
AdvertiseEra
RectangleAds
H1Ads
GiganticList
FinderMaster
BooKoo
Recycler
These sites are equally popular in different verticals that one can also consider. 
Do let us know which is your favorite Backpage alternative website and which feature you like the most in it in the comment section below.