There was a time when ThinkGeek was a one-stop shop for all the geeks and tech nerds. Their online store offered a wide range of products, which included gadgets, collectibles, toys, clothing gadgets, and games designed to cater to the geek community. 
Unfortunately, ThinkGeek, the popular virtual store for geeks, shut down its doors in 2019, and its remnants merged with a selection of GameStop's online operations. While the shutdown of ThinkGeek left its loyal customers without an option, it also sparked outrage among some of its customers.
Either way, what's done is done, and you can do nothing about it. But in this digital era, you can find anything if you put your back into it. While ThinkGeek is gone, other e-commerce websites on the Internet offer a wide range of products to serve its customers' needs, and some even appeal to the specific demographic of the ThinkGeek community. So, without further ado, here's our list of the best ThinkGeek alternatives. 
What is ThinkGeek and What Happened to It? 
While working on a small internet venture, Jen Frazier, Jon Sime, Scott Smith, and Willie Vadnais created Thinkgeek as a side project. 
Eventually, it became a successful web store dedicated to tech nerds and geek culture. The website was actually launched on August 13, 1999.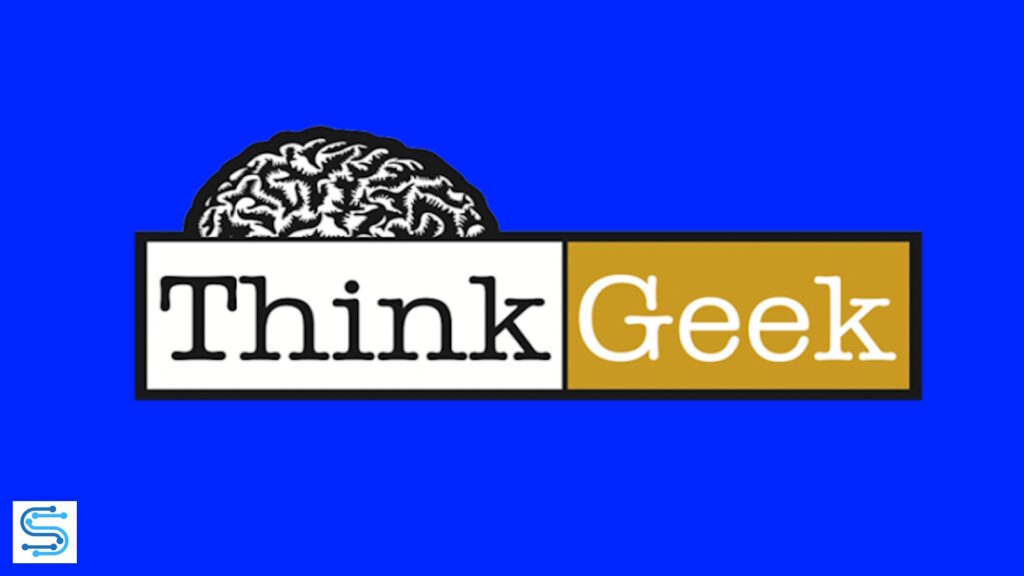 Unfortunately, after 20 years of service, ThinkGeek ended, and some of its operations were migrated to its parent company, GameStop's website. 
Now that ThinkGeek has ceased operations, you may wonder where to go to fulfill your nerdy desires. Well, don't worry; we've got you covered. We have prepared a list of the best ThinkGeek alternatives for you to check out.
Read Next: 12 Sites like Reddit – Better Reddit Alternatives in 2023
Top 10 ThinkGeek Alternatives in 2023
After the consolidation of ThinkGeek into GameStop, the loyal customer base was left hanging. They were missing the site and its vibe and had nowhere to go to relinquish the need for geeky and nerdy stuff.
Hence, there is a need for ThinkGeek alternatives to explore and check off that bucket list that you have been holding on to for so long.
1. Entertainment Earth 
According to our research, Entertainment Earth is one of the best ThinkGeek alternatives and a popular online geek retailer.
Entertainment Earth offers an excellent UI and thousands of licensed products. It is especially great if you are interested in finding Hollywood or movie-related stuff. Their extensive product range includes items from Marvel, DC, Funko, Star Wars, and more. The site even caters to a rising Anime fan base with amazing stuff for Dragon Ball, Naruto, One Piece fans, and more.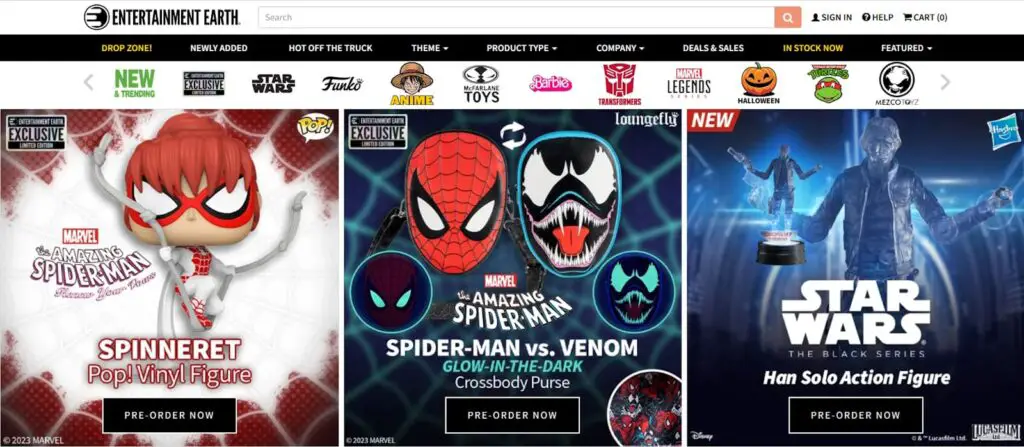 Entertainment Earth continues to deliver smiles to its geeky clientele worldwide with its vast selection of products, which continues to expand to date. 
Entertainment Earth Standout Aspects
A user-friendly site where navigation is simple 
Exclusive items and limited-edition collectibles
A great place for collectors with guaranteed "Mint Condition"
A 90-day return policy
2. Firebox
You can also try this UK-based ThinkGeek alternative for a change if you are looking for something out of the box. 
Firebox started back in 1998 with the domain name hotbox.co.uk. However, the company was forced to change the name hastily to Firebox.com as another company already took the name Hot Box.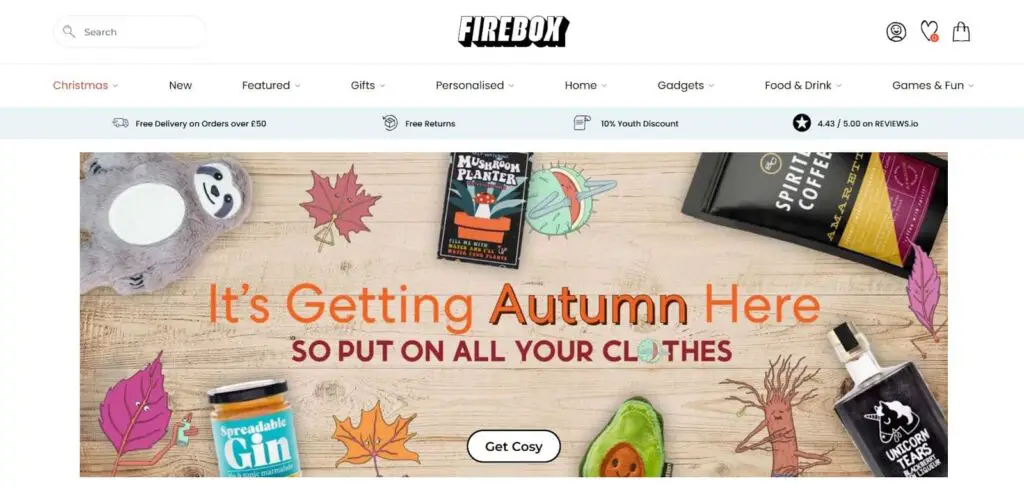 The site offers diverse lifestyle accessories, exotic beverages, cutting-edge technology, and much more.
Firebox Standout Aspects
Firebox ships globally
A great stop for geeky gadgets, novelty items, and unique and customizable gifts
3. Wish.com
Wish.com is an online shopping platform that allows its customers to shop for products directly from merchants at a reasonable price. It's basically comparable to big e-commerce sites like eBay or Amazon.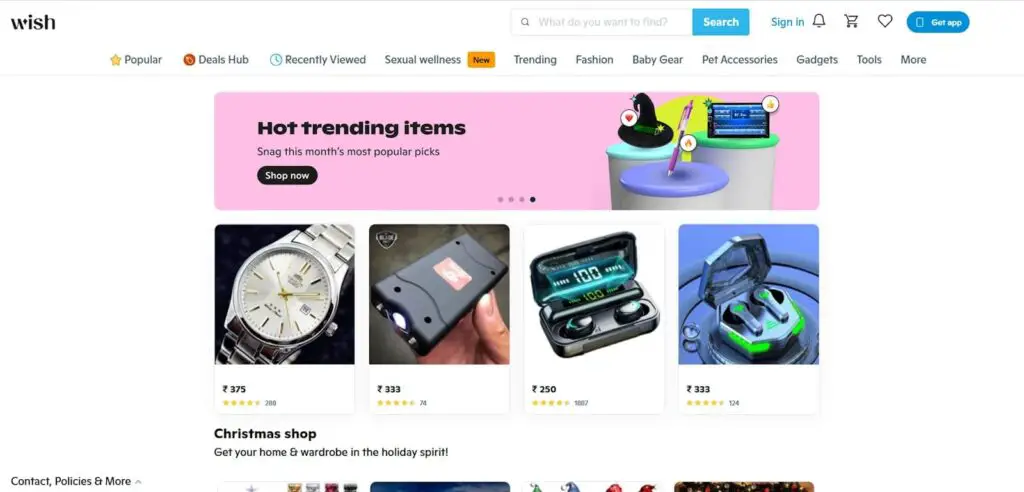 It is one of the best ThinkGeek alternatives that is often recognized for its diverse selection of products, and they are also quite renowned for offering ridiculously low prices. It is a relatively new website, began in 2010. But since then, it has become a major player in the e-commerce market.
Wish.com Standout Aspects
A variety of products are offered at affordable prices
The mobile app makes shopping convenient
Provides discounts quite frequently
4. NeatoShop
NeatoShop is a gadget and technology-focused website that offers an excellent selection of items that are unique and contemporary.
In addition, this ThinkGeek substitute has an entire section dedicated to novelty items.

The site also offers a diverse selection of hoodies and t-shirts in a wide range of colors and styles.
NeatoShop Standout Aspects
High-quality apparel collection with vibrant prints and accessories
A vast selection of products
5. BoxLunch
BoxLunch is another great alternative to ThinkGeek and besides being a popular site for the geeks, the site also donates a portion of their sales to Feeding America.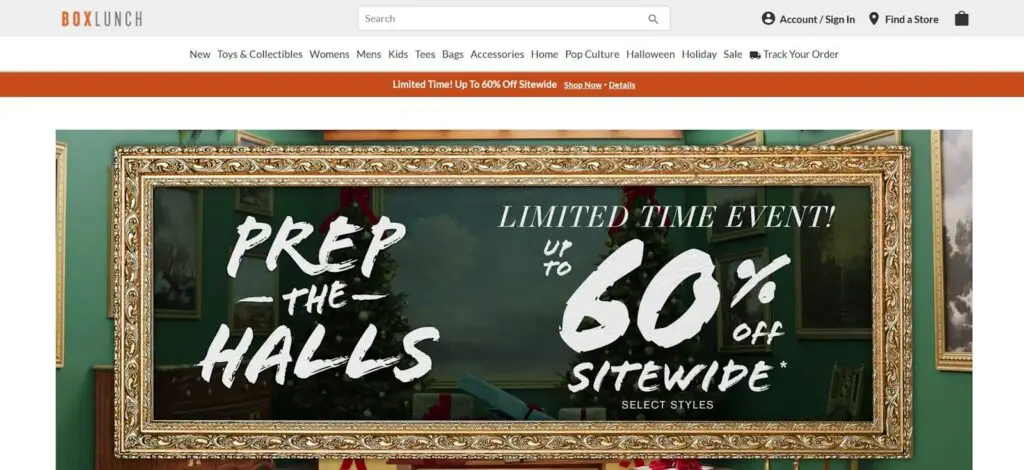 So, you are not only taking care of your geeky needs but also contributing to humanity. BoxLunch offers a wide range of pop culture merchandise that includes apparel, lifestyle accessories, collectibles, and more.
BoxLunch Standout Aspects
Committed to giving back to the society
BoxLunch exclusive products
Merchandise from a wide range of popular franchises
6. Hot Topic
Hot Topic is one of the most popular ThinkGeek alternatives. The site offers a wide array of pop culture and music-inspired merchandise.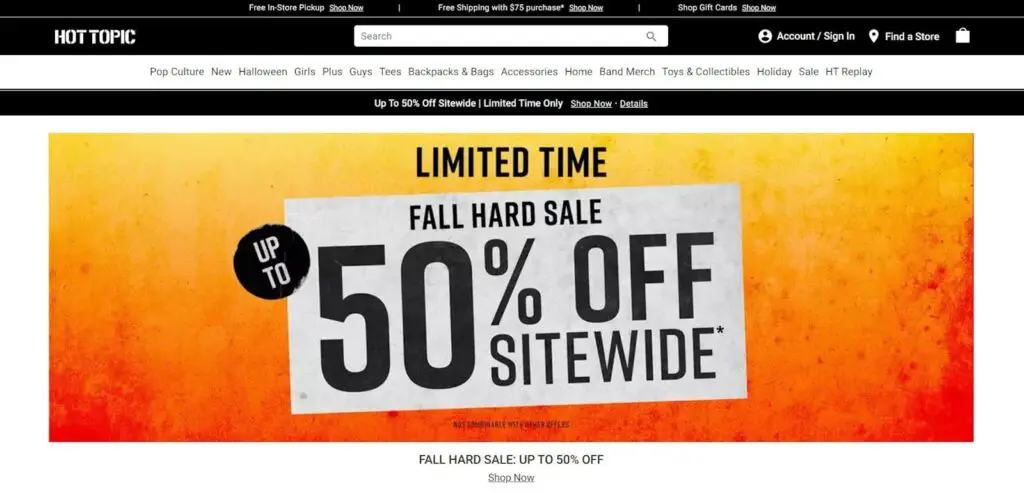 Additionally, the retainer carries a broad range of apparel, accessories, and collectibles catered to geeky needs.
Hot Topic Standout Aspects
Physical locations, in addition to online store
Often provides promotions and discounts.
7. Geek Store
Geek Store is another superb alternative to ThinkGeek. They offer gaming, movie, and TV-related merchandise.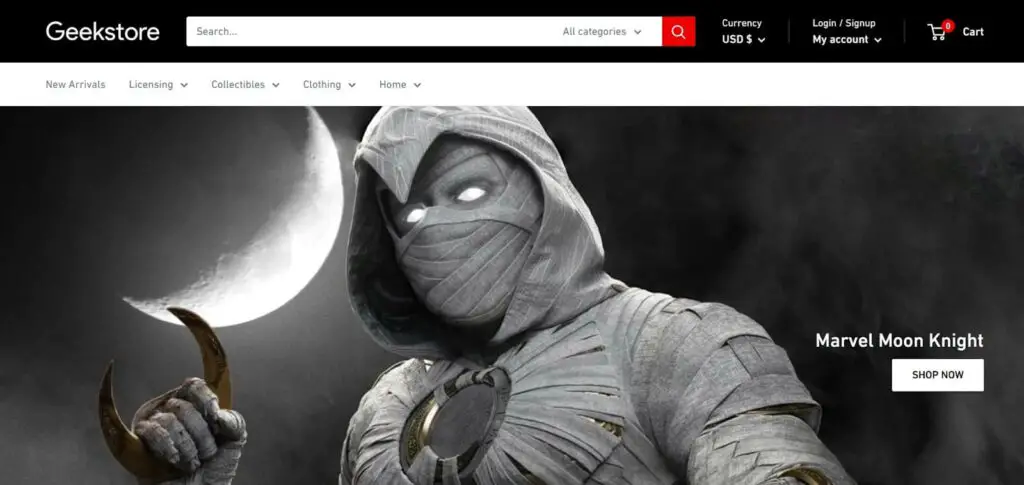 This online retailer is known for its wide variety of products, including clothing range, accessories, and home products.
GeekStore Standout Aspects
The main focus is gaming and pop culture
Frequent sales and promotions
Shops worldwide
8. Geeky Gift Ideas
Geeky Gift Ideas has a selection of a wide variety of products for geeks, including popular anime, Star Wars, and more. You will also get the most fantastic gift ideas just by checking out the site.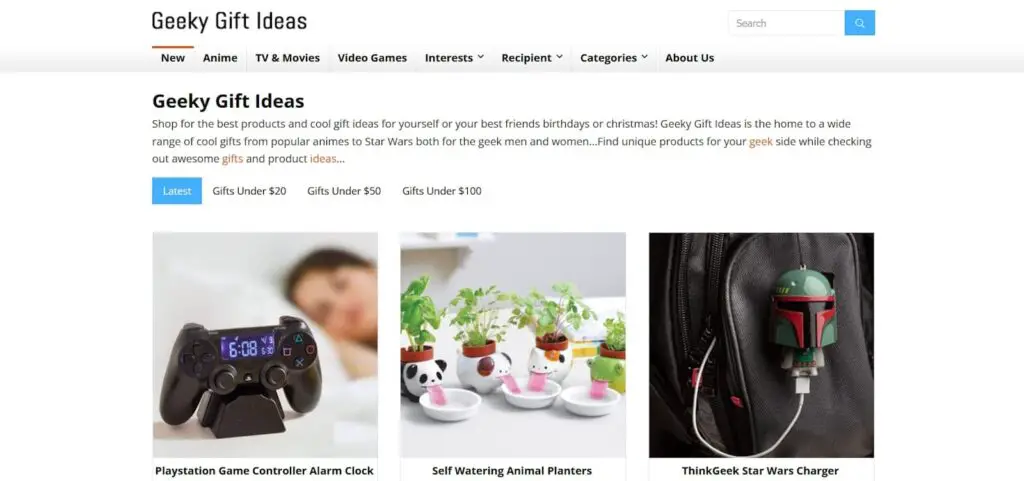 The founders of this site designed it to cater to the geeks, and it still gets updated every day. You will find hundreds of amazing gadgets and unique presents here.
Geeky Gift Ideas Standout Aspects
Fantastic gifting ideas
Cost efficient
9. DiscoverGeek
DiscoverGeek was established in Las Vegas in 2017. It's another ThinkGeek alternative that celebrates all geeky things, technological, and scientific.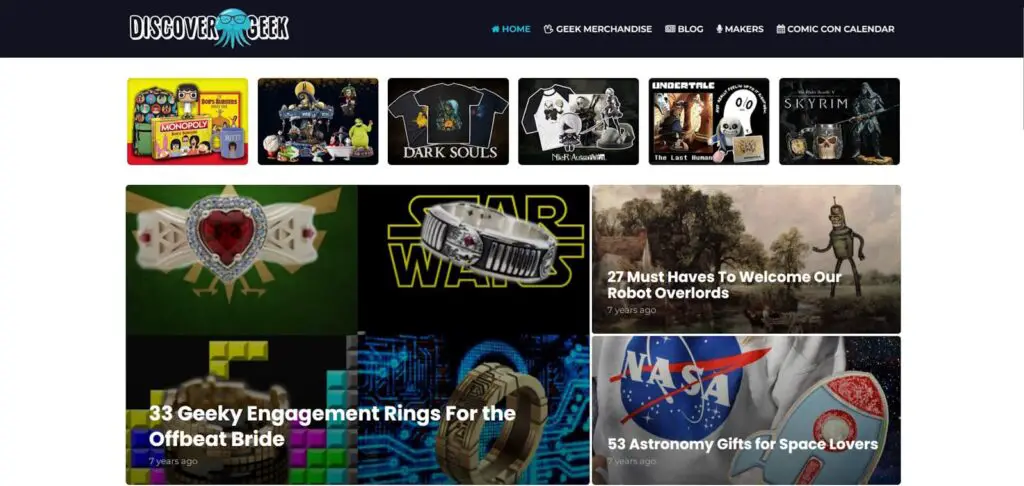 If you choose to shop from DiscoverGeek, you have a wide variety of products to choose from. The founders of this site created it as a result of their frustration. So, there's nothing to worry about, all the products are hand-picked and curated. DiscoverGeek is also a part of Amazon Services LLC Associates Network.
DiscoverGeek Standout Aspects
Access to a wide variety of products
Very reliable
Amazon Services LLC association
10. LootCrate
Unlike others on this list, LootCrate is a subscription box service that caters to geek culture, gaming, and pop culture.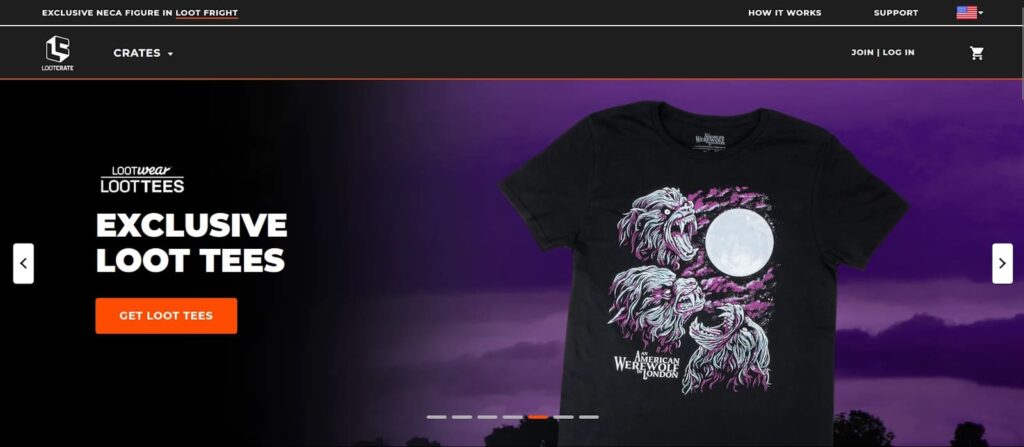 The "Subscription Box" means all the subscribers receive a box filled with exclusive collectibles, apparel, and other themed items specially curated for them.
LootCrate Standout Aspects
Customized subscriptions centered around your interests
Access to exclusive and limited-edition items
Monthly themed boxes
Did You Find Our List of ThinkGeek Alternatives Useful?
That's all! While ThinkGeek is gone, it doesn't mean you won't be able to indulge in your geeky passion online.
There are plenty of ThinkGeek alternatives available, and we have listed some of the best in our list that offer a plethora of products, taking care of all your unique needs.
Whether you're a comic book fan, video games, or pop culture in general, these ThinkGeek-alike websites are prepared to cater to all while providing you with an exceptional shopping experience. So, go ahead and let your inner geek run wild.