Recently I became the owner of (Western Digital) WD TV Live media player which supports full HD video and wireless network connectivity. It's a small piece of box with great features that can enhance your multimedia experience. Even though it doesn't have built in storage, but two USB ports are good enough to attach USB drive and external hard disks. Also the LAN port and wireless capability can fulfill the network share access and allow accessing media servers in home network either from Windows or Mac computers. You can directly stream and play videos and songs which stored on the computer through network. Other great feature is, it supports direct 'Play to' option for videos and songs from Windows 8.1 and Windows 8 computers (tablet or ultra books). Here is a quick guide about how to setup WD TV Live to computer.
So, if you want to play movies, songs or picture slideshow to your TV which is connected to WD TV Live player, you can do that from your Windows 8.1 or 8 computers now via network. It will avoid you to connect the laptop/tablet to TV with HDMI or VGA cable.
Microsoft listed (link) Western Digital as supported device of 'Play to' feature. So, it should work smoothly if your network setup is correct.
How to Connect WD TV Live to Windows 8.1/8 Computer
1) Make sure that the media player is connected to your wireless or wired network and you can communicate (ping the device) from the computer you are going to connect.
2) Right click on network icon (wired or wireless) and select 'Network and Sharing Center'– it can be accessed directly in control panel also.

Basically we need to allow video streaming on the network type you are connected. Then  your computer will automatically find the capable devices on your network.
3) Firstly find out the network type you are connected, like home, work or private. Press 'Change advanced sharing settings' option as below.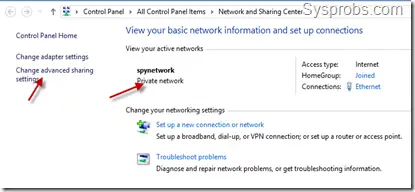 In above example, my computer is connected to network type 'Private network'. To able to use 'Play To' feature and media streaming with WD TV Live, Windows file and printer sharing should be enabled.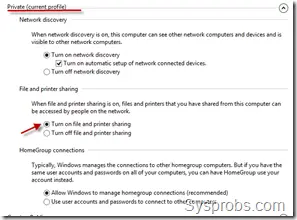 Read Also: How to view the IP address of a network printer from Windows 8.1 computer.
4) To enable media streaming and other options, select 'All Networks' type and click on 'Choose media streaming options' as shown below.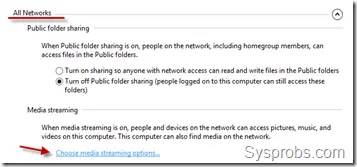 5) On the next screen you will see the WD TV Live player (if network setup is perfect). Allow the access by enabling tick and press next.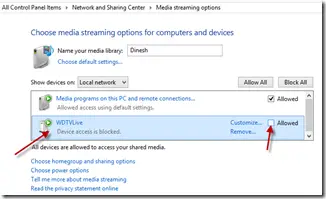 6) Next screen is to select the libraries you want to share in network. These libraries can be accessed by WD media player under 'Media Server' content source.
Once this setup has been completed, you will see a new option in the menu of media files such as videos, audios and pictures. It will allow you to show the display of media file via WD player to your TV. It's really cool and you can play a video in computer and watch it on TV wirelessly. This could be an ideal solution for Windows 8.1 tablet, ultra books and convertible PCs to watch movies in TV screen and control it from PC.

Also if you are playing a movie with the default movie player app, you can use the 'Devices' in the charm bar to play directly to TV. It's like projecting the screen to different monitor or projector.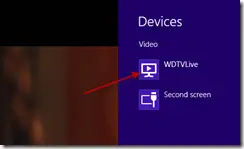 After you have enabled media streaming, your WD TV live media player can access all media libraries 'Media Server' content source. This is another great way to watch and stream collections of videos, songs and pictures in WD player without copying them to USB drives.
Have fun.