If you are a computer user who uses more than one language for typing, then you must be knowing the importance of language bar on the taskbar (notification area). Sometimes it may act strange and disappears from the taskbar. This simple guide shows how to solve the Language bar missing issue on Windows 10,8.1 and Windows 7 desktop and laptop computers. In few cases even after enabling the language bar from the control panel, it will not appear properly.
You may face this issue mostly after doing a Windows or other software updates. Sometimes you will see the language bar when UAC prompts for administrator elevation and it will disappear again when it comes to normal mode. 
This problem happens when there is an issue in a startup service of the specific user profile.
How to Fix Language Bar Missing Issue in Windows 10, 8.1
Method 1
(If you have done this already, go to method 2 straight away)
You can add the language bar in control panel by following steps,
In Windows 7 and Vista
Go to Control Panel -> Regional and Language Option -> Keyboards and Languages -> press Change Keyboards
The following dialogue box will appear,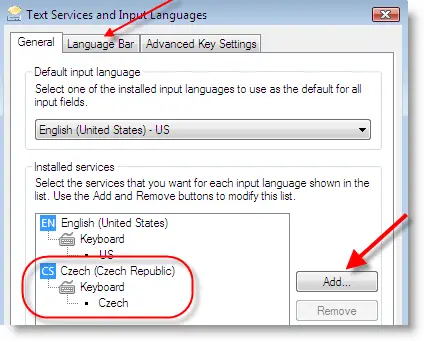 Note: Language bar will be only displayed either on taskbar or Desktop if you have selected more than one language as input language.
Make sure that your second language is listed in the input language list. If not, you can add it by clicking Add button.
Still, if the language bar is not showing up in Windows 7 even after more than one languages are listed; go to 'Language Bar' option to verify few settings.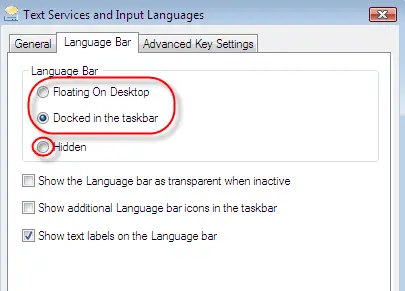 Here you can select the place where the language bar should appear. Make sure 'Hidden' is not selected. Select the appropriate option and press OK.
In Windows 8 and 8.1
Enabling the language in Windows 8.1 is different than earlier versions. 
In the control panel, open Region and click on 'Language preferences'.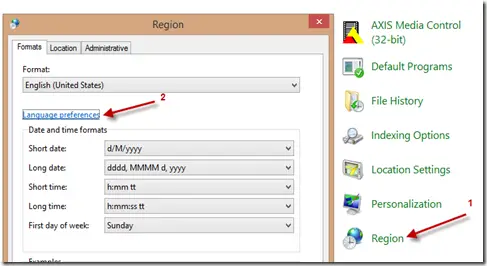 Click on 'Add a language' as shown below.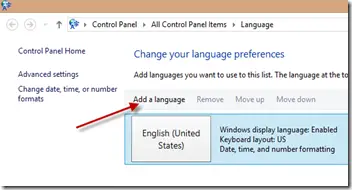 In the next screen, you can select and add additional languages. Once you have added more than one language, you will see the language bar on the Windows 8.1 notification area as shown below.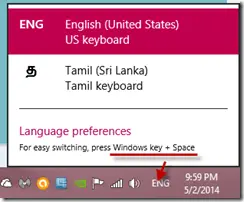 Add New Language Input and Language bar in Windows 10
You will not find the usual language input settings in the control panel of the latest Windows 10 versions. It can be done through the Windows settings apps only. 
Search for 'Language' in Windows 10 search and reach the below location. There you can click "Add a prefered language" (2) option to add the keyboard language input you need.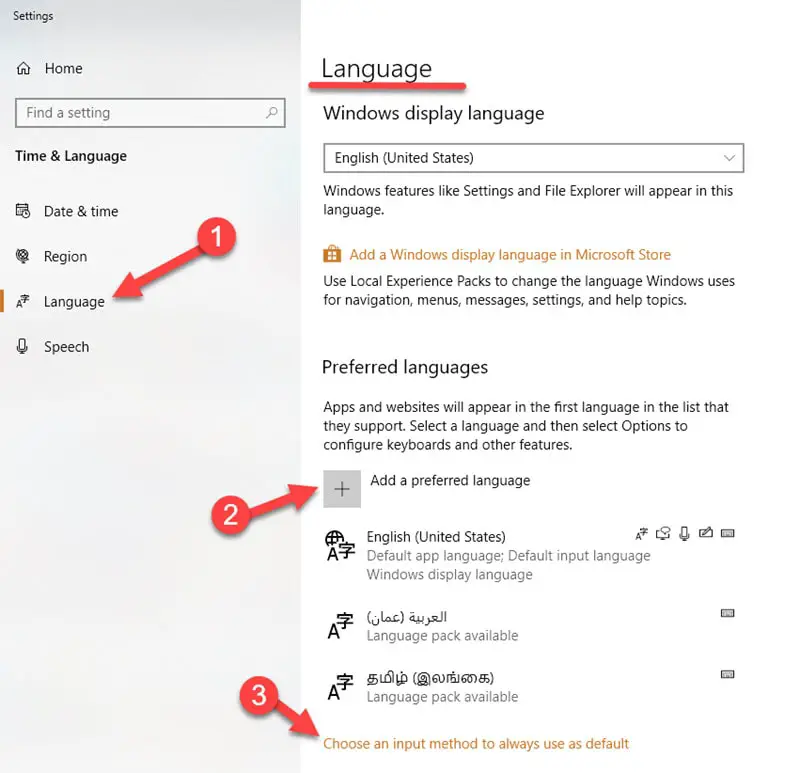 Usually, the above step should show the language bar in the notification area. If not click on the (3) "Choose an input method….." to get additional options.
Under the 'Advanced keyboard settings', check the 'Use the desktop language bar' option to show the language bar in Windows 10 taskbar. If this option is not enabled, it will be shown in the notification area only. By default, this option is disabled, so enable it if you want to see the keyboard input language option in Windows 10 taskbar.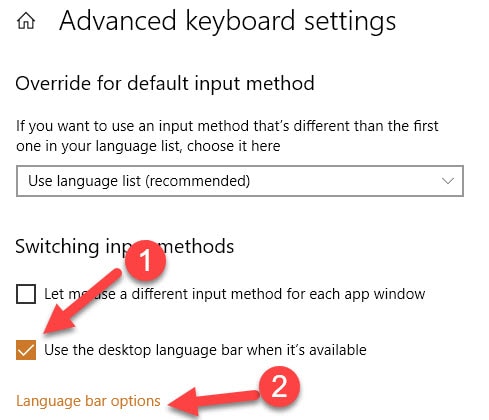 If still, you can't see it, click on 'Language bar options' (2) to check one more option. 
Here you can choose how do you want to view the language bar. Obviously, if you want to see it, you need to select 'Docked in the taskbar' option. The first option will make the language bar float on the desktop. Make sure the 3rd option 'Hidden' is not selected.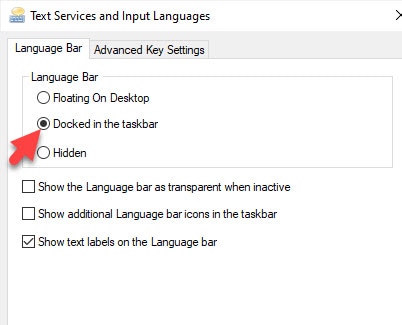 To change the input language quickly in Windows OS, you can use Windows key+Spacebar to switch between languages.
These above steps are straight forward methods to show language bar in Windows OS. As said earlier, sometimes the language bar will be still missing from the OS even after enabling it because of startup service issue.
In that case, try method 2. Even though below screenshots have been taken on Windows 7, you can still safely use on latest Operating Systems.
Remember to take a backup of the registry before modifying it if you are not comfortable in making changes in the registry because wrong modification can cause an issue to Windows OS.
Method 2
This method will enable the startup service which is required for the language bar every time when OS boots up.
Open Registry Editor by typing ' regedit' in Run or search box. Go to the following location,

Right-Click on blank space at the right side, select New String Value.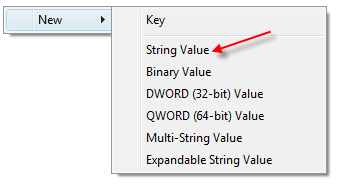 Again right-click on the newly created value and select modify, type as shown below.
"ctfmon"="CTFMON.EXE"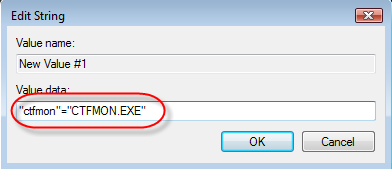 Press OK and restart your computer. 
Do let me know whether this guide is useful and solved the issue.