Windows 7 system image backup created for restore a whole computer from Windows installation CD.  You could avoid time wastage and additional work by system image back up when Windows 7 computer crashes. This post explains how to restore files and folders from Windows 7 system image backup without restoring full backup.
When you don't have latest normal backup to restore your data, this Windows 7 system image backup can be used to get your files and folder back.  Windows 7 Backup and Restore in control panel doesn't have straight option to restore data from system image backup, so we will use a tricky method to access data from image backup.
Normally, Windows 7 system image backup have following files.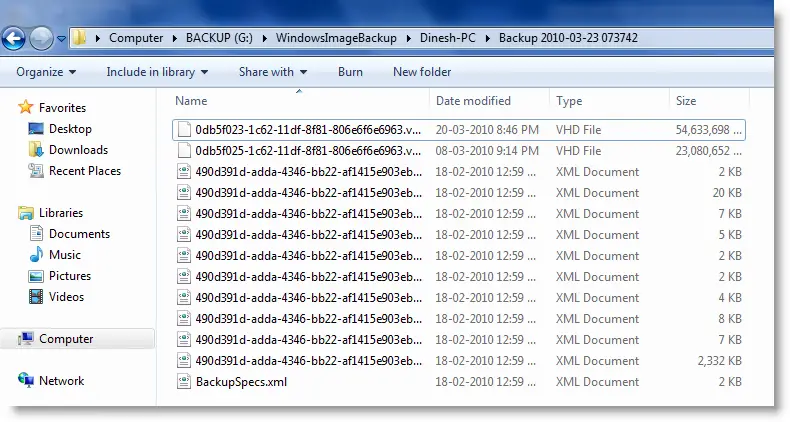 The above system image backup can be easily restored by Windows 7 installation DVD when boot with DVD. Now we will see how to open this backup data and access files and folders.
You can find out how to take Windows 7 system image back up here.
My above backup is actually having two disk partitions data, as mentioned in earlier post.  Both partitions stored as VHD files in system image backup. You can access backed up files and folders by opening these VHD files.
Follow the steps to open and access Windows 7 system Image backup VHD Files.
1) Go to Computer Management by right clicking My Computer.
2) Right Click on Disk Management and select attach VHD.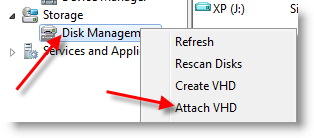 3) Browse for the VHD file inside Windows 7 system image backup location. I suggest selecting 'Read Only' option to keep backup data safe. If any files deleted or over written then the particular system image backup may not be useful later.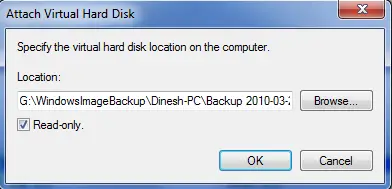 4) That's it. Now we successfully mounted VHD file from backup. The mounted VHD partition will be working as any other partitions in windows 7 without write permission.  Explore the partition, copy and restore required files or folder to physical partition. This is a very easy method to restore files and folders from Windows 7 System image backup without full restore.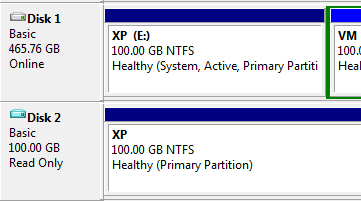 5) Once restored required data, immediately detach VHD file from disk management. Right click on attached Disk and select Detach VHD.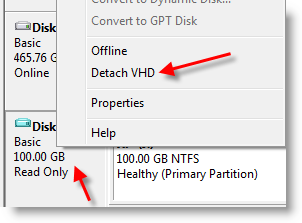 6) You can use the same VHD files with another Windows 7 machines also.  VHD is Microsoft's Virtual Hard Disk format supported by most of the virtualization software. There for this VHD file can be accessible by other virtualization software like VMware, VirtualBox and Microsoft Virtual PC.  Mounting VHD files without additional software is one of the new features in Windows 7.
I'm sure this small tutorial will be useful to recover data from Windows 7 system image backup without full restoration or additional software. Share your problems if you face any difficulties.