Sometimes Windows 7 or Win 8 OS will not read the user profile properly, therefore, it will load with a temporary profile which will look like a brand new user profile. If you are not aware that it is a temporary profile on your Windows laptop or desktop computer, then you will be surprised to see the brand new desktop without your files, folders, program shortcut icons, and personalized settings. This step by step guide shows you how to fix the temporary profile issue on Windows 7/8.1/10 and Windows Vista too.
"You have been logged on with Temporary profile"– that's the famous message from Windows 7 you will see when you have this issue. This guide has been updated with several methods, more information, inputs, related links and the experience I had on this same issue in a domain and workgroup environment.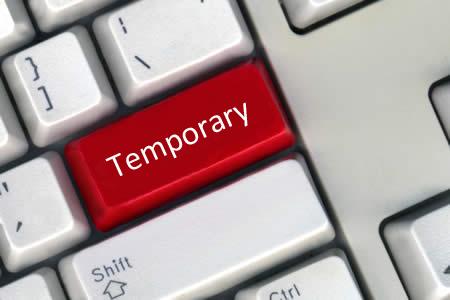 Why Does Windows 7/8.1 (& Vista) Load with a Temporary Profile?
Obviously, your profile (the files and folders located under C:\Users\user_name) is corrupted. There is another chance which is a delay in reading your profile files due to Antivirus scan or something else during boot up. Usually, after typing your username and password Windows tries to read and load your profile if it gets corrupted or delayed in reading, Windows will load with a temp profile to give temporary access on the computer.
Temporary Profile Issue on Windows 10 and 8.1
It is rare that Windows 10 or 8.1 computers load with the tempory profile. These Operating Systems handle this issue better than older Windows 7. With the all latest Windows updates and good computer hardware, I doubt you will be facing this issue on the latest Operating Systems. In case, if you face the same temp profile issue on Windows 10 or 8.1, you can follow the same below steps. The registry modification should fix the problem easily.
How to Fix Windows 7 Temp Issue on Workgroup and Domain Environment
The below screenshots taken from mixed of Operating Systems, still valid for all desktop Windows OS.
1) Before doing anything, restart the computer 2 or 3 times to see whether it's going back to your old correct profile. Go to the next step if this doesn't work.
Registry Modification
2) Rename the temp profile registry and revert back the old registry settings for the correct profile. Most probably this method will fix the problem.
a)      Log in to the computer with temp profile.
b)      Start the registry editor by typing regedit in find box of Windows 7/8.1 or Windows 10.
c)      Navigate the following location.

d)      You will see similar keys under the profile list, but one with .bak, as shown below.

e)      The key with .bak is your correct old user profile. Currently, your Windows 7/8.1 computer logged in with fresh (temporary) profile with the same key. So, rename the new profile key (which is not having.bak) and remove .bak from correct profile key.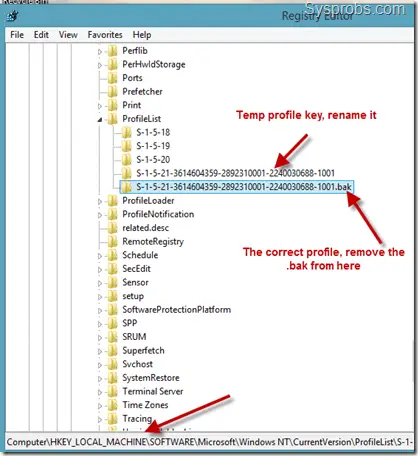 f)      That's it. Log off and login (or restart) with your user name and password. You must get your correct profile with icons and profile settings back in Windows 7 if you are lucky enough.
Still if Windows 7 laptop loads with the temporary profile and creates a registry key with .bak, that means the user profile is corrupted badly and the Operating System is not reading it properly.
3) Few times this method worked for me, repair the corrupted files. Usually, the corrupted 'Ntuser' files cause this issue. So, run the check disk for partition which is having the user profile.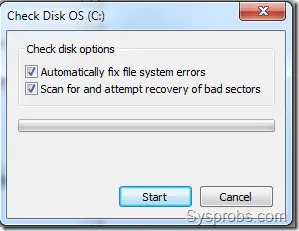 After restarting the computer to run check disk, if you see corrupted entries and repairing process inside your user profile folder, then you can hope for a piece of good news here. If it finds and repairs files especially Ntuser files, you may get your old Windows 7 profile back.
Repair Disk on Windows 8.1/10
Even though Windows 8 and Windows 8.1 does the disk error checking automatically as part of 'Automatic Maintenance', still you can run it manually when you face this temp profile issue. If any system files corruption found, that will be fixed during the scan.
a) Right-click on C drive, Tools and Error checking.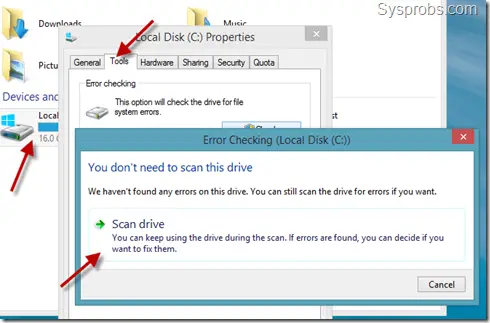 b) The recommended way to find and replace corrupted files in Windows 8 and 8.1 is running 'SFC' scan.
Start the command prompt as administrator like shown below (search for cmd, right-click and select 'Run as administrator')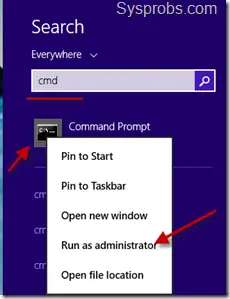 Type sfc /scannow and press enter to start the process. You may need to have Windows installation DVD with you for this process, it is required to replace corrupted files from the original installation medium.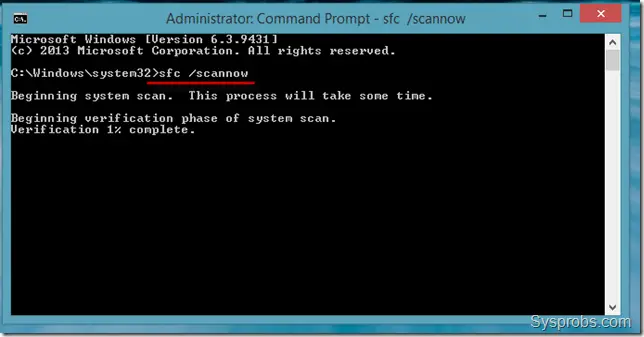 Restart the PC after repairing/replacing corrupted files (if found), possibly this could fix the issue.
Try System Restore
System restore is another solution you can try before going to the next step. As system restore does not affect the user files, it will put back the system state (with the changes in the system) to a certain date when it worked perfectly.
Few users reported this method as a solution for temporary profile loading issue on Windows 8.1/10 and Win 7 computers.
Also, you can try a system restore or re-installation (repair) of whole Windows 8 Operating System if none of the steps work for you.
If the above steps do not help you out, then we need to create a new profile with the new username.
Create a New User Account
Basically, we need to create a new user account, login with it and transfer the data from the old user profile to the new user profile. It is easy in a workgroup (home and individual PCs) environment as you can create a new username locally, but it is tricky in the domain environment. Because the existing user account is already there on the domain server and nothing wrong with it. Also, creating a new different domain user account will cause issues on corporate emails, domain groups membership and shared permissions.
So, we need to treat both cases separately.
4) Create a new username in the non-domain (workgroup) environment from the control panel or computer management.  Make sure to add the new user to the administrators' group.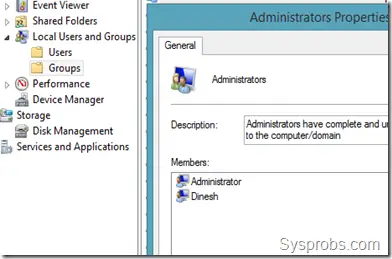 Login with the new user name and start copying your old data from the old profile. I normally copy below data,
a) My Documents (Music, videos and downloads)
b) Desktop
c) Favorites
d) Any outlook PST files (find more information about the location of PST files here)
But Microsoft suggests copying the entire old user profile (except 3 files) as shown in this official site link.
5) New user profile in the domain environment.
Since we can't delete and create the new domain user account for this purpose, we will play around with client computer only. Let's completely remove the user profile and recreate again.
Copy the important user data (a to d in above step 4) or entire folders from corrupted profile to new location (like D drive or different folder in C drive), double-check that you have copied all required folders and files from old profile because we are going to delete the original folder now.
Go to Advanced settings of System as shown below, click on Settings (user profiles), select the corrupted user profile which is not loading properly in Windows 7, then press the Delete button. The delete button will be enabled only if you login with the different user account.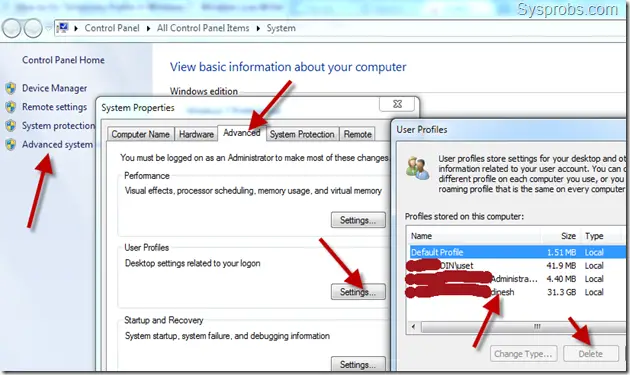 This will remove the entire user profile and related user SID from the computer including the registry keys we talked about earlier. You can cross-check the proper removal of a user account (SID) by checking the C:\Users folder. Once it is removed properly, restart the computer and log in with the same username (which was not loading earlier). The computer should create a new user profile like the first time the user is logging on.
You need to copy back your old important data to the new profile and set email outlook clients etc..if required.
I'm sure one of the above steps will fix the temporary profile issue on the Windows computer. Do let us know which one worked for you.