There could be several reasons you want to block a website, including Facebook, on a Windows computer. It might be related to security, data leakage, privacy issues, and time wastage by computer users. In this post, we show the possible ways how to block Facebook on Computer – Windows 11/10 PC.  At most workplaces, it's blocked easily by web proxy servers /firewall policies and web filters. Someone can use VPNs to overcome these internal restrictions.
We have to block the websites differently because we don't have firewalls or proxy servers at home. Here are 5 methods available; choose the one suitable for your network/computer setup.
Blocking Facebook can be a great way to stay focused and productive. With the help of social media blocking tools, you can block Facebook and other distracting websites so that you don't get distracted by notifications or content while working. Blocking Facebook also helps in reducing the time spent on unnecessary activities such as scrolling through your news feed or playing games. Blocking Facebook can help you to focus on your work and increase productivity.
Methods to Block Facebook on Windows 11/10
1) Method 1: Block it on Internet Explorer
This method applies to Internet Explorer. So, it can work on Windows 7/8.1 and older versions of Windows 10. This step may not apply to the Microsoft Edge browser.
You can easily block websites in Internet Explorer.
Go to Tools – > Internet Options and select the content tab to do it.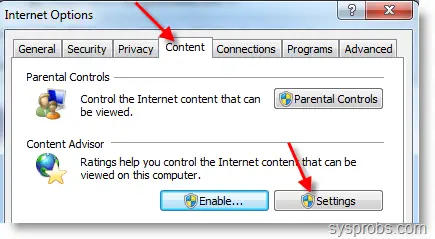 Click on Settings.  Go to the Approved Sites tab, type facebook.com, and press the Never button.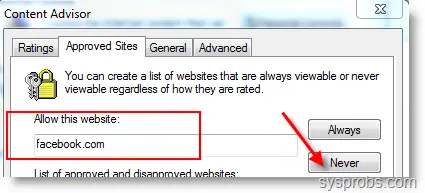 The Internet Explorer will prompt for a Content advisor password; giving a good password that others cannot guess is a good idea.
Navigate to the General tab and select the 'Users can see websites that have no rating' option under User options. If you don't select this, most of the sites will stop working, no matter whether approved or denied sites.
The content advisor should be enabled; once it's enabled you can view the screen below.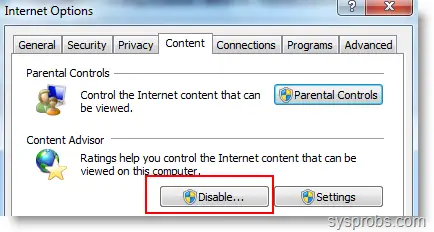 Once the above settings are applied, when someone tries to access a blocked website, like Facebook, it will pop up for a content advisor password to allow a particular site.
Problems with this method
1) This works only with the older version of Internet Explorer, which has a content advisor feature. This is not effective if your computer has other browsers, such as Firefox, Chrome, or Safari.
2) Others will know that the website is purposely blocked on the computer. That will lead them to try the website in different web browsers.
3) There is a method to remove the content advisor password without knowing it. Don't worry; I will not tell you how it is.
2) Method 2: Block the website in the Host file
This is a straightforward method, and nobody will know it. Before any browser access a website, it checks the DNS entry in the computer's Host file. If no entry is found for a specific website/URL/name, it goes to the DNS server to get the IP address.
We can take this opportunity and fake the IP request. Entering the wrong IP for a website or Facebook in the host file will block the particular website.
Every computer has a file called the "hosts" file that allows you to map a domain name (e.g., facebook.com) to an IP address. By mapping the domain name for Facebook to a non-existent IP address, you can effectively block Facebook
Any browser that finds this entry will try to load the website from the completely wrong IP address. Finally, Facebook will not load (that is what we wanted). To do it, Ensure you have administrative privilege to edit the host file.
Go to the following location and open hosts file in notepad or any text editor.

127.0.0.1                     login.facebook.com
127.0.0.1                     www.facebook.com
127.0.0.1                     blog.facebook.com
127.0.0.1                     apps.facebook.com
127.0.0.1                     en-gb.facebook.com
Type the IP address, press the Tab key, and then type the above addresses. 127.0.0.1 is the localhost IP.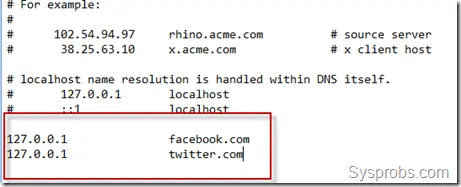 It is highly recommended to read about modifying the host file in Windows 11/10.
Restart the machine and try Facebook; it will not work. This method will stop any browsers from accessing facebook.com.
Modifying host file need administrative and little extra computer knowledge, but it is a solid method to block any websites on Windows, Linux, and macOS computers.
Problems with this method
If the other person has administrative access and knows about host file entries, this method is invalid, as they can remove them.
This method will block the website or Facebook for everyone, including you.
3) Method 3: Use a Router with built-in Website Blocking
Many routers can block specific websites at the network level. You can block Facebook for all devices on your home network. Check your router's documentation for instructions on how to do this.
This is more technical and limited because it depends on your Internet router. It can vary for each router. Therefore I can't tell you where to find it. Mostly under security (WAN), you can find some options to block websites with IP addresses or specific words.  These are the IP address of facebook.com at the moment.
69.63.181.11
69.63.181.12
69.63.189.11
69.63.189.16
NOTE: This method will block Facebook access for all devices in your network.
4) Method 4: Block Facebook with Parental Control in Windows 7:
If you are trying to block Facebook on a computer you share with others (e.g., your children), you can use the parental controls built into the operating system to block specific websites. For example, you can use the "Family Safety" feature to block websites in Windows.
This method is most suitable for kids. If you are looking to block only Facebook websites, I suggest using Internet Explorer content advisor as mentioned in method 1.  Filtering and blocking websites by windows 7 parental control is more complicated and advanced.
This feature is not a built-in component, and you must download Windows Live Family Safety from the Microsoft site here.
While installing, make sure to select the Family Safety checkbox.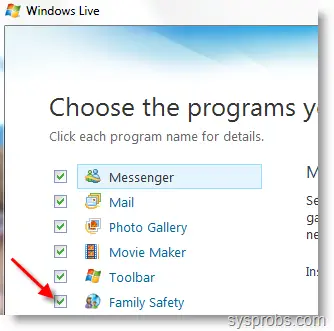 Once the installation is done, go to Parental control in the control panel. Select the Windows user you want to block Facebook and click on the option mentioned below; you have to enter your windows live id and password.

Further settings can be modified on the live website. Here is how to block Windows live family safety websites on Windows 7.

5) Method 5: Third-Party Parental Controls or Website Blockers
There are several paid and free parental controls available to block internet sites. You can use them if you are serious about controlling Internet access.
Browser extensions are small software programs that can be installed in a web browser and provide additional functionality or customization. Many browser extensions can block specific websites, including Facebook. One example of such an extension is Freedom.
Freedom is a productivity tool that allows users to block distracting websites and apps on their computer, phone, or tablet. Once Freedom is installed, users can specify a list of websites and apps to block and set a timer for how long they want them blocked. This can be helpful for people who want to focus on their work or limit their time spent on Facebook or any other social media websites.  Personally, I use 'RescueTime,' which is another software that can run on Windows 11 and 10 to block distracting websites for a certain time.
I'm sure the above steps will be helpful in many cases. Share if you know more ideas to block Facebook on Windows 11/10/7 home computers.