Internet Explorer 11 comes with Windows 10 by default. But Microsoft has pinned their latest and brand new Edge browser on the taskbar. Some of the ordinary computer users think that it's the usual internet explorer and find it completely different.  Also, for some reasons when you do a fresh Windows 10 installation or buy a pre-installed OEM version of Windows 10 with the new laptop or desktop, you may notice that Internet Explorer is not installed. This guide shows you how to reinstall or uninstall Internet Explorer 11 on Windows 10 and pin it to the taskbar.
IE 11 is a built-in feature of Windows 10 and we just need to enable it from Programs and Features as how we did to enable telnet client. If you do not find Internet Explorer in the programs/apps, then obviously it's not installed on Windows 10.
Read Also: Change date format on Windows 10
By default, Windows 10 taskbar looks like below with Edge browser. You can read more information about Edge browser here.

Search for 'Internet Explorer' to find out whether it has been installed on your Windows 10 computer.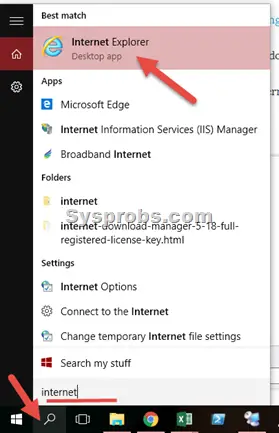 If you do not see the app as shown above, then it has not been installed. You need to install it manually.
Install Internet Explorer 11 on Windows 10
As described earlier, it can be enabled from programs and features from the control panel.
1) Go 'Programs and Features' in control panel (search for 'programs' and click the below result).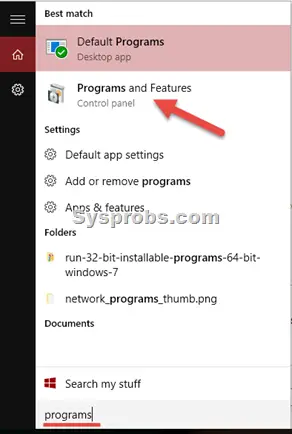 2) Click on 'Turn Windows features…' as shown below and tick 'Internet Explorer 11' to install it on Windows 10. Once you press OK, the installation will start and complete. You do not need to restart the computer.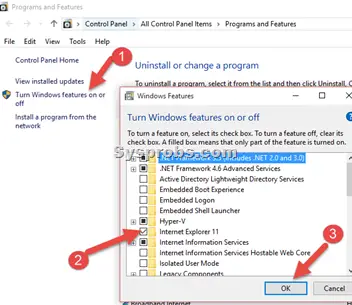 That's it we have successfully installed Internet Explorer 11 on Windows 10.
Uninstall IE 11 on Windows 10
If you like to uninstall Internet Explorer 11 from Windows 10 for some reasons, you can follow a similar step. Since you can't uninstall it like doing for other normal programs, it should be done by the above similar way.
Go to 'Turn Windows features…' in control panel and un-tick the Internet Explorer 11 then press OK. This will uninstall the IE 11 from Windows 10.
Install and Uninstall from Optional Features
If you have a tab or tablet version of Windows 10 and you are familiar with the Windows 10 apps, then you can do the similar steps from 'Manage Optional Features' app.
Search for 'Manage Optional Features' and look for IE 11. Manage Optional feature is the similar place like 'Windows Featured Turn off and on'. If IE already installed, you will get the option to uninstall, if it was not there, you will get the option to install.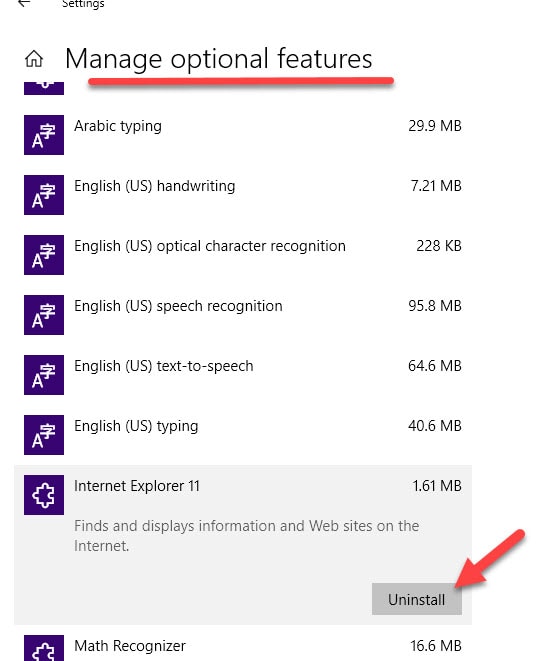 How to Make IE 11 as Default Web Browser in Windows 10
The Edge browser set as the default web browser on Windows OS. Follow the steps to change the IE 11 as the defult browser. Search for 'Default Apps' in Windows search.
Click on the 'Web Browser' settings and select Internet Explorer from the list. Once you selected it, IE 11 will be the default web browser on your Windows 10 computer.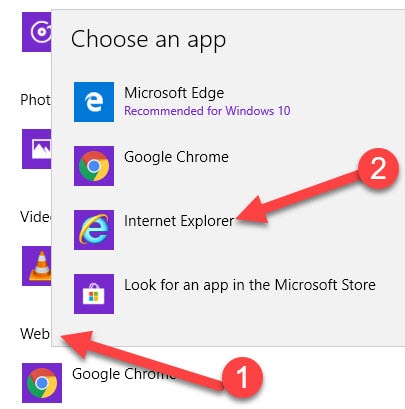 We hope this simple guide is useful to reinstall or uninstall IE 11 on Windows 10. Alternatively, you can try other famous browsers which are fully compatible for Windows 10, such as Google Chrome and Mozilla Firefox. Read our list of free antivirus software for Windows 10/8.1 here.