'img' is one of the CD or DVD image file format like ISO. It mostly contains the installation files of the Operating System or applications. Before Windows 8, we must have a third party software tools to open img/iso files, by mounting them. But as a new feature of Windows 8, now you can mount and open ISO image files without any third party tools.  But how about img files? img files are natively supported in recent Windows Operating System. Even we do not need to do anything on Windows 10 to open the file, but Windows 8/8.1 require a simple additional step which covered below. Here is a simple trick on how to open img files in Windows 10/8.1/8 without installing any additional software.
img files used by earlier Mac OS X  operating systems as their default disk image file format to mount or unmount a file system or CD/DVD disks. But in latest macOS, it was replaced by 'dmg' file format.
Open img files in Windows 10
As said earlier, it is simple and straightforward like mounting the ISO file.
Right click on the file, and select Mount.

It will mount the content from the img file and shows as DVD drive as below.

That's it, we have done it in Windows 10. If you are getting any errors, probably 2 reasons.
The img file is corrupted or not readable
The img file is in use (either it is mounted already, or some other program is accessing it)
Open img files in Windows 8.1/8
The trick is simple here, to open img files in Windows 8, you just change the file extension to ISO. In some Windows 8 PCs it can work directly without changing the format, but in some PC's you need to do it as shown below. If the img file is associated like ISO file, Windows 8/8.1 will automatically detect the preferred application and get the option to mount.
Here is an img file without any proper application to open or mount;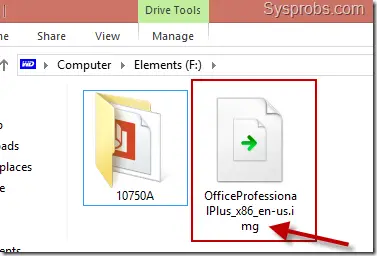 Change the file extension to iso by renaming it. You need to uncheck the 'Hide extensions for known file types' under 'Folder options' to see the extension of files.

Here is the same file after renaming the same option. Now it is ready to mount like ISO file.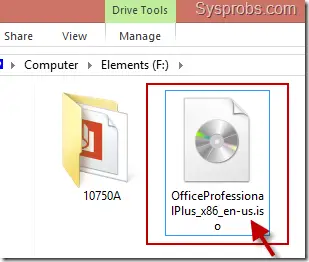 As you can see that the file icon has been changed and that is ready to mount with built-in Windows 8 ISO utility. Now if you right click on the file, you will get an option to mount inside Windows 8.1 OS.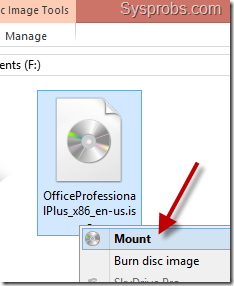 Here also it will be shown as another CD/DVD drive on your computer.
In both case, do not forget to Eject the drive after you use the img file, or restarting the PC will unmount the file automatically.