Here is the simple step by steps showing how to mount/install ISO File on Virtual PC 2007. Microsoft Virtual PC is a pretty old desktop virtualization software which supports up to Windows 7 host and guest only. That means, officially you can install Virtual PC 2007 on Windows 7 computer and use it to create Windows 7 virtual machines.  As Microsoft has shifted their focus on Hyper-V, there is no update for Virtual PC. As you must be aware that you can install Hyper-V virtualization module even on the Windows 10 computer, the importance of Virtual PC has reduced.
Anyhow if you still have the Windows 7 desktop or laptop computer which support the hardware virtualization on BIOS, then Virtual PC 2007 is one of the best choices since it is free from Microsoft.  If you have the ISO files of Windows 7 or earlier Operating Systems, this guide would be useful to mount the ISO files to install OS inside the virtual machine.
How to Install ISO File on Virtual PC
Unfortunately while creating the new virtual machine you will not get the options to attach the ISO file. Even after creating the VM, it is not available in settings. We used to do the same step while creating the VM on Oracle VirtualBox or VMware workstation, but it is different on MS virtual PC.

Follow the steps to mount ISO files to new virtual machine's CD drive in Virtual PC;
Power on the VM, make sure CD or DVD drive is attached (Check box should be ticked)
As we expected, new OS will be waiting or trying for bootable media. Click on CD and select Capture ISO Image as shown below.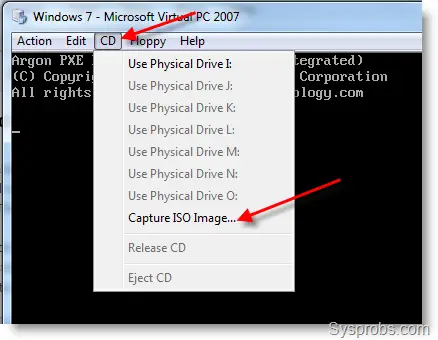 Browse the file and click open. Wait for some time to start the installation, if not,  go to the 'Action' menu and click reset to restart Virtual Machine. This time it will boot with ISO file browsed and installation