In some cases you need to know the IP address of a printer (which connected through network) at your office or home. For example, when you want to install it on a different  computer or troubleshoot the existing printer. You can get the IP address of a printer either by printing the configuration page by pressing some buttons on the printer or from another computer where the particular printer is already installed. In this small guide you would learn how to find the IP address of a printer in Windows 10 and 8.1 (at Operating System level without accessing the printer physically).
It is recommended to have a static IP for a printer, so it will have a IP which is static (will not change). As we said earlier, most of the network printers have the ability to print configuration pages (including network settings) by pressing few buttons on the printer. You must find out the button/or combination of button by reading printer manual. This guide shows you how to get the printer IP from OS level from your Windows 10 or 8.1 laptop and desktop.
Steps to Find Out The IP Address of A Printer in Windows 10 /8.1
THough the screen shots are taken from Windows 8.1, but still following steps are valid on Windows 10 too. You can follow below steps to find a printer IP address from Windows 10.
1) Go to control panel to view the printers' settings. To access it quickly and simply, search for 'printers' in search bar from Windows charm bar. ( Windows 10 doesn't have charm bar, you can simple search for 'printers' in find option)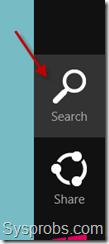 Click settings then 'Devices and Printers' as shown below.

2) Once it has listed out the installed printers, right click on it which you want to find out the IP address.
Select 'Printer properties' from the menu, Note – Not the 'Properties' at last.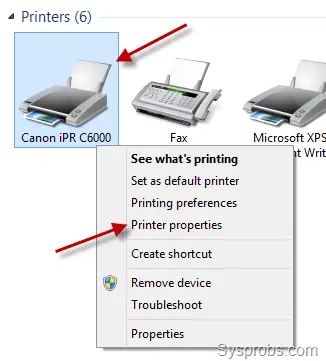 3) In the properties box, go to 'Ports'. The network port of the printer would have been ticked here, select the port and click Configure Port.
Mostly you can make out the printer IP from port field itself ( 192.168.5.100 in this example), but this is just the port name and the actual IP could be different in the next screen.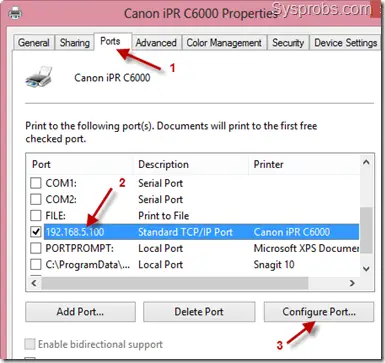 4) As you see below, Printer Name or IP Address field will show the actual IP address of a printer in Windows 10 or 8.1.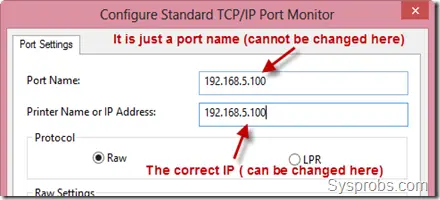 Remember that the port name and IP address can be different, so do not go by port name of a printer.
To make sure that IP address of a printer can be reached from your computer through network, go to command prompt ( type cmd in search) and type ping 192.168.5.100 then press Enter. You should get successful reply message similar to below which indicates network communication is fine with the printer.

Read Also – How to enable ping response in Windows 8
We are sure this simple guide would be helpful on how to find the IP address of a printer in Windows 10 or 8.1.