You have reached the correct place to download the Kubuntu VDI pre-installed VirtualBox image. Kubuntu is an open-source, free, Linux kernel-based operating system developed by the community spread across the world. Many developers, supporters and testers are contributing to the betterment of Kubuntu OS. Kubuntu announced the latest release of the 19.10 Eoan Ermine version in the month of October 2019 which is based on Linux kernel 5.3 and KDE plasma 5.16.5.
Kubuntu uses the KDE Plasma Desktop instead of Linux GNOME for user-friendly features and more windows appearance. Kubuntu was initially trademarked and supported by Canonical Ltd and later Blue Systems. You can easily customize Kubuntu's plasma desktop without the use of any extra tools or configurations.
Installation methods
If you are switching from a Windows OS to Linux OS, then we recommend Kubuntu OS. You can install Kubuntu OS to your laptop or computer using an ISO file download readily available at the official site here, Kubuntu 19.10 (Eoan Ermine).
You can also use any mirror link available on the Internet, make sure that the link you're visiting is free from any malware or spyware attacks. You need to create a bootable flash drive or DVD after downloading the ISO file.
You can also use VirtualBox to install Kubuntu on your PCs or laptops. We have installed the Kubuntu 19.10, updated it to the latest packages and made it available as a pre-installed VDI image for you.
Advantages of Kubuntu
Kubuntu is a free distro by the Developer community across the world who is working on KDE, Ubuntu project. Kubuntu uses KDE's latest release Plasma desktop 5.16.5; with which you won't feel any difference from Windows 10. Kubuntu 19.10 has a suite of applications. Kubuntu won't let you feel left out in the OS war; It supports multiple widgets. It is a highly customizable desktop where you can tweak your OS the way you want.
Kubuntu 19.10 is neck and neck with the Windows 10 is not just in look and feel but also functional as it is. Kubuntu is the oldest, most mature Linux desktop distro and has received support from the worldwide community of developers, supporters and testers.
The basic requirements of the Kubuntu 19.10 are a minimum 2 GHz 32-bit or 64-bit processor, 4 GB of RAM, a minimum 25 GB HDD and a 1024 x 768 VGA card. Your desktop won't feel as fast as the Kubuntu distro, but if you can afford minimum hardware requirements for Kubuntu 19.10, then it will render the best desktop experience.
Summary
KDE Plasma framework software is used to create diverse graphical user interfaces for distinctive peripherals. Ubuntu and Kubuntu are Debian-based Linux distributions with different shells and GUI.
Kubuntu is more user-friendly for the users migrating from Windows to Linux as it supports the widgets and shares similar aesthetics with Windows. If you are using a 64-bit system with minimum hardware essentials supported by this distro, then you will be amazed by running Kubuntu for daily usage.
Working Screenshots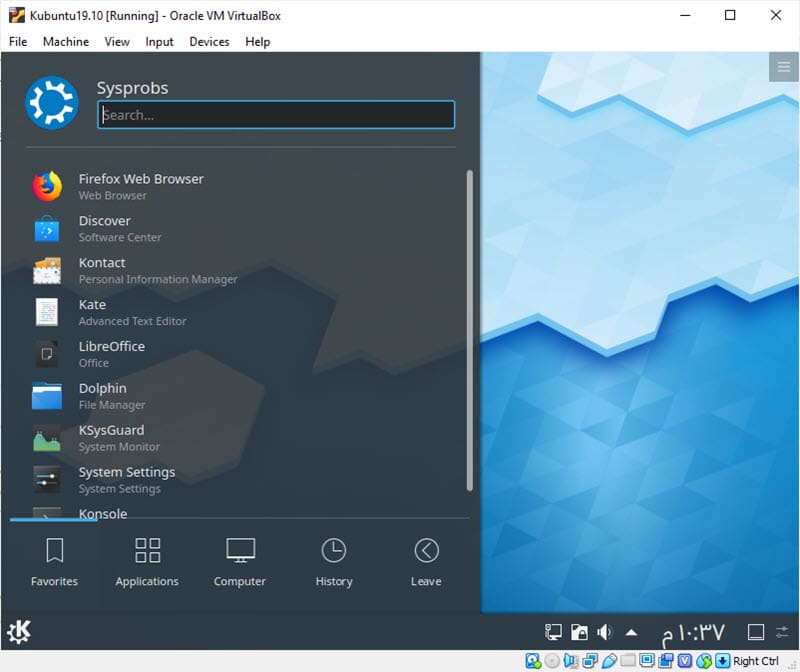 Download Kubuntu VDI Image
Username: sysprobs
Password: sysprobs123
Platform: 64Bit
OS Update: Installed (as of 05/12/2019)
​VB Guest Additions Tools: Not Installed
Minimum VM Config: 2 VCPU, 2GB RAM
Language: US English