PCLinuxOS is the free and open-source operating system software, a Linux distribution based on KDE Plasma Desktop and MATE. PCLinuxOS also called PCLOS; which is available in three different desktop interfaces – MATE, KDE Plasma, and XFCE desktop.
PCLOS can be considered a suitable replacement for the Windows OS as it has all the essential software packages which people frequently use to do things on the Windows OS. PCLOS is a unique Linux distro as its developers have given ample attention. Developers took efforts to develop it in such a way that it can attract and meet the needs of a vast pool of Linux users. It uses fewer resources compared to its competitor operating systems. 
If you are migrating from a Windows OS to Linux OS, then you will find it the easiest and most user-friendly desktop operating system. You will discover alternative applications suite for all the software packages you were using earlier on Windows OS. We have installed the PCLinuxOS version 2019.11 for you, and updated and built the VDI image for download.
You can also use any mirror link available on the Internet, make sure that the link you're visiting is free from any malware or spyware attacks. 
Advantages of PCLinuxOS
PCLOS was developed using the Linux Kernel 5.1.10, KDE applications 19.04.2, KDE frameworks 5.59.0 and KDE Plasma 5.16.0. VDI file comes with the pre-installed software packages including LibreOffice, GIMP and Timeshift. If you are used to some standard utility software on Windows OS, then you won't feel any difference while migrating to PCLinuxOS.
PCLinuxOS uses much fewer resources than its counterparts which provides you light and snappy OS experience. PCLinuxOS is backed by a community of developers who are contributing to the continuous betterment of PCLOS. PCLOS has its own Graphical Control Center which eases your configurations and settings. It has minimum system requirements as follows –
Modern Intel or AMD processor which runs on either 32-bit or 64-bit architecture.
Minimum 2 GB RAM
10 GB or more HDD disk space
Any modern video card by Intel, ATI, Nvidia, SIS, etc.
Any onboard network card
PCLinuxOS also supports lightweight Desktops. You won't regret or feel rolling back to Windows OS once you start using the PCLOS desktop.
Summary
PCLOS is developed using the KDE Plasma framework software and MATE. KDE used to create specialized user interfaces for multiple category users with different requirements from the Linux distro.
Read Also: How to Install Outlook on Linux OS
PCLinuxOS is one of the best Linux distros for naive Linux users as it is bundled with easy-to-learn and uses multiple software and applications. We recommend PCLinuxOS to our readers who are willing to migrate from Windows to Linux OS.
Working PCLinuxOS in VirtualBox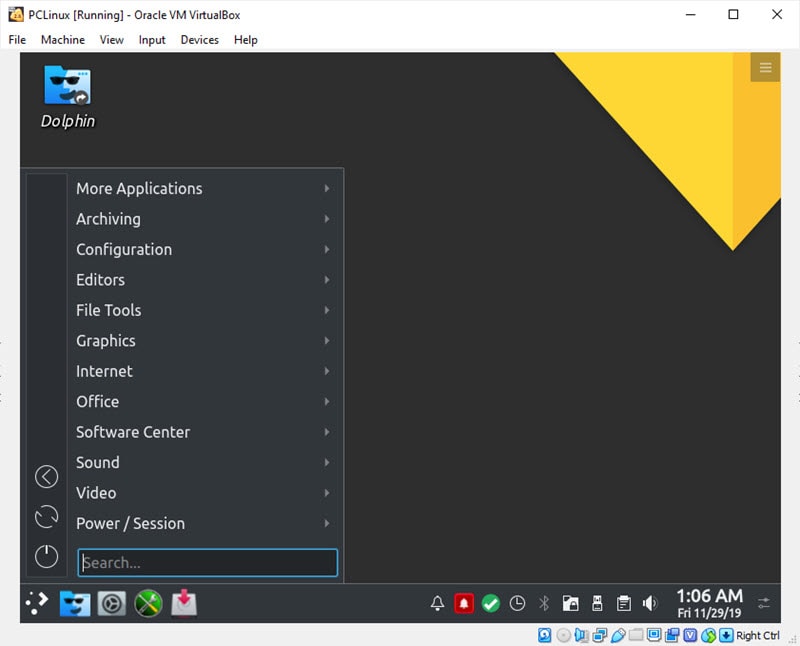 Download PCLinuxOS Pre Installed Images (64Bit only)
| PCLinuxOS 2019.11 | 1.8 GB | | ​ |
| --- | --- | --- | --- |
Username: sysprobs
Password: sysprobs123
Root: root/sysprobs123
Platform: 64Bit​
VB Guest Additions Tools: Not Installed
Minimum VM Config: 2 VCPU, 2GB RAM
Language: US English