Are you searching for the best free video editing software? Well, that's an excellent idea and a commendable ambition. The market is overloaded with a massive collection of tools, but if you are a newbie in this niche, it may be challenging for you to make the right choice. Some of them are absolutely free, whereas others are costly.
Can you be sure you deal with top editing software that offers various features? Are you sure that the chosen tool runs smoothly? If your overarching goal is to find a trusted and time-proven video editor for YouTube, you've come to the right place. This all-encompassing post will look deeper at the best software products that allow users to edit videos and create top-notch marketing tools. So, get comfortable and have a look!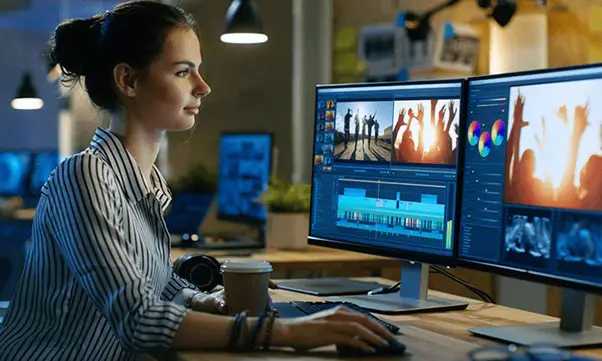 List of 5 Best Gaming Video Editing Software
1) Blender
The main distinctive feature of this tool is that it's a multifunctional program compatible with an array of devices. Overall, this program is widely used for animation, rendering, and even 3D sculpting. Moreover, professional users consider it the best VFX software that allows users to bring to life any idea.
However, this tool is not oriented toward beginners but primarily toward professional users. Nevertheless, it is feature-rich, and therefore, it can help every gaming video editing expert. It has a massive collection of 3D features, masking, and grading instruments. This tool can all meet the demands of the most exacting users.
Pros:
Compatible with different platforms;
Many color grading and masking options;
It takes only 50 MB of space;
Detailed timeline.
Cons:
It is mostly for professional users;
No documentation for those using the basic package.
2) Movavi Video Editor Plus
If you are racking your brains to find the best video editing software, Movavi might be right up your alley. This tool has been on the market for a few years and proves its reputation as the best video editor. First, this MOV editor is straightforward and has a massive collection of advanced creative options.
Secondly, this version allows users to create stylish movies from photos and videos. If necessary, you can also use animation and easily move objects around the screen. Let's list the main reasons you need to opt for this software.
Pros:
You can upload videos in any format;
Stabilization can be used to correct motion distortion;
You can adjust the audio as you wish;
The Montage Wizard helps create videos quicker;
The ability to animate stickers, titles, and callouts.
Cons:
Basic color grading feature.
3) Shotcut
If you are a beginner in video editing, this tool might be exactly what you need. The software is open-source, cross-platform, and free. One of the most significant benefits of this program is that there are no watermarks when you finally finish your project. Plus, there's a preview scaling system that enhances performance on almost any hardware and features many transition effects, including an audio pitch filter.
Experts say it's a must-have tool for those wishing to start their gaming channels. Another reason to opt for this tool is that it is free and supports many resolutions and formats. It allows users to capture in HDMI, SDI, IP stream, and the like. The program interface is also clear and very easy to navigate.
Pros:
Clear interface;
Many cool editing features;
Free to use;
An audio pitch filter;
No annoying watermarks.
Cons:
The software lacks screen transitions;
It can't edit 8K footage.
4) Film Forth
So far, it's the easiest video editor with a massive collection of cool features. All the tools that can be used are right there on the screen. Just drag and drop your video, which will be opened in the editor immediately. The software has four main sections:
Edit;
Audio;
Text;
Picture in picture.
All available effects are located on the home screen of this gaming video creator. The voice-over feature is one of the most important, as it allows you to add voice to the video. However, you can also add audio files.
Pros:
The program is free;
No watermarks;
An array of fonts and video effects;
Users can add transitions and animated texts.
Cons:
Sometimes, the software is not stable.
5) Windows Movie Maker
It seems that this gaming video creator needs no introduction. It is available for free to any Windows user. First, the tool is user-friendly, and second, it has simple controls. Another reason to opt for this program is that it's a superb fit for beginners. Even if you have never used similar tools before, you won't face any issues related to using this one. Making high-quality videos in Windows Movie Maker is simple.
Let's briefly list the main features. First off, the software is overloaded with many themes that can be used to improve videos. Fade effects, toning features, contemporary themes—all these options are at your command. Plus, a massive collection of transitions can make your video even more effective.
Pros:
The program is free to use;
Many transitions;
An array of video editing features;
Suitable for both laptops and smartphones.
Cons:
Users can't change saturation or contrast.
Closing Words:
Overall, we have just reviewed the most widely used software for gaming with a myriad of cool features and functionalities. It's up to you to decide which one suits your needs.
However, you can be doubly sure that all these tools are the best video editing software for YouTubers that can help you make informative or educational videos in a few clicks. So, choose any program, learn how to make gaming videos, and create exciting projects at this moment!