Ubuntu desktop is one of the famous Linux versions for personal and professional use. It is a free and open-source Linux OS based on Debian. We have installed the latest version of Ubuntu on VirtualBox and updated software/patches in this image.
The below pre-installed image can be easily attached to the VirtualBox on any 64-bit-based PC. You should have a Ubuntu VM up and running in 5 minutes with the pre-installed image. If you need to learn about OpenStack, then Ubuntu is the correct distribution since it is widely used in cloud computing.
Ubuntu includes plenty of ready-to-use software inside. If you are new to Linux, then Ubuntu is the correct beginners' distribution to start on your Windows computer with VirtualBox or Hyper-V.
You can quickly clone (copy) this VDI or VHDX to have multiple VMs on your Windows, Mac or Linux computers. Ubuntu gets updates every six months, and the long-term support (LTS) gets released every two years. If you are a student or learner of Linux, downloading this pre-installed image will help you a lot.
Working Screenshots on VirtualBox
Our OS images work directly once the virtual machine is configured adequately. Please read additional information (Read Me) to get the username and password. Here are a few screenshots of a working VM on a Windows 10 host. You can use this pre-installed Ubuntu image on Windows 11 also.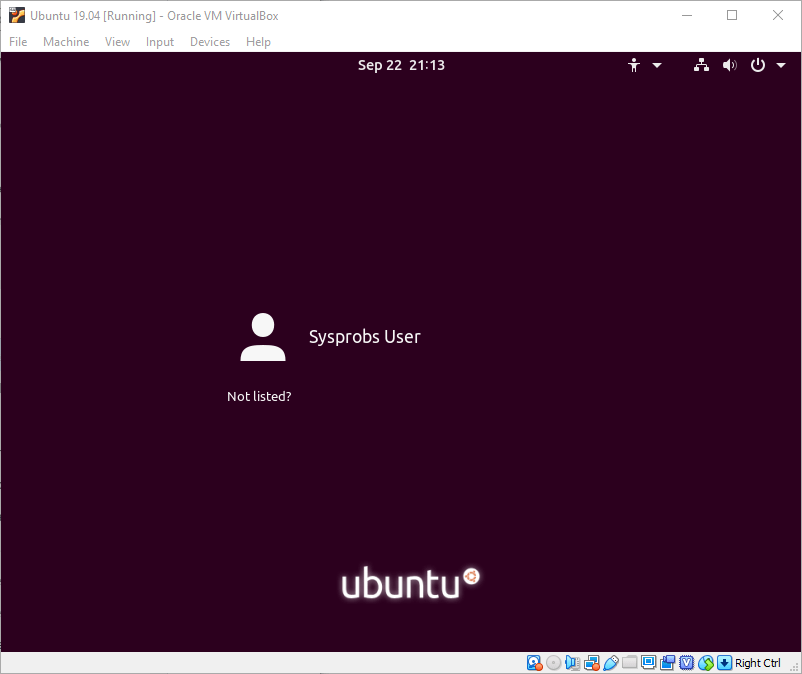 To install guest additions and enable bi-directional support, you may need to refer to this guide.
Download Ubuntu Pre-Installed Images (64Bit only)
Username: sysprobs
Password: sysprobs123
Platform: 64Bit
OS Update: Installed (as of 20/09/2019)
VB Guest Additions Tools: Not Installed
Minimum VM Config: 2 VCPU, 2GB RAM, 3D Enabled Display
Language: US English