Fedora is another user-friendly Linux distribution anyone wants to experiment with, especially Windows OS users. It is available for workstations (Desktops) and servers. Here we list the pre-installed image of Fedora 64-bit, which you can download and use almost instantly on Oracle VirtualBox. The Fedora Project is sponsored by Red Hat and driven by the open-source community.
Fedora has excellent Package management, security, and software tools to use as a primary Linux desktop OS at home or office. It comes with the familiar GNOME desktop, which is easy to use. Even you can install other desktop flavours and customize them.
As it comes with many pre-installed apps, you can straightaway start using the OS without installing any additional software. The below Fedora ver.31 image has all the built-in tools/apps, and the system is up-to-date as of uploading this image.
Fedora is a reliable and stable Linux distribution for beginners and advanced users. Having it as a virtual machine on your Windows or Mac OS gives more flexibility in working with two Operating Systems simultaneously without rebooting the host computer.
Since this pre-installed image is not going to modify anything on the physical hard disk or boot loader (other than creating a VDI file), it is the safe and ideal way to try the new Linux OS on your Windows 11/10 or macOS desktop or laptop.
Working Screenshots on VirtualBox
As you could see we have upgraded the OS with the latest patches. The below screenshots show the working Fedora on Windows 10 as VirtualBox VM.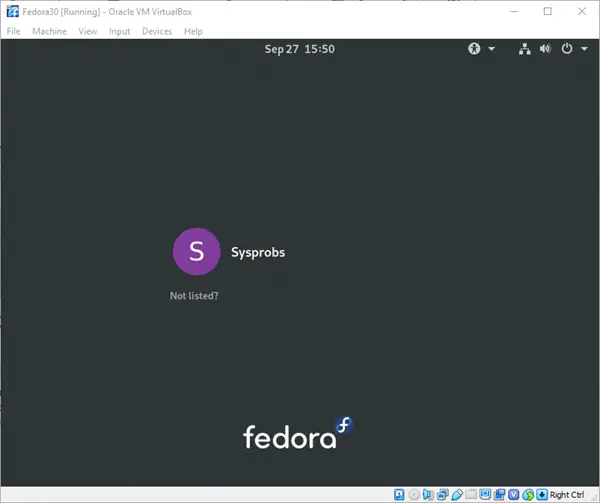 Download Latest Fedora VDI Pre-Installed Images (64 Bit only)
Username: sysprobs
Password: sysprobs123
Platform: 64Bit
OS Update: Installed (as of 14/11/2019)
VB Guest Additions Tools: Not Installed
Minimum VM Config: 2 VCPU, 2GB RAM, 3D Enabled Display
Language: US English
OS Update: Installed (as of 20/09/2019)