Waking up in the morning is not easy for many people and a regular alarm clock or an app is also not enough for them. They keep snoozing their alarms or sleeping through them, which makes them late for work or whatever they have to do in the morning.
Getting up fresh in the mornings is the best way to start the day and there are many alarm clock apps for the latest iPhone and other models available to help people wake up fresh in the mornings. Since the built-in iPhone alarm clock app does not give many options, we list a few best alternatives here.
The default clock app on your iPhone is very well designed but it doesn't deliver the incredible features third party apps have. There are many alarm clocks available in iTunes for iPhones, however, it can be difficult to decide which one you should download. Some of the below apps can work for Android smartphones also.
We can give you some advice on which app will be the best for your needs.
6 Best iPhone Alarm Clock Apps
SpeakToSnooze is one of the most downloaded iPhone alarm clock apps. Along with the usual alarm clock features, the SpeakToSnooz app features voice-activated commands so that the user doesn't even need to open their eyes or touch the phone to snooze or deactivate an alarm.
This app also has fun voices to keep the user motivated to get up and also removes the option to snooze if they keep snoozing an alarm.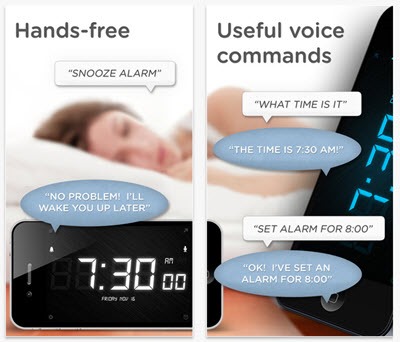 Yocto Alarm Clock plays music from your iTunes library as alarms and can also play 70 other built-in sounds to wake you up. Yocto app can also be used to help you drift into sleep by playing soothing sounds or your iTunes library.
Yocto Alarm Clock also has a nice display to show a clock along with timings for an alarm along with weather notifications.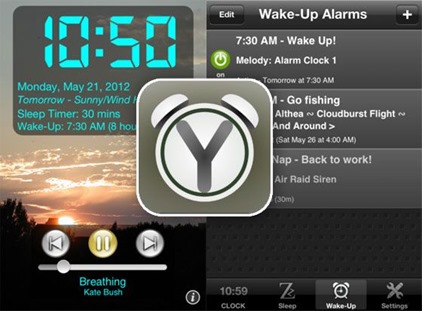 Wake Alarm Clock is the most popular alarm clock app for older and latest models of iPhones. It caters for options for all types of people namely deep sleepers and light sleepers. You can snooze or turn off an alarm by slapping, turning over, swiping or shaking your iPhone very hard until the alarm turns off and you are wide awake. Definitely, you will like the features of this alarm clock app.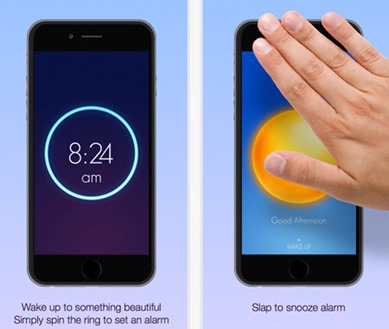 Carrot Alarm is one of the goofiest alarm clock apps you will find in the App store. The app will trigger an alarm at the assigned time, but it will make fun of you and will berate you when you hit the snooze button. The app also has a game that can keep you awake and give you rewards when you wake up at the time.
You can find more information and other cool features from its app download site. As we are looking for alternatives for iPhone's default alarm clock app, this can be one of the best alternatives you can consider.
Read Also: Download nice macOS backgrounds for your Mac computer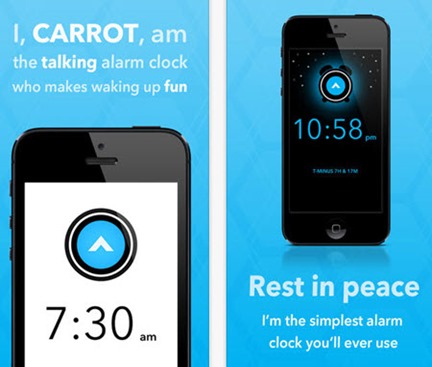 Galarm is one of the great choices if you are planning to go social with your alarms and reminders. Even if you are looking for non-social features, still you can download and install this app for your private use.
Once you register and create an account, it is going to get the data/sync with the cloud. So, it becomes easy not to depend on a single phone to retrieve your alarms and event reminders. Also, it enables you to collaborate and become social with your routine work if you prefer.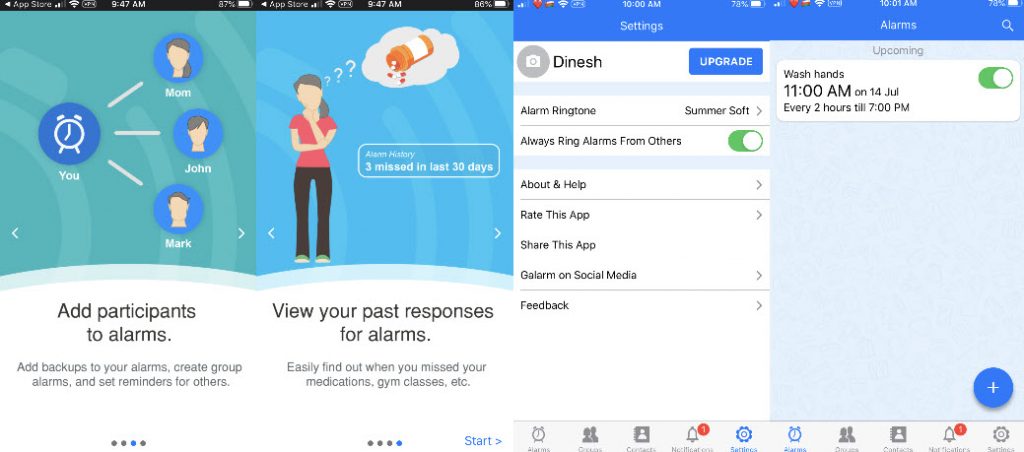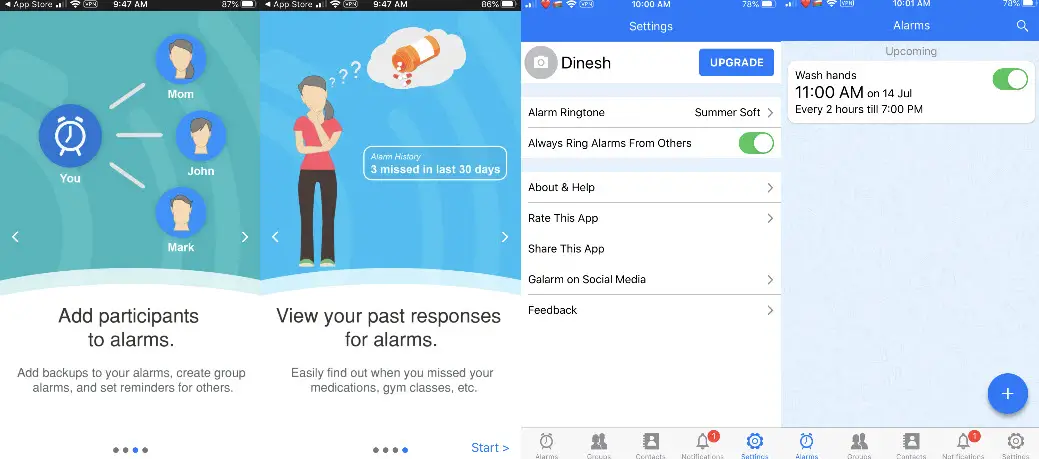 As it can be socialized with your network and friends, everyone can share event reminders and alarms within the group. The better thing is your friends can wake you up via Galarm if you forget to set up an alarm on your phone. It has an adjustable frequency to set the alarms. For example, you can create hourly, daily, weekly and even yearly.
Additionally, Galarm has the features for Group Alarm, Buddy alarm, Chat and Notes. Rather than depending on the traditional in-built alarm clock apps with limited features, these types of well-built apps like Galarm give the freedom to customize the alarm clocks as per your need and enjoy the sleep and wakeup.
If you think of having a group alarm for studies, workouts, projects or even starting a trip, Galarm is a handy app as it supports iOS and Android. Since it supports both famous smartphone Operating Systems, a user can easily switch the phones without losing the alarms or reminders that sync from the cloud. The private chat among your friends' group and saying Good morning or Good night is something great to have in the same alarm clock app on our phones.
If you are looking for the most sophisticated iPhone alarm clock app, here is the correct app for you. Sleep Cycle detects your sleep cycles and sets alarms accordingly. When Sleep Cycle is activated, you put your iPhone on your bed next to you when you go to sleep and the app analyzes your sleeping habits all night, monitoring for any noise you make and your movements throughout the night.
Sleep Cycle keeps the record of all your habits and decides on a time to wake you when you are not in deep sleep.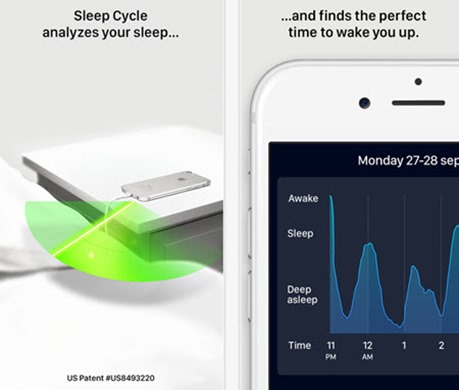 Conclusion:
The Apple App store contains a wide variety of alarm clock apps, but many of the apps are not as effective as the ones mentioned above. If you are looking for iOS built-in alarm clock alternatives, this list will be useful to find the suitable one for you.
So, what's the verdict? While the iPhone alarm clock app doesn't have all of the features that 3rd party apps offer, it does have a few key advantages. It is extremely user-friendly and customizable, which means that you can make it work for your specific needs. And if you don't want to worry about downloading another app, Apple has made sure that its built-in alarm clock will meet most people's needs.
If you need more bells and whistles than what the iPhone alarm clock offers, there are plenty of great 3rd party apps to choose from – but be sure to do your research before you download! We hope this article has helped you decide on the best iPhone Alarm Clock app.