Have you ever thought of having a tool that does offer tons of features ranging from being a converter, downloader, recorder, GIF maker, photo to video maker and many more in a single application? If you have not found one yet then do not worry, here is one for you by the name HD Video Converter Factory. 
This name may sound new to you, but this application comes from a company name, WonderFox, which is a big name in the software industry. This company offers many such amazing products at an unbeatable price.  
In this post, we are going to review the product and talk about the features that one can expect and how user friendly it is. Catch us after the jump!
As soon as you launch the application, you will notice it loads faster. The home screen greets you with options like Converter, Downloader, Recorder, GIF Maker and Toolbox as shown below: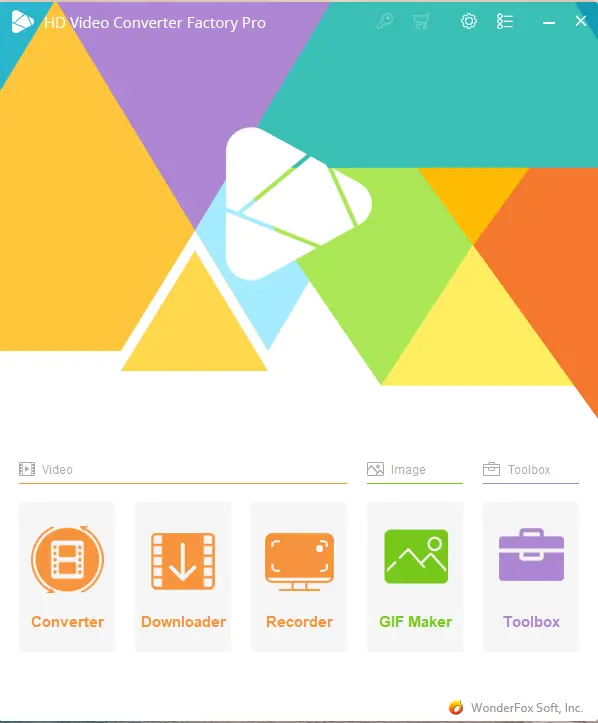 Based on the requirement, you can pick your task to complete.
Let us walk you through step by step the features of the HD Video Converter Factory.
HD Video Converter Factory Review
1) Converter:
Under Converter options, a user is provided with a clean interface which is super user-friendly. Either you can drag and drop the file you want to edit.
Then you can add or remove audio/video and subtitles from a clip and then select the destination file format. This tool offers lots of sizes based on the requirement you can pick any.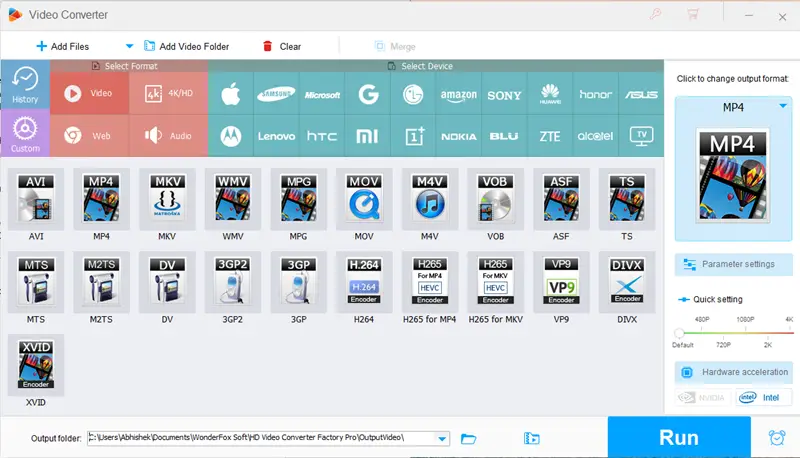 The conversion process is fast, and the output file gets saved in a specific folder on the computer.
The user is also provided with the option to merge more than one file -> add/remove music -> subtitle and then convert the file.
The best part of HD Video Converter Factory is it offers hardware acceleration at this price point. The hardware acceleration feature enhances any task performed on the tool and makes it faster.
It uses Intel Quick Sync Video Nvidia NVENC to optimize and improve the efficiency of the video converter
For user who wants to go the extra mile, they can try "Parameter Settings" which comes loaded with a plethora of features.
You can control small parts of video and audio files to get the best result.
2) Downloader:
The downloader interface of the tool offers immaculate yet powerful features.
Once the user lands on the downloader section, they need to click on new, and it will ask to input a URL that needs to be downloaded.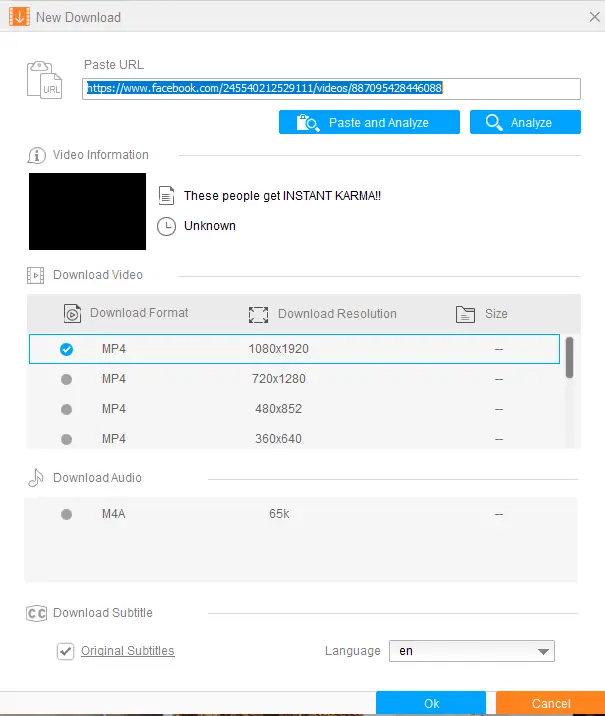 After pasting the URL, click on Analyse the HD video converter factory pro will run a scan through its inbuilt engine and will look for all kinds of information related to that link. Once the analyze process is complete, it will show options like resolution option & subtitle download.
Users can download videos from a wide range of websites like YouTube, Vimeo, Facebook, Instagram, and +300 more sites.
3) Recorder:
The tools recorder interface is clean and very basic. As shown in the below image, the user is offered options like "Custom Screen", "Full Screen", Quick Settings to manage the quality of the recording [low quality, default and high quality] and a Record button.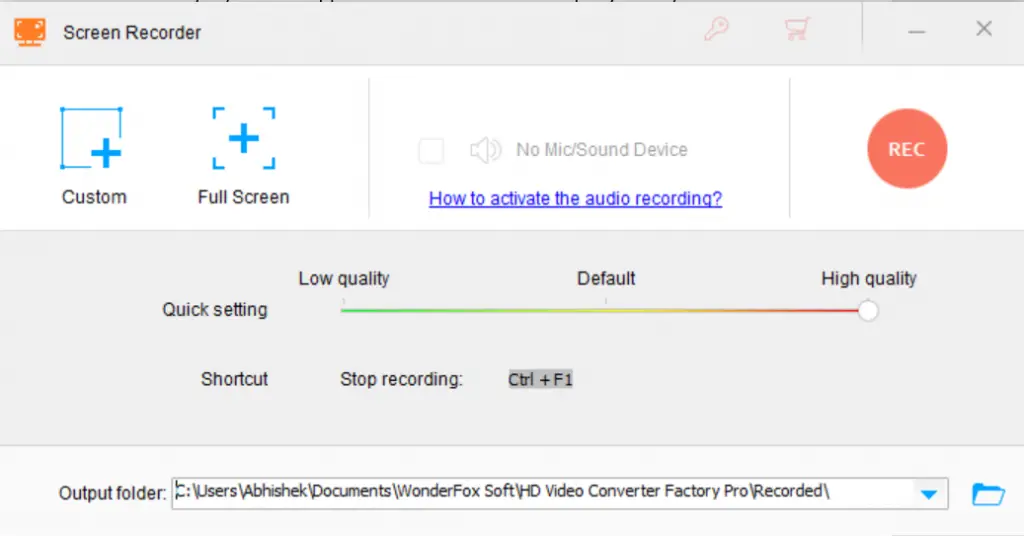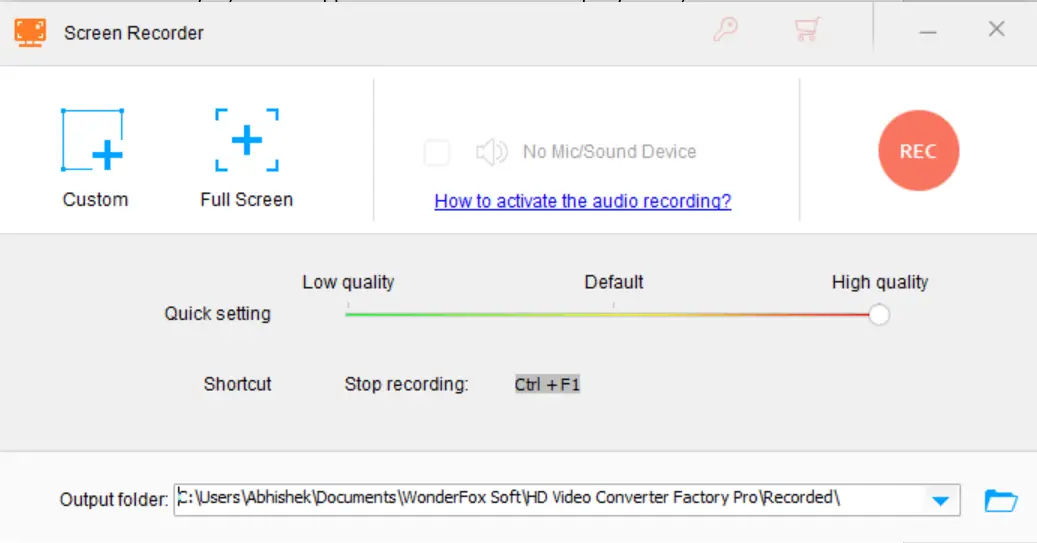 Users can select a specific area that they want to record using the "Custom" option. The recorded file is saved in the output folder.
The output file can then be edited/tweaked/trimmed using the same HD video converter factory pro tool.
4) GIF Maker:
Under the Images section of the tool, there is an option to create GIFs using Photos or Videos.
Go to the GIF Maker section, and it will ask to select either video or photo to create GIF. Make the desired section, and it will open the GIF maker, as shown below.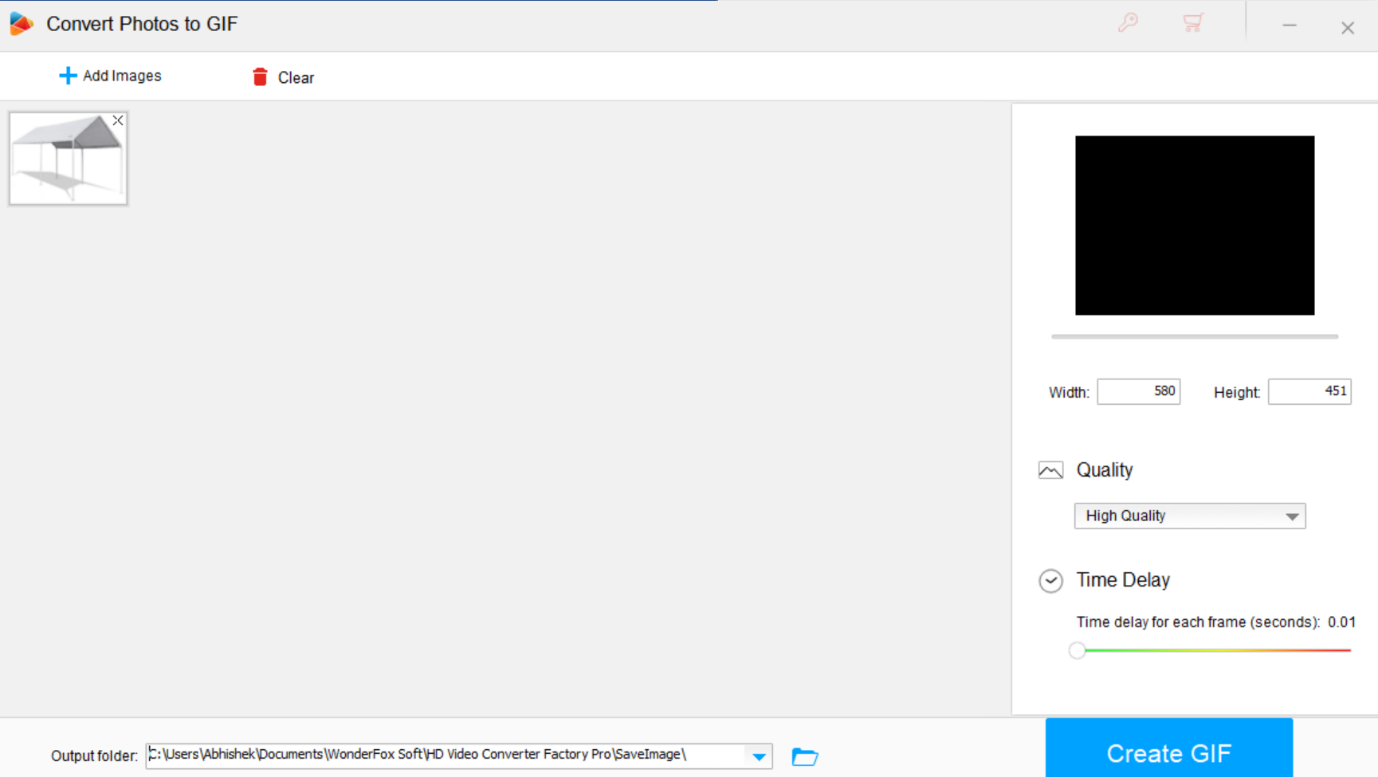 Add photos or video -> select desired width and height of the GIF, Quality and Time Delay form each frame and hit create GIF.  The tool will create the GIF and saves it in the desired output folder.
5) ToolBox:
The ToolBox is the last, but a bundle of features available in this application, it offers four amazing features like Photo to Video Maker, Ringtone Studio, Split-Screen and Subtitle Extractor.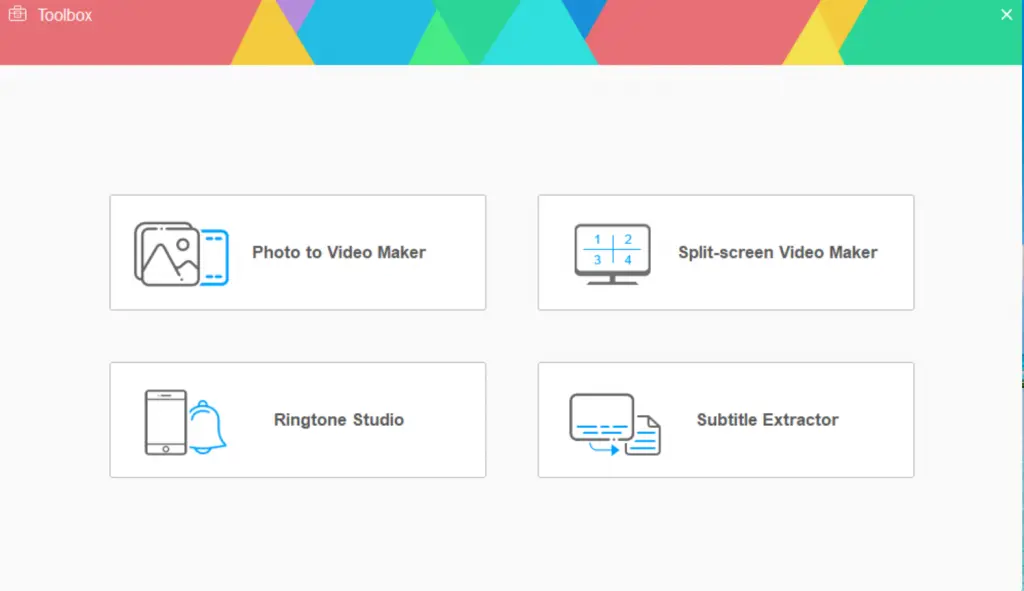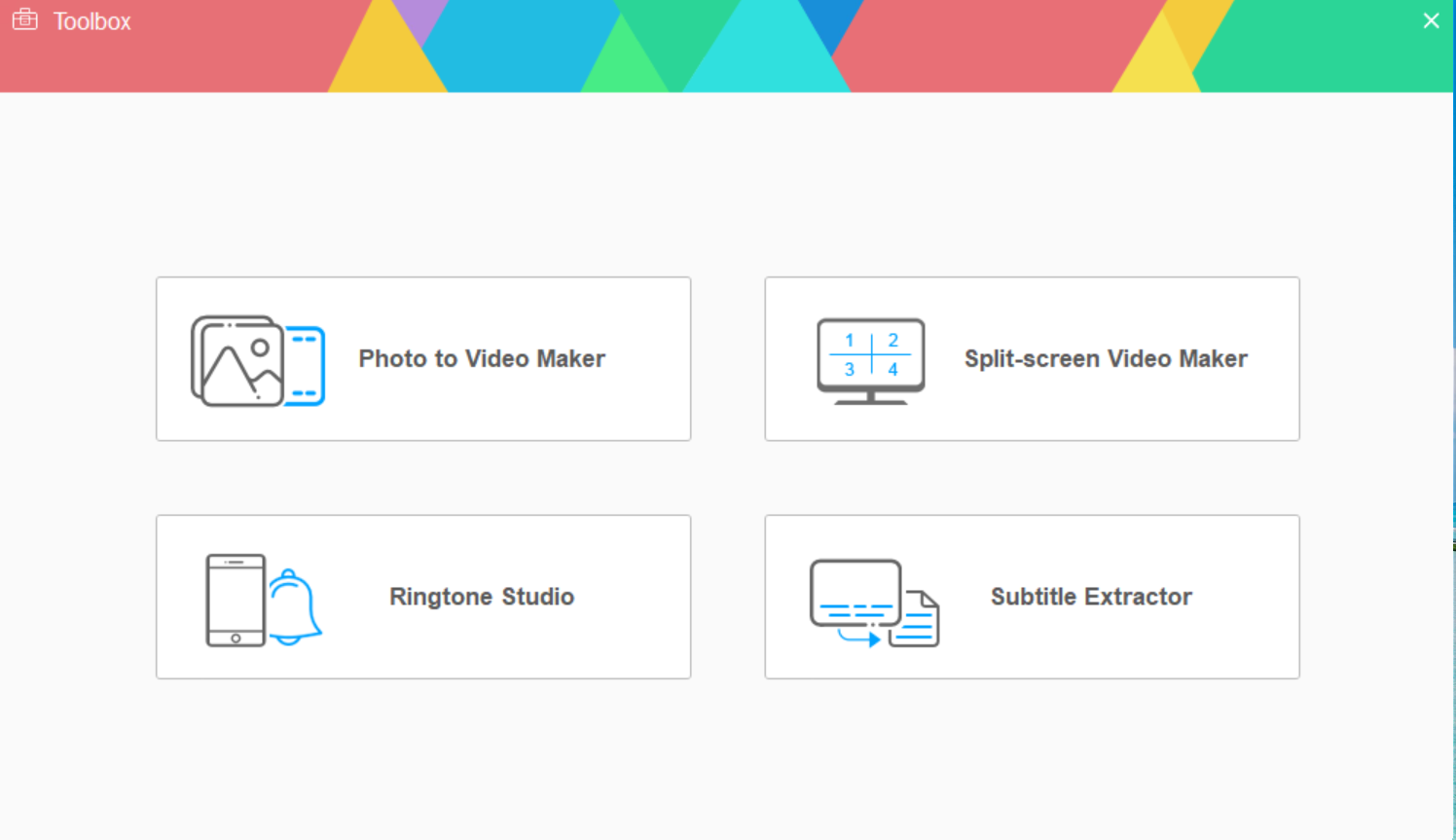 By grouping multiple images, a video file can be created using Photo to Video Maker.
The split-screen video maker helps end-users to try different split-screen to load more than one video on a screen and compile them together. Users can also select the source of audio, video quality and aspect ratio.
Have you ever thought of finding a simple application to convert your favourite track into a ringtone? Well, the HD Video Converter Factory Pro tool offers the features to convert an audio track into a ringtone for iOS and Android devices.
Subtitle Extractor is another remarkable feature available in this tool that helps end user who is looking to extract subtitle from a video file.
To extract subtitles from a file, the user must upload a video file and select the type in which they want the subtitle to be derived. 
The subtitle extraction format ranges from SRT, ASS, SSA and TXT format.
The video converter comes with a tutorial link that users can refer to in case they face any issues using this great tool.
Now let's talk about the pros and cons of this tool as a whole:
Pros: 
Supports hardware encoding that speeds up 30x faster video conversion speed for H.264 and HE-VC/H.265 encoding, which will enhance the real-time conversion speed and performance.
Offers HD to general video conversion that too by reducing the video size and losing quality
Download video in 8K, 4K, 1080P, 720P, and 480P from 300+ sites, including YouTube playlist free downloads
Select the maximum number of batch covering tasks [ 1-10]: For most Video files, it supports a maximum of ten converting missions at one time But for codec HEVC, VPg and H264 format files, the maximum number is limited to 1—2 items even if you set 10 tasks, it only runs 1—2 tasks at one time
Convert audio files and a built-in ringtone maker
A Built-in editor (Crop, Merge, Clip, Rotate, Volume)
Supports multi-language interfaces, such as English, French, Spanish and so on.
Lightning Mode will be automatically activated if the conversion meets the following criteria. With the same encoder, e.g. H.264, to convert an H.264 MKV video to H.264 MP4 format without any other settings changed will trigger the Lightning Mode up to 50X faster conversion.
Cons:
The User Interface looks a little dull. As the tool offers, so many feature users expect an overall pleasant experience related to the products they use.
No multi-tasking support, if you are using one of the features in the tool like GIF maker then at that time you cannot use other elements of the tool. You must close the task to access the device back.
WondexFox offers HD Video Converter Factory Pro in both free and paid versions. In the free version functionalities are limited.
We highly recommend our readers to give this tool a try and share your experience with us in the comment section below.