Ever wondered, when you copy some text on your Samsung phone, where does it go momentarily before you paste it?
It goes to your phone's clipboard, but where is the Clipboard on my Samsung Phone? Keep reading to find more information.
If you've been copy-pasting on your Samsung phone (which you've likely done), you've been using the Samsung phone clipboard without even noticing.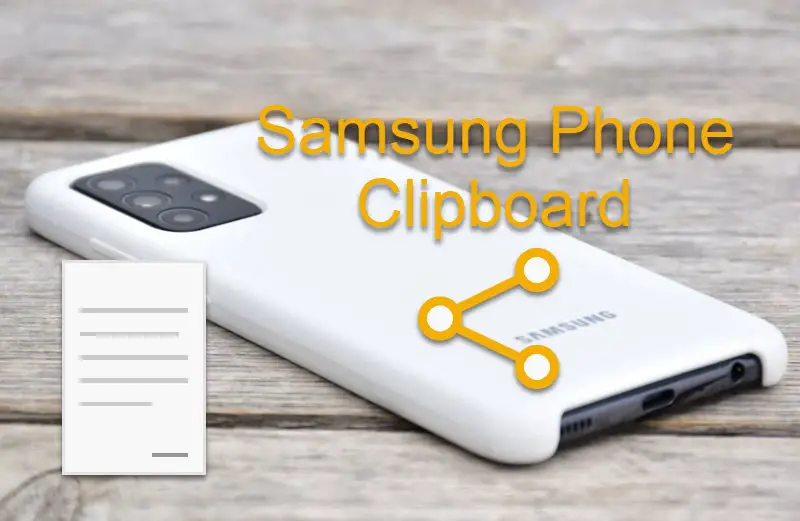 But how do you access your Samsung phone's clipboard? And can you see your past copy-paste history?
These are the question you'll get answers to in this article as we explore the clipboard features on your Samsung phone.
For demonstration purposes, we'll be using a Samsung phone(duh!) with Android 12.
Let's go learn about your phone's clipboard!
What is a Clipboard?
In real life, a clipboard is a wooden board with a clip that is usually made with metal. The clip is used for clipping(holding) papers tightly.
Your Android phone also has a clipboard. Your phone's clipboard is a location in the RAM where your copied text, URLs, or objects are temporarily stored so you can transfer them between different applications.
Where is the Clipboard on my Samsung Phone?
In earlier Android versions, the user had no access to the clipboard. The clipboard first appeared in the user interface in Android 8.0.
However, since you're a Samsung user, the clipboard is already built-in on your phone.
There are multiple ways to access the Samsung phone clipboard. We'll show you each one so stay with us.
Method 1: Access Clipboard From Edge Panel
Go to Settings → Display
Scroll down a little till you find Edge panels. It will be turned off, so you can turn it on by pressing the slider.
Tap on Edge panels text. You will be taken to another menu. Tap on Panels.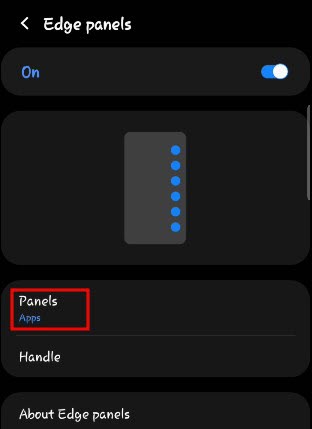 Slide to the right till you see the clipboard. Select it by tapping on the circle above. You can only keep the clipboard or add other options (Tools, Apps, Tasks) with it as well. But to better understand how it works, untick all other options.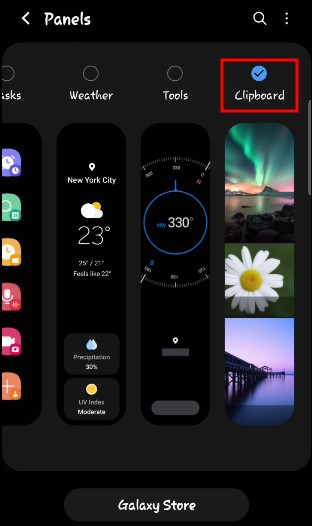 Now go to your home screen. On the top right, notice a gray-colored bump that wasn't there before. That's the Edge Panel.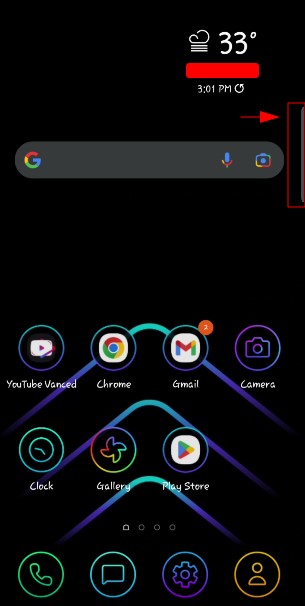 Gently tap on it and swipe to the left. You will find the clipboard with all the copied text, images, and links.
Note: If you had multiple options enabled on the Edge panel, you might have to swipe multiple times to the left to see the clipboard.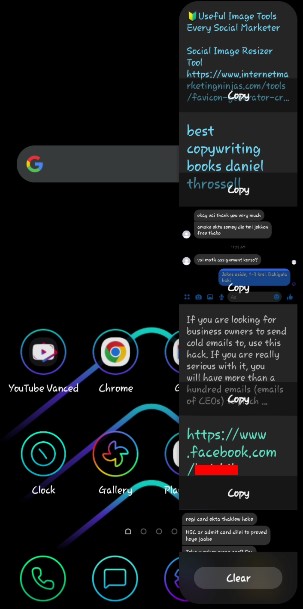 Copy from the clipboard history and paste it anywhere. You can tap on the Copy button and then paste. Or you can drag the items to where you want to paste them.
Method 2: Access Clipboard From Samsung Keyboard
If you're using the Samsung Keyboard on your Samsung device, you can access the clipboard from there. Make sure that your default keyboard is set as the Samsung Keyboard.
To set Samsung Keyboard as the default:
 Go to Settings → General management → Keyboard list and default.
Tap on Default Keyboard. Select Samsung Keyboard.
You've set Samsung Keyboard as default. Now
Go to any app with a textbox. Even your browser will do.
Tap on the text area so that your keyboard pops up.
Tap on the three dots on the top right corner of your keyboard
Select Clipboard. You will see all your copied text and images. You may pin and delete any if you want.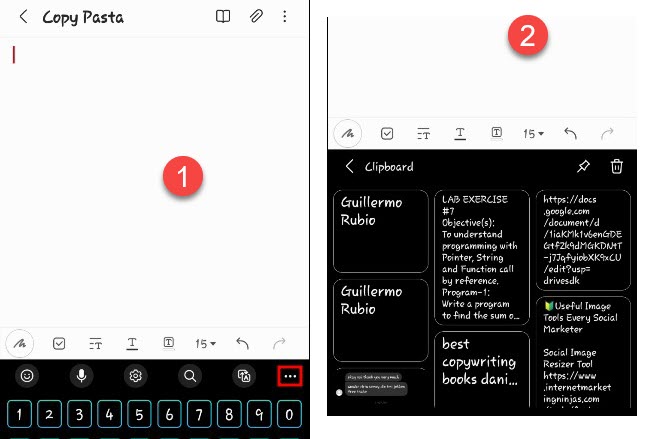 Method 3: Access the Clipboard By Holding onto A Text Box
This method is even easier than the previous one. At the same time, you're at the textbox; tap and hold on to it. You will see some options appear in a popup. The clipboard is one of them.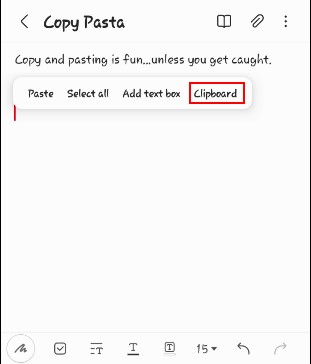 Tap on the clipboard to access it.
Related: How to fix downloading error 905 with Google Play
How to use the Clipboard on your Samsung Phone?
Once you have access to the clipboard on your Samsung Phone, you can use it for copy-pasting as you like.
If you are looking for something you copied a few days earlier, you can scroll through your clipboard to find it.
To copy something from the clipboard, just tap on that item while you're on a textbox. It will be automatically pasted to the textbox.
You can pin any copied item on the clipboard so you can refer back to it quickly.
You can delete items you don't need any more from your clipboard to make it less messy (Clipboards usually appear messy).
Next time you copy text, links, or take screenshots, they will appear on this clipboard so that you can use them easily between apps.
How to Clear The Clipboard?
Want your clipboard to be empty? You can do that with a few clicks.
After accessing your Samsung Clipboard from the keyboard
Tap on the trash icon.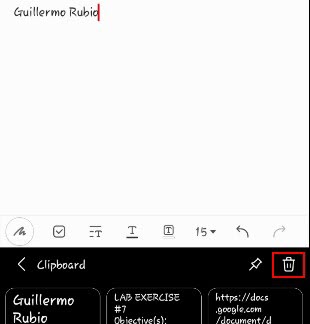 Tick All.
Press Delete.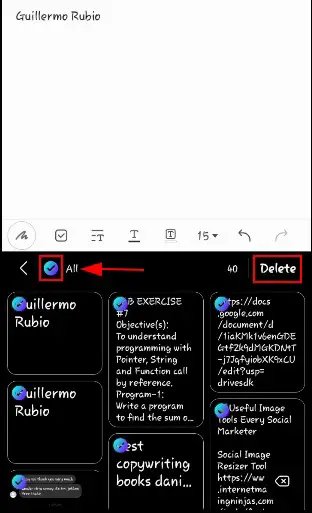 Your clipboard is now clear.
Latest Samsung Phones to Pick Up
While you're here, it would be a crime not to talk about the latest Samsung Phones 🙂
Samsung revealed the new Galaxy Z Fold 4 and Z Flip 4, successors to Fold 3 and Flip 3. We hope you're just as excited about them as we are. Let's wait and see what Samsung has up its sleeves in its latest releases.
For budget users, the A series(Galaxy A23 5G, Galaxy A13 (SM-A137), Galaxy A73, A53, A33), and M series(Galaxy M13 5G) have some promising models.
And if you're looking for flagship phones, the S series(S22, S22 Plus, S22 Ultra, S21 FE), Z Fold 3, and Z Flip 3 could be great bargains.
Read Also: How to use FaceTime on Android phones/tablets
Conclusion
Copy-pasting is something we do every day. Having access to your Samsung phone's clipboard makes that process much more convenient.
You can
Browse your Clipboard history
Paste any past items with one tap
Pin any item that you need to paste often
Delete or clear your clipboard
This article walks you through everything you need to know about the Samsung Clipboard, how to access it, how to use it, and how to clear the clipboard.
Have any other methods to access the Samsung Clipboard? Let us know in the comments.