If your CPU fan is making too much noise or it's not running fast enough to cool down your PC, it's time to change its speed.
Though you can change the CPU fan speed through BIOS, this article covers how you can achieve that without it.
It's possible that you're unable to change it via BIOS or you don't want to mess up the process and brick your PC.
If you're running Windows 10 or 11 on your desktop or laptop, this article will show you how to change CPU fan speed without BIOS.
Also, most of the tools allow the users to adjust, control, and monitor the CPU fan from the Operating System level without accessing BIOS – that means – we don't need to restart the computer.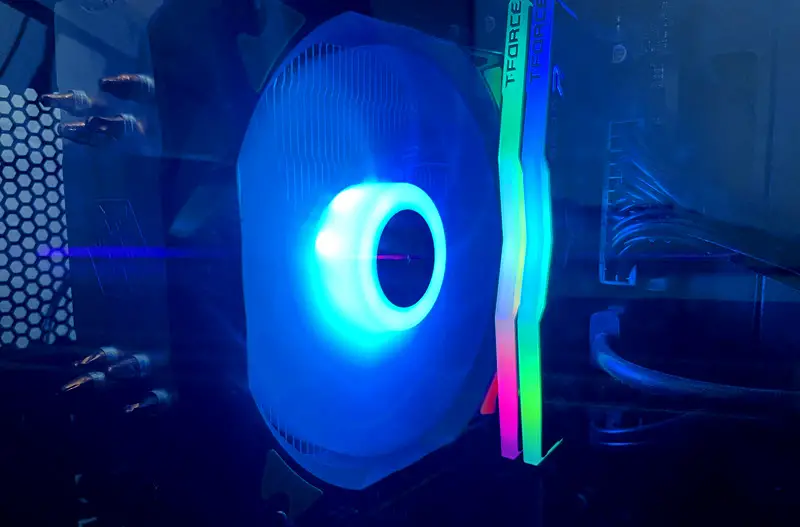 Why Should You Change the CPU Fan Speed?
If your CPU fan is unable to cool down your desktop components, you need to increase the speed. Doing so will result in better internal airflow inside your device. This can save your PC from overheating.
If your CPU fan is not functioning at the rate it's supposed to, it's necessary for you to manually increase the speed for cooling down.
On the other hand, if your fan is making too much noise, you may want to decrease its speed to an optimal level. However, keep in mind that reducing it too much may cause overheating.
Can You Change the CPU Fan Speed Without BIOS?
Yes, it's certainly possible to change the fan speed without accessing the BIOS. Though it's still the recommended method of doing it, it's not a requirement anymore.
There is a bunch of software and external hardware in the market that lets you control your CPU's fan speed. We'll talk about them in a moment.
There are multiple methods and products you can use to change the fan speed of your CPU. We will cover each one in-depth and tell you which one will be best for you so stay with us.
Method #1: Use CPU Fan Speed Monitor Software
Using software to control and change your CPU fan speed is pretty convenient. Especially if you're not so techy, you don't want to make mistakes and damage any of your PC components. With the proper software, you can just click buttons to monitor the fan speed.
That being said, using the software still needs some learning to do. That's why our advice to you is to NOT skim through any of these parts and read them carefully. We will cover the best CPU fan speed software out there so that you can choose the one that fits your needs the best.
Fan Control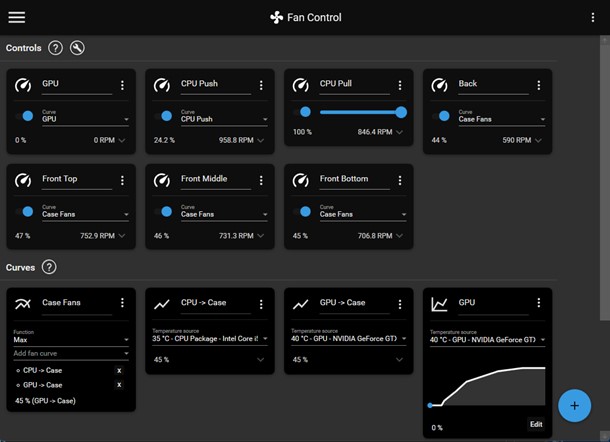 Fan Control is a highly customizable fan-controlling software dedicated to Microsoft Windows. It doesn't require any installation on your side which makes it a perfect choice for beginners. It's also completely free.
Since this will be your first time using a CPU fan controller software, we will guide you through the whole process of installing Fan Control.
Installing Fan Control
Download the latest version from the official website.
Extract the downloaded .zip file using software like 7zip to your desired location.
Start the FanControl.exe application ( No installation required)
Features
Easy and quick setup
Low on resources
Configurable graphs temperature range
Various temperature sources such as CPU, GPU, motherboard, hard drives, etc
Multiple fan curve functions
Advanced tuning with steps. % for starting, stopping, hysteresis, and response time
Mix fan curves or sensors together
Customizable UI
Ability to own multiple configurations
Fan Control also offers plugins so that you can inject any type of sensor into it.
If you've never used fan speed software before, this is our top recommendation for you.
SpeedFan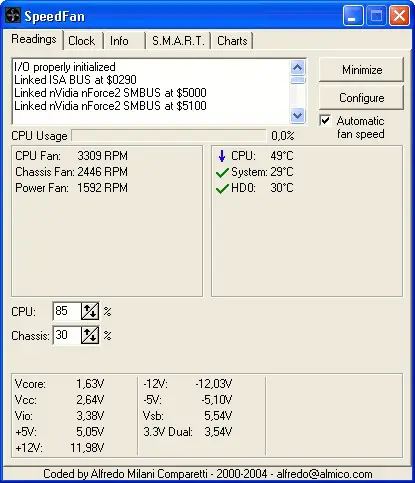 SpeedFan is another popular software for monitoring your computer's fan speed. Apart from that, it can also report –
The temperature of the chipset, CPU, and power circuits
Voltages
Hard Disk SMART data comparison
Hardware health data, and statistical values
With SpeedFan, you can either set it to automatic mode which will control your fan speeds itself. However, you also have the freedom to manually set the configurations to your need.
If you consider yourself well-versed with CPU hardware, it's always best to set it up yourself. But beware that the wrong settings can damage your components. So follow an expert guide to set up the software.
SpeedFan hasn't received many updates in recent times. So the first thing you need to do is check your motherboard's compatibility.
NoteBook FanControl
NoteBook FanControl is a cross-platform user-friendly fan control software. Its ability to adjust to different desktop models makes it a powerful tool for controlling your fan speed.
Installing and configuring it is super simple.
Download the installation files from here.
Run the NBFC installer file.
Run NoteBook FanControl.exe
Select one of the configs and press Apply. That's it.
NBFC automatically starts controlling your system. You can edit the config in the Config Editor to suit your need.
NOTE: If you have Secure Boot enabled, make sure to disable it first.
HW Monitor
HW Monitor is a hardware monitoring program that reads the main PC system health sensors.
Some of its best features include –
Monitoring CPU and GPU-level hardware
SSD/hard disks monitoring via S.M.A.R.T.
Memory modules with thermal sensors monitoring
The setup file comes with an installation guide which you can follow for setting it up properly. HW Monitor is regularly updated so your laptop or computer should be compatible with it.
ZOTAC FireStorm
FireStorm is an advanced fine-tuning software from ZOTAC that is designed to easily adjust your CPU elements. These include
Fan control
Memory speed
Clock speed
If you're already using ZOTAC hardware, this software can be your best choice since you will the highest compatibility.
Other Mention Worthy Software
We've gone through some of the best fan control software out there. There are many others we won't cover in-depth but they are worth mentioning. You can check them out –
MSI Afterburner
Open Hardware monitor
Argus Monitor
HWiNFO
EasyTune 5
Corsair Link
Thinkpad Fan Controller (TPFanControl)
Method #2: Use an External Fan Controller Device
If you don't like the idea of using complicated software for adjusting the CPU fans, you can opt for external fan-controlling tools. They are easier to set up, don't need much technical knowledge, and work as well or even better than software.
Here are some of our recommendations you can look at –
Noctua NA-FC1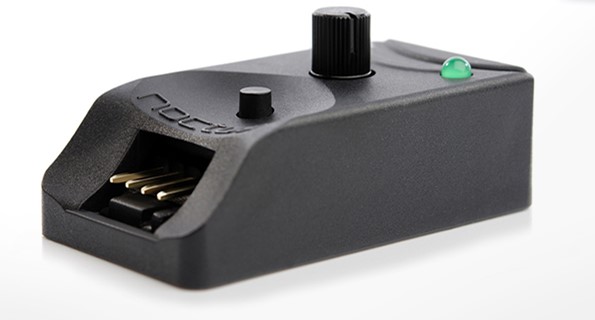 Noctua NA-FC1 is a Pulse Width Modulation-based, a compact speed controller for 4-pin PWM fans.
You can use its own configuration or manually reduce speed yourself.
Features
PWM-based control enables more efficiency in controlling speed. The fan's starting voltage doesn't matter.
Manual control for setting PWM duty cycles.
Lowering the motherboard's PWM control curve to ensure silent operation. This is especially helpful for high-speed PWM fans.
Control up to three 4-pin PWM fans with the 3-way splitter cable.
Power supply adaptor to keep your motherboard safe.
A solid 6-year manufacturer's warranty
Thermaltake Commander F6
Thermaltake's Commander F6 RGB is a gorgeous system temperature and fan speed control device.
With 16 different illumination display colors, it can make monitoring your desktop or laptop's internal measurements a breeze and fun. You can also personalize your visual environment to suit your taste.
Features
Adjustable Output Voltage.
Detail monitoring of the temperature and control fan speed accordingly.
Six 30W separate fan control channels allow precise cooling control with minimal noise.
The built-in alarm function will notify you about malfunctions and overheating.
CORSAIR Commander PRO
The CORSAIR iCUE Commander PRO promises to turn your PC' case into a smart case. Get flexible control over your system's performance. Set up fan curves that adjust according to your device's needs.
Features
Control up to six case fans.
Allows for up to 6x 3-pin DC or 4-pin PWM fans
Zero-RPM fan mode for total silence operation
Two customizable RGB lighting channels
Four repositionable temperature sensors for accurate monitoring
Get CORSAIR iCUE Commander PRO
Which Fan Speed Controlling Method is Best For You?
Although it's recommended to change the fan speed using BIOS, it's understandable if it doesn't work sometimes.
If you're tight on budget and don't mind going through some expert tutorials, you can get one of the software we mentioned.
If you want more convenience and freedom in controlling the CPU fan speed, getting an external speed controller is the way to go.
What Speed is Good For Your CPU Fan?
An optimal speed that keeps your PC cool enough but is also not too loud
You generally set fan curves according to your preferences based on noise and temperature. It's certainly not universal, and random numbers are not helpful when you run a completely different setup than someone else.
Some users like to set their fans to 600rpm unless it gets really hot during summer, then they set a higher RPM.
Other users set it so that the max daily temperature stays under 75 °C and if they have thermal headroom then they lower the fans to lower the noise.
As you can see it depends on your device, room, and geography, among other factors.
So our advice for you is to make your own fan curve accordingly.
Read Also: What are red USB Ports on the Motherboard
This article shows you the different ways you can change the CPU Fan speed without BIOS in Windows 10 and 11 machines. It's crucial that you have access to multiple ways to control the CPU fan speed so that if one method fails, you can rely on the other.
If you have any questions regarding CPU fan speed or any tool we mentioned here, let us know in the comments down below.