When you try to copy and paste some data on your iOS or Android devices, you get a "your organization's data cannot be pasted here" message; here are the solutions to fix it.
This may occur when you copy corporate sensitive data from Outlook, Excel or Word on your own devices like smartphones/tablets (and Windows devices too) to other unauthorized apps.
The main reason for this error is that your device is enrolled on your company's Intune portal and the Microsoft Intune Policy is applied to your device.
As end-users, we don't have much control to overcome this issue once the device is enrolled on the corporate Intune policy. When you installed and configured Outlook, OneDrive or other Office products with the company email credentials, your organization would have pushed this policy to prevent copying/leaking corporate data.
How to Fix your organization's data cannot be pasted here?
In summary, we can follow the below steps to solve this problem.
Create the new document (for Excel and Word)
Manually update the Microsoft Office (could be a security issue which the Office update will fix)
Contact your IT admin to change the Microsoft Intune Policy
Steps in Details:
1) Create New Document and Save
If you are unable to copy your corporate data on the existing Word or Excel file, create a new file. Make some changes in the new file, then save it. If everything is fine, you should be able to save the file on your device.

Now, try to copy and paste your organization's data into this new document.
Close all Mircosoft applications, and open them again after a few seconds. Then repeat the above same steps before giving up this method.
2) Update your Office product manually
There could be a bug, or lack of security updates on your device which prevents copying with your organization's data cannot be pasted here error.
Update the Office product by downloading the latest updates from Windows/Office updates or the App Store/GooglePlay from your smartphones.
3) Change the Microsoft Intune policy – Done by your IT Admin
If your company is not intentionally blocking data copying among the apps, then they can modify the policy to allow it. Usually, there could be an Intune app protection policy which is blocking the data copy between unprotected apps.
Modifying the existing policy or creating a new policy will eliminate the error message we are discussing in this guide.
1) Log in to the Microsoft Intune dashboard. Your IT admin will have the access to Microsoft Intune portal.
2) Click on 'Apps' and select 'App protection policies'.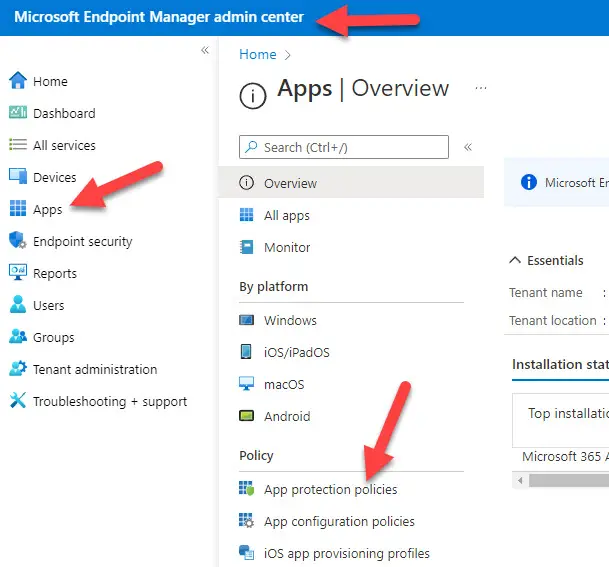 3) Either you can edit the existing policies for iOS and Android or create a new policy.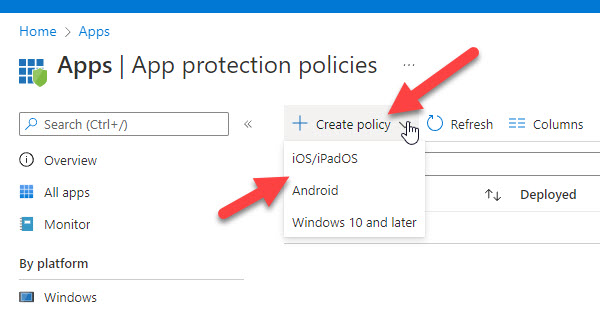 4) Under the 'Data Protection', select the appropriate policy option for the 'Restric cut, copy, and paste between apps' option.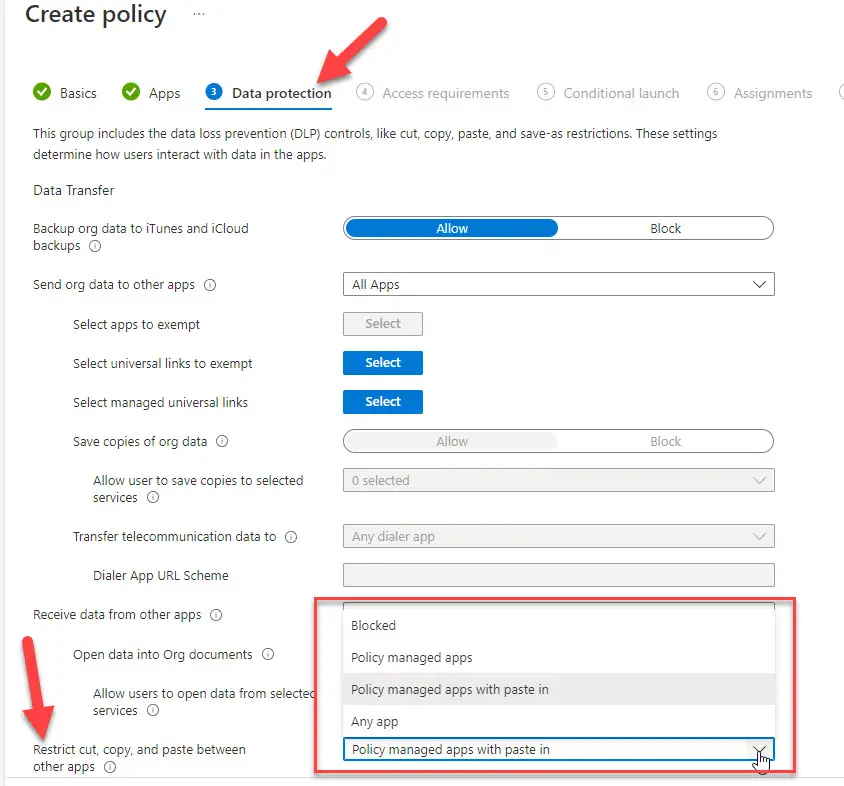 Make sure it is not selected as 'Blocked'.
Changing to 'Any app' will allow data copy between all apps on the devices where Intune policies are applied.
5) Press OK to save the policy and deploy.
Once the policy takes effect on the devices, you should be able to copy the data among apps.
Why I'm Getting your organization's data cannot be pasted here error
This error indicates that you are trying to copy the corporate data from the managed app to an unauthorized app on your device (mostly the smartphone or tablet). Your organization is restricting it by using the Microsoft Intune policy and managing the device. In a way, it is the best practice to prevent data leakage in an organization.
Can the End User Access the Intune portal?
Microsoft Intune portal is for administrators only. If the admin provided certain access/roles to your account, yes, you can access it. Most of the time, it is with IT/Azure cloud admins who manage your organization's devices and policies.