You delete an important document by accident, or your computer crashes, and you lose everything—sound familiar? It's every computer user's worst nightmare, but thankfully there are ways to restore your data. One such method is with a data recovery tool such as iTop Data Recovery.
This software can recover files you accidentally deleted and those lost due to a computer crash or hard drive format. In this post, we'll show you how to use iTop Data Recovery to restore the lost data and files you deleted accidentally.
Download iTop Data Recovery
So, you accidentally deleted an important file. What do you do? Panic is a common reaction for most people. But don't worry, there's still hope.
iTop Data Recovery software is a handy tool that can help you recover deleted or lost files. It's easy to use and available for free preview before starting the recovery process.

Simply download and install the software and follow the instructions to recover your lost data and files.
Choose Specific Disk
If you're using iTop Data Recovery to recover a disk, the next step is to choose which disk you want to recover. You can select a specific disk for recovery. Once you have chosen the type of data you want to recover, you will need to specify where the data was deleted.
You can choose to search the entire hard drive or just specific partitions or folders. The data recovery software can help recover data from the local and external hard drives.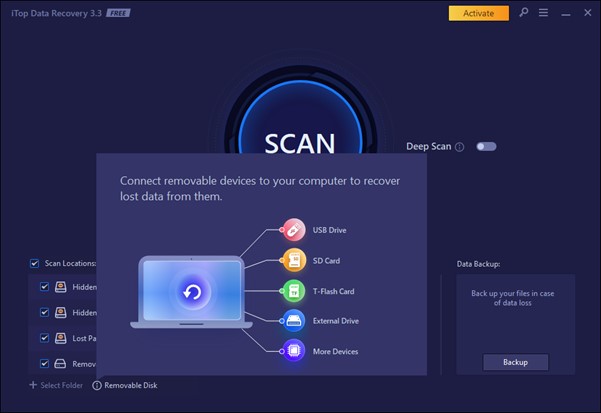 Use Ultra Fast Scan
The most effective way to recover data that you accidentally deleted is with iTop Data Recovery. This software is designed to help you get your data back quickly. An ultra-fast scan can help recover your lost files in seconds.
This is a handy feature if you accidentally delete something of importance. The scan is also in-depth, so you can be sure that all your lost data will be retrieved.
Make A List Of Files You Want To Recover
Your computer has tons of files, spreadsheets, pictures, videos, music, etc. You might have a really important file that you need to recover.
It is easy to recover files with this tool, but it can be tricky if you don't know what file you need to restore. Make sure you know which file you want to recover.
Restore Your Specific File
If you've deleted a specific file, you can restore it using iTop data recovery software. You can restore any particular file instead of all files recovering. This is a great way to save time, as you won't have to go through the process of restoring all files.
Select the file you want to restore and click the "Restore" button. This will save you a lot of time, and you won't have to worry about losing any critical data. Just make sure you stop using your computer in case of not overwrite the data.
More Than 95% Success Rate
iTop Data Recovery has a more than 95% success rate, which is pretty impressive. But that's not all; it is also effortless to use.
You don't need special skills or knowledge to get your data back; you only need the software and a few minutes of your time.
Final Thought
There are a lot of data recovery software programs out there, but iTop is one of the best. iTop Data Recovery is a powerful data recovery tool that can help you restore data quickly after accidentally deleting it.
With its user-friendly interface and simple steps, you can quickly recover lost data in just a few minutes. We hope this post will be helpful.