Secure Shell, SSH for short, is a network protocol which is used to connect to Linux, UNIX servers, network equipment, and any other SSH protocol supported devices over the network. By default, we can use SSH protocol in Linux and Mac but Windows OS does not have a native SSH client (though you can get it by Windows 10 'Features on Demand').
If you want to connect to a remote device through SSH protocol, then PuTTY is one of the best SSH clients for Windows 10, 8.1/7. Even then, PuTTY does not have many features its alternatives provide. So this article is to list down the best SSH clients and PuTTY alternatives for Windows  OS.
10 Alternatives for PuTTY in Windows 10/8.1
1) PuTTY Tray

PuTTY Tray is a free and open-source SSH client for Windows 8.1 and 10. PuTTY Tray is based on PuTTY and extends the functionalities through add-ons to make the user experience much better than the original PuTTY. PuTTY Tray has the following features:
● Can be minimized to the system tray.
● Customizable icons and windows transparency.
● Session configurations can be stored as files for portability.
● Always On Top setting for easy access.
2) KiTTY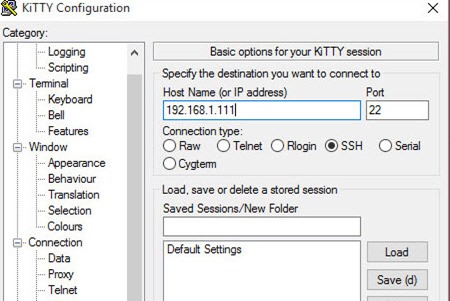 KiTTY is another very simple alternative for PuTTY. It is simply a fork of the original PuTTY and has all the features with and adds some. KiTTY's user interface is much the same as PuTTY's, so it is very familiar and easy to learn. Some of the features included in KiTTY are:
● Shortcuts for pre-defined commands.
● Automatic password entry.
● Running a locally saved script on a session.
● Storing a script to local storage for portability.
● A different icon for every session.
3) SuperPuTTY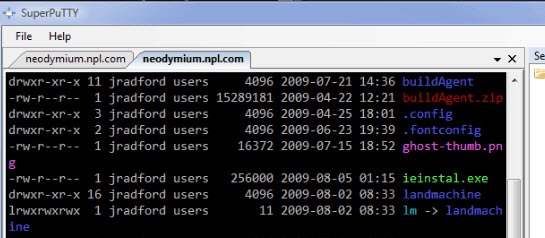 SuperPuTTY is a very popular SSH client for Windows Operating System to connect network devices over the network. SuperPuTTY, like other PuTTY clients, tries to improve what PuTTY already does but it needs a PuTTY installation on the system on which SuperPuTTY is intended to be used. Also, it allows multiple tabbed sessions included file transfers between the remote server and local storage. Following are some of the features:
● Export or import session configuration for portability.
● Customizable layouts for session views.
● Supports SSH, Telnet, and RAW protocols.
● Multiple sessions can be docked on the screen to allow easy workspace management.
● Upload files to a remote server securely using SCP or SFTP protocols.
4) Bitvise SSH client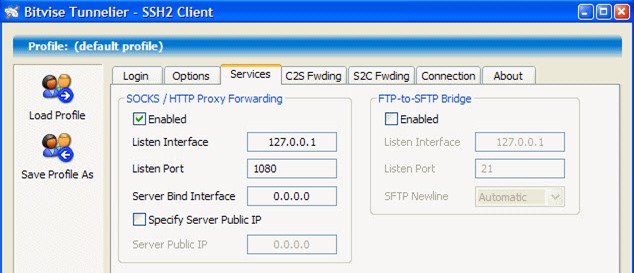 Bitvise SSH client is a good utility if you want to automate a connection to SSH servers. Bitvise is free for personal use and paid for commercial use. Bitvise SSH client provides claims to have an advanced graphical interface for SFTP clients and terminal emulators.
5) MobaXterm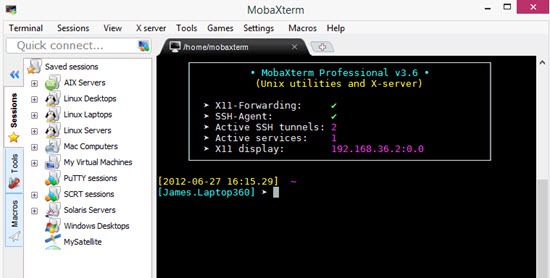 MobaXterm is the most positively received and widely regarded SSH client for Windows 10. It has both free and paid versions. It is targeted at all types of users like programmers, webmasters, IT administrators, or anyone who wants to manage a system remotely. MobaXterm is most popular for having a lot of features and support for plugins to extend those features. MobaXterm has no ads in both free and paid versions. Following are some of the features in MobaXterm:
● You can use UNIX commands in Windows.
● Support for a long list of protocols like SSH, FTP, and SFTP.
● Tabbed SSH sessions.
● GUI text editor.
● A portable version is also available.
Download MobaXterm Client here
6) SmarTTY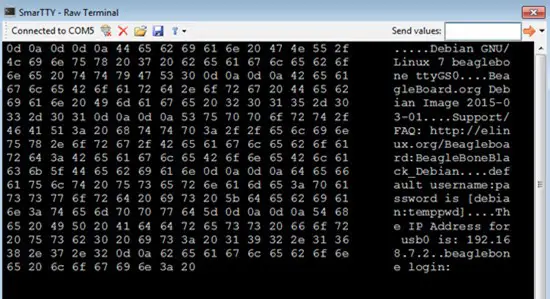 Here is another tool called, SmarTTY. It gets updated regularly by its developers. SmarTTY is also known for combining several features in other PuTTY alternatives into one application. Some features include:
● Multiple tabs inside one SSH session.
● Transfer files and complete directories to and from a remote server.
● Edit files on the remote server.
● Ability to run graphical applications through built-in Xming addon.
7) FireSSH Addon for Firefox and Chrome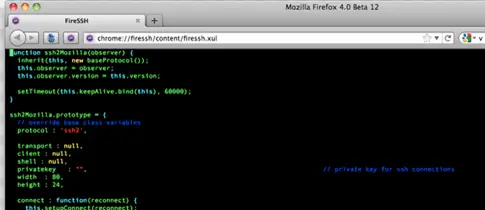 The FireSSH addon for Firefox and Chrome can work as an SSH client if you don't want to install a separate SSH client or if you don't have administrative rights on the Windows PC you are using. FireSSH is written in JavaScript and is platform-independent because it is available as an add-on for both Firefox and Chrome browsers which are easily available for Windows, Linux, and Mac.
Through FireSSH, you will be able to remotely connect to a remote SSH server through your browser and you will be able to open multiple SSH sessions in separate tabs. FireSSH is available on the add-ons page of Firefox and the Web Store in Chrome.
8) Terminals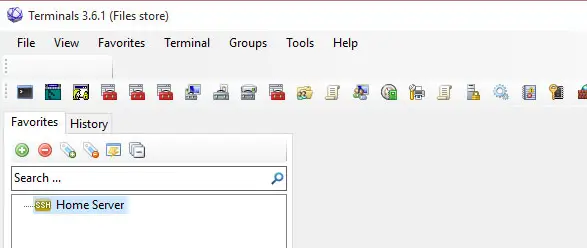 Terminals is one of those SSH clients with a polished user interface for making use of tabbed SSH sessions. Terminals is open-sourced and combine many features that are included in both free and paid SSH clients mentioned in this article. Following are the features included in Terminals:
● Session screenshot capture.
● SSH session connection history.
● Support for multiple protocols like Windows RDP, SSH, Telnet, FTP, SFTP.
● Network tools like Ping, DNS tools, Wake On LAN, etc.
● Multi-tab interface.
● Use the current terminal in fullscreen.
Get Terminals SSH Client for Windows Here
9) mRemoteNG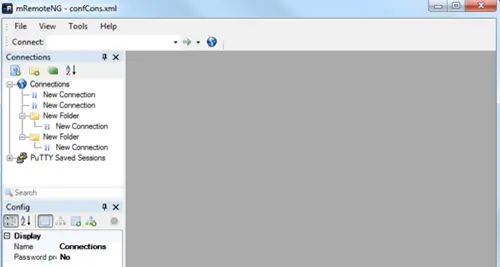 mRemoteNG is the best open-sourced system administration tool with multiple protocols support. mRemoteNG's main focus is to provide support for multiple protocols and the excellent user interface for an SSH client under one software. mRemoteNG has support for tabbed sessions. Some of the different protocols supported by mRemoteNG are:
● SSH
● Telnet
● HTTP/HTTPS
● Remote Desktop (RDP)
● Virtual Network Computing (VNC)
● RAW socket connections
10) Dameware SSH client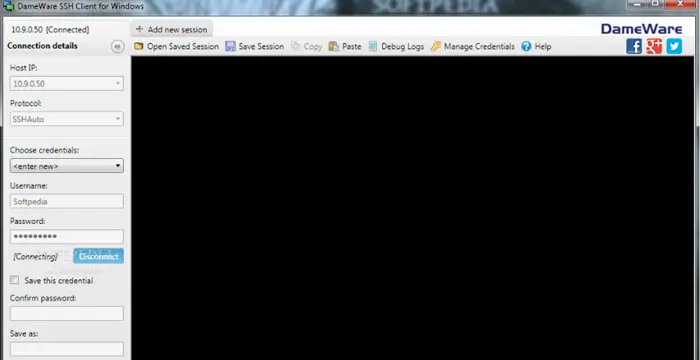 Dameware SSH client is a really nice alternative to PuTTY on Windows environment if you are looking for an SSH client with an easy to use and polished interface. Dameware has an easy to use console and allows multiple Telnet and SSH connections in multiple tabs. Some useful features of Dameware:
● Save favorite session configurations to your Windows PC.
● Access remote servers using multiple saved credentials.
● Manage multiple Telnet or SSH sessions with multiple tabs.
Download Dameware SSH client Here
We included some of the top best SSH clients for Windows 10 in this list. You can use them as alternatives for PuTTY as well. This was to help you know which different SSH clients you can choose from if you either want to use something other than PuTTY or you are new to handling remote servers through SSH clients in Windows. In the end, it will be a matter of personal preference to choose whichever SSH client you want to use.