To make a remote desktop connection to Windows 10 from macOS, you need to have the proper networking and compatible RDP (Remote Desktop Protocol) client.  Especially when you try to connect other Operating Systems, such as Windows 8.1 or Linux, then the RDP app should support necessary settings and security features. In this guide, we will learn how to use the Microsoft Remote desktop client on macOS to connect Windows 10 PC.
Basic Requirements
First, make sure the network connectivity is working properly from macOS to Windows OS. You can confirm this by using the 'ping' tool (command). The firewall on both computers should allow ping and RDP protocols
Obviously, you must know the IP address or the Windows 10 computer name to take the remote desktop from macOS. To make it work with the computer name, your network environment should have a local DNS server.
RDP Client App for Mac – How to Use?
1) Confirm the working network between the clients.
Use the ping command for this purpose, more information about enabling ping and ICMP packets available here.
2) Microsoft Remote Desktop app for Mac is a great Mac RDP client to manage and control Windows 10 or 8.1 PCs.
It is an official app from Mircosoft, which you can download from the Apple store. 
Also, there is a separate RDP client app from Microsoft for mobile users if you are an iPhone/iPad user. Download it here.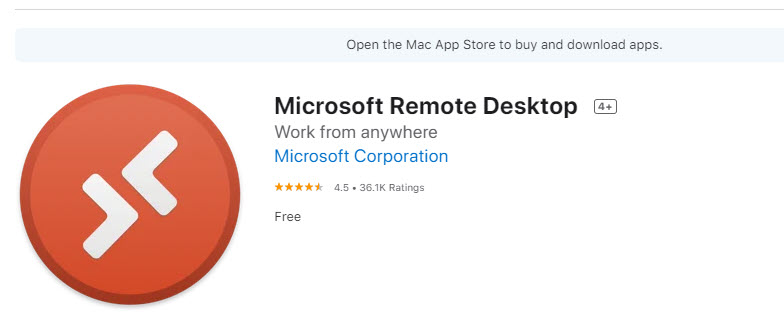 3) Installation is very simple. The best part of this MS RDP client is, you can save every connection and its settings of Windows client and Server Operating Systems.
Also, you can use this app to connect Remote resources of Windows OS and Azure cloud Remote Apps from any macOS including Big Sur.
In this example, we will set up the normal RDP to Windows clients and server Operating Systems only.
4) Click on New and configure the valid client PC IP (or PC name) and credentials that have RDP access on a particular Windows computer.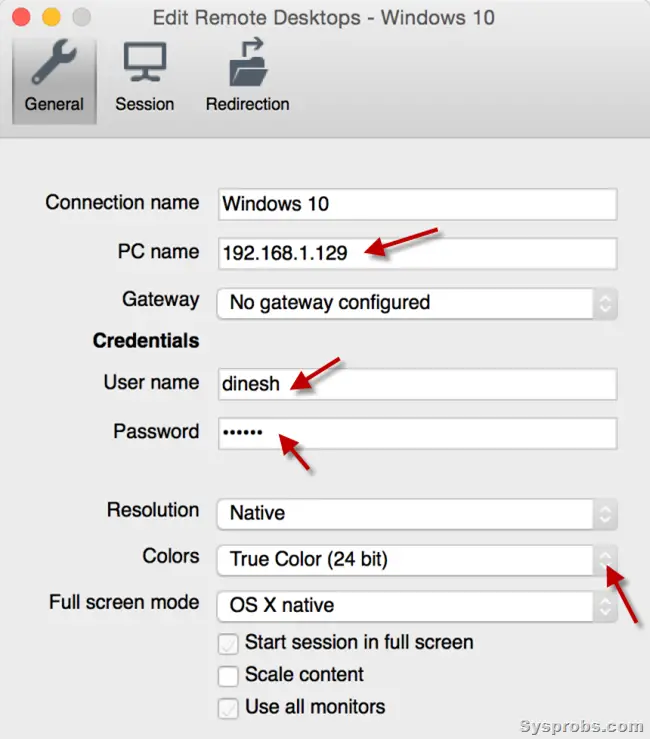 PC Name – It could be the IP address of the Windows 10/8.1 PC you are trying to take the remote desktop connection. If you have the DNS server internally that can convert the PC (Computer) name to IP address, then you can enter the correct PC name here.
User Name and Password – This account should have valid access to the remote computer. A standard Windows user must be added to the 'Remote Desktop Users' group to have remote desktop access on a Windows PC. The local and domain administrators are already part of this group.
5) On the slow network connection, you can reduce the resolution and colors to work RDP smoothly. Though the graphical experience will be limited, you will not get lagging issues.
Colors: You can change the quality of colors of the RDP connection. Reducing the colors to 8 bit will allow having smoother RDP connection (but with less color quality) on a slow network. If you are trying remote desktop through a slow internet or WAN connection, these settings potentially help to fine-tune the connection.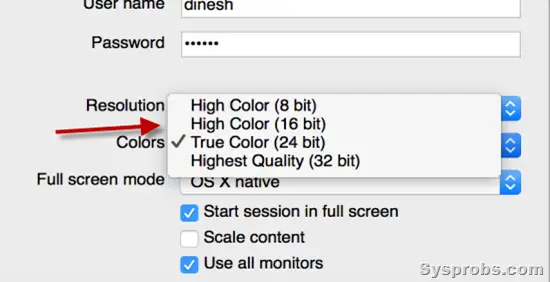 6) There are few more options available such as sound and folder redirection so you can access macOS folders inside the Windows computer during the RDP session.
Here is the folder redirection example: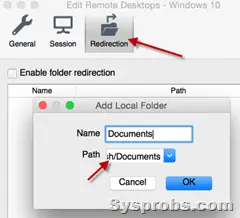 7) As I said earlier, every individual setting for each RDP connection can be saved on this app. Hence it will be easy to access frequently required RDP connections from macOS without configuring them every time.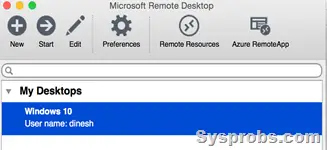 MS RDP client is the best, simple, and free RDP tool that can be used from macOS to Windows 10. Moreover, it is from Microsoft so it will work better for Windows Operating Systems.
There are a few more free and paid RDP apps for Mac available on the internet. Some are more flexible with extra features and others can trigger a few security vulnerabilities as they are not being updated/supported.
Other RDP Clients For Mac OS X to Windows 8.1,10
These are the few more famous RDP clients for macOS which allow taking the remote desktop connection to Windows and other Operating Systems.
Do let us know which one is your favorite RDP client for Mac computer to take the remote desktop connection to Windows Operating Systems.