After I have published a post about VirtualBox P2V, physical to virtual environment by VMware converter, this post shows you how to do a VirtualBox P2V with Microsoft utility disk2vhd. This method gave few errors and issues after the conversion but I managed solve it and boot the virtual machine successfully. Let's see how to solve these possible errors and do VirtualBox P2V with Microsofts's disk2vhd successfully. Unfortunately this method works on Windows Operating Systems only since disk2vhd is from Microsoft.
This utility converts the physical hard disk partitions to VHD (Microsoft Virtual Disk) format which can be used on Oracle VirtualBox. Migrating a working physical Windows computer to VirtualBox platform is very easy by this way. Once it has been converted to VHD format, it can be used with VirtualBox which runs on any OS like Linux or Mac OS X.
In this example, I converted my physical computer which is having two Operating Systems (Windows 7 and Windows XP), but Windows 7 to VirtualBox P2V.
Steps for VirtualBox P2V with disk2vhd and Fix Errors.
1) Download the latest version of disk2vhd (2.01 version)
2) Installation is not required, run the program directly.
3) It will pick up the physical hard disk partitions from host OS.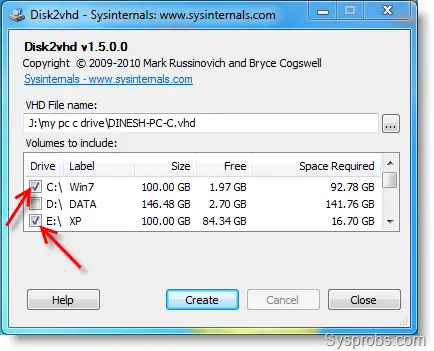 Important Note: My mistake
Before go to next step, let's understand something clearly!
If you want to convert your entire physical disk (for example 500GB with 5 partition) to VHD, then select the all partitions and start the conversion. This will not cause any issues while attaching the VHD to VirtualBox or Virtual PC, except space issue because the converted VHD file will take the same size as 500GB.
But, if you want to P2V only specific Operating System and partitions from physical computer, then you must do it properly to avoid problems later.
In this example, I like to convert my working Windows 7 host to VirtualBox. So, I must convert the System and boot partitions which are mostly different.
Here is my working Windows 7 physical computer.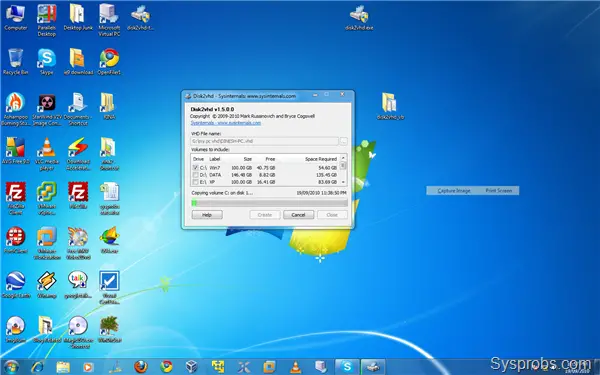 Initially I have converted only Windows 7 boot partition (normally C drive) to save space and time. I know this is not the system partition with boot recorder, but I had the confident to repair and boot virtual machine if it fails to boot later.
No matter how many partitions you select and convert, VirtualBox will detect the VHD as the size of full physical disk with correct partitions. When boot loader/recorder not found on any of the disks (Normally its on first partition – E drive for me) OS will not boot.
So, my first method returned the following error
A disk read error occurred
Press Ctrl+Alt+Del to restart
It's because of system partition is missing. I tried several methods to write the MBR and do a repair with Windows 7 installation CD but all failed for me.
4) So before start the conversion , go and check in disk management.

Always you must convert the system and boot partitions by disk2vhd to able to run on Virtualbox or Virtual PC.
5) Now press Create button and start the process. Make sure each partitions are having enough space to create snapshots. It's recommended to do nothing while running.
6) After successfully completed, create a new virtual machine with correct OS type and add the existing disk VHD. Boot the virtual machine now.
You are lucky if it boots without any issues.
Here I got stuck again, converted Windows 7 keep on restarting in VirtualBox. You know why? my physical hard disk connected via SATA port on the host computer, so I thought that it should be attached to SATA port on VirtualBox too, but that was wrong.
It started working after I removed the disk and attached to IDE of virtual machine.
Try the Following Steps to Solve disk2vhd Errors with VirtualBox
1) Make sure that you are converting system and boot partitions
2) Remove and attach the converted VHD disk to IDE ( if not, SATA)
3) Change the storage type in virtual machine settings and try
4) Enable or disable IO APIC and PAE/NX
5) Insert Windows installation medium and do a repair.
Changing disk to IDE from SATA did the trick and I managed to boot on VirtualBox. Here is the successful P2V with disk2vhd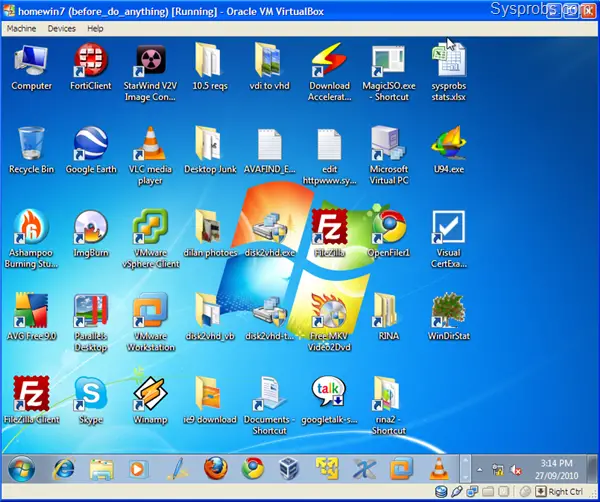 Install the latest guest additions to get more features and performance boost. It took around one hour to convert 60 GB data (included required two partitions).
This will be an ideal way to move your working physical computer to VirtualBox on different host computer and give more portability options.
I hope this guide would be helpful, even though it had been demonstrated on Windows 7 host computer with older versions of VirtualBox and Disk2VHD, still it will work for Windows 8.1, Windows 10 and latest versions of Oracle VirtualBox.