This guide explains how to do VirtualBox P2V in Windows host OS. By this method, you can convert a physical computer which could be local or on the network (remote computer) to a virtual environment. The method is not straightforward since there are no tools available for P2V (Physical to Virtual) in VirtualBox.
We can use some of the free tools to convert most of the Windows Operating Systems starting from Windows 7 to 10/11 and Server versions of Windows 2008 to the latest Windows 2019/2022 server.
Methods to Do VirtualBox P2V on Windows 11/10
Here are the solid working methods if you want to convert a working physical computer to VirtualBox virtual machine environment.
Using Disk2vhd: This Mircosoft tool can convert a working Windows computer to VHD file format which is supported by Oracle VirtualBox.
VMware vCenter Converter: Even though the actual purpose of this tool is to P2V a machine to a VMware environment, we can still use this converter to P2V VirtualBox.
Third-Party P2V/V2V Converters: StarWind is one of the best options in the market. It allows converting working physical or virtual machines to desired virtual hard disk format.
Third-party backup tools: AOMEI (and similar) backup tools can export a working physical computer to a virtual hard disk format.
Since VirtualBox supports most of the hard disk formats including VMDK & VHD, any output from different tools will work in this example.
You select the correct tool based on your scenario.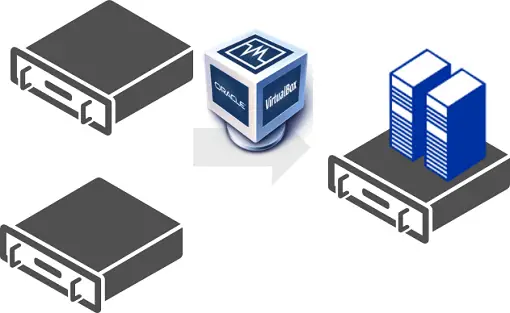 1) P2V with Disk2vhd in VirtualBox
It is a free tool from Microsoft to convert a local physical computer to a virtual format. This tool should be running on the local computer to convert its physical disks to virtual disk format VHD. We can't use it to connect a remote computer to do the conversion. The output virtual disk format is VHD which is used by Microsoft Hyper-V and Azure cloud.
Since we already mentioned how to use disk2vhd for Physical to Virtual (P2V), please refer to the below links.
Potential disk2vhd errors when you convert a working computer and how to fix them.
2) Physical to Virtual in VirtualBox by VMware vCenter Converter
This tool is from VMware to convert physical or virtual computers to their VMware virtualization software such as Workstations and ESXi (or vSphere). The output will be in VMDK virtual disk format, and VirtualBox will read it well.
The advantage of the vCenter converter over Disk2vhd is it can convert a computer (or servers) from the network. If you have administrative credentials of a remote computer, it will work perfectly over the network for P2V.
1) Download VMware Converter here
2) Convert your physical computer to virtual using the free VMware vCentre converter as mentioned here. Make sure that you select the correct physical partitions, processors and memory size for the new virtual machine. Don't split the virtual disks during the conversion.
3) Once successfully created, locate the VMX and VMDK files. Don't bother about VMX files.
4) Now add the newly created vmdk file to the VirtualBox media manager as shown below.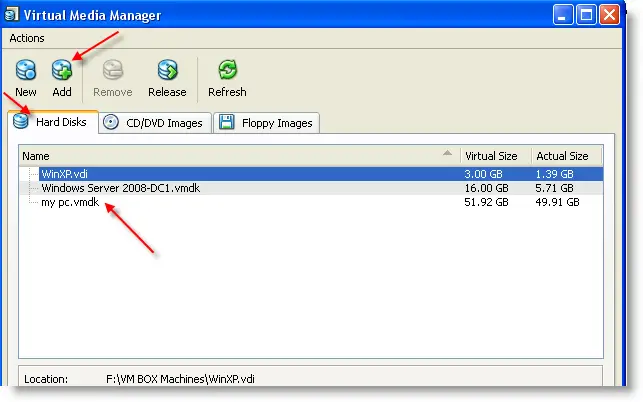 5) You can refer to this guide about adding and accessing the VMDK files in Oracle VirtualBox.
6) After successfully adding the VMDK disk file, create a new virtual machine in VirtualBox.
Select the correct guest OS, processor type and memory size. In the virtual hard disk option, select 'Use existing Hard Disk' and browse the VMDK disk file generated from the vCenter converter. So your new virtual machine will boot from the vmdk disk which we converted from physical to virtual.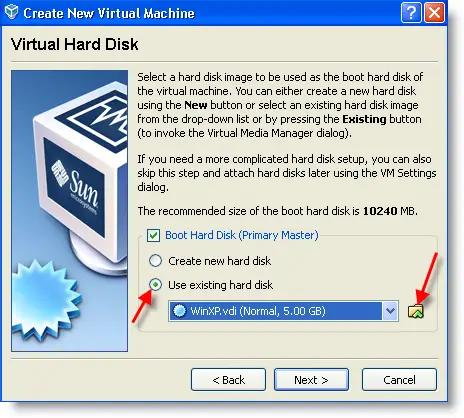 7) Switch on the virtual machine now. It should boot normally. Sometimes it may install additional required drivers for the VirtualBox hardware platform.
Install VirtualBox guest additions to get better display performance with additional features inside the virtual machine.
8) You must see your physical computer on VirtualBox as a virtual machine now.
If you want you can convert the newly created VMDK file to VDI format with a free tool. After creating the VDI file, add it to the correct virtual machine and boot it.
3) Using StarWind Converter
This is another great GUI tool to use for P2V conversion.  Download the latest version from the official website. Free registration is required to download the tool.
Install the product on the physical converter and select the correct virtual hard disk format.
We already mentioned the way of using the StarWind tool to convert a physical machine to the virtual one.
4) Third-Party backup tools
Most of the recent backup tools can export your physical Windows 10 or Windows 11 computers to virtual hard disk formats. You can easily convert them to the desired disk output format. AOMEI and Acronis can do this job easily. If you have paid version of these tools, you can use them for VirtualBox P2V. Sometimes the trial and free versions also can do the required job swiftly.
Once these tools exported the physical computer to a virtual hard disk, we need to create a new virtual machine in VirtualBox with the proper Operating System and then attach the existing disk to make it work.