Recently I noticed that the emails started piling up in the "outbound to office 365' queue in our Exchange hybrid setup with Office 365. Usually, this the queue which is in charge to send and receive emails between the hybrid and other hub transport local server, basically the mail communication between Office 365 and on-prem Exchange mail users. Also, it uses the SMTP relay in Active directory site delivery type; hence this mail transfer should happen on the local network.

Let me Show How I Fixed this Issue?
Temporarily I used to clear the queue by restarting the hub transport server or the Microsoft Exchange transport service. But, after a few hours, it gets full, and mails get stuck in the queue again. Changing the send connector setting helped to fix this issue permanently.
1) Open your hybrid server ECP.
2) Double click (Edit) 'Outbound to Office 365′ send connector in mail flow settings.

3) Under General, enable 'Proxy through client access server' checkbox and save the settings.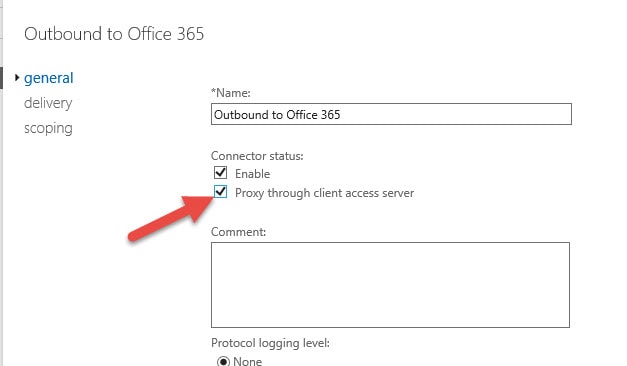 It will take some to take effect, or else you can restart the transport service to make it work instantly.
Now you can see that mails from the Outbound to office 365 queue will be sent to the recipients and it will get clear on your Office 365 Hybrid Exchange setup.