Without a doubt Track Changes in Microsoft Word is a beautiful feature. If you work in a multiuser environment where many users edit a single Word file, then track changes in Word 2016/2019 or Office365 is a useful tool to track the changes/modifications done by particular users. Here we are going to show how to enable and disable the track changes in Microsoft Word 2016/2019/Office 365 and use it correctly.
As Microsoft keeps improving the track changes feature on every version of Office products, you may see the different and improved version than what explained in this guide. Earlier, we mentioned about removing line breaker on Word document here. If you need to change the system time format that reflects in Word editing, you can follow this step.
How to Enable Track Change in Word 2016/2019/Office 365
1) When there some content to edit in MS Word, click on 'Review' and 'Track Changes' as shown below. Click 'Track Changes' in the menu to enable this feature. Once it is enabled, the changes made by single or multiple users will be recorded.

2) Even though the track changes in Word activated, still you can't see the changes done by other users until you enable the 'Reviewing Pane.' After enabling it, you can see what other authors are doing or what changes they made already on the particular document.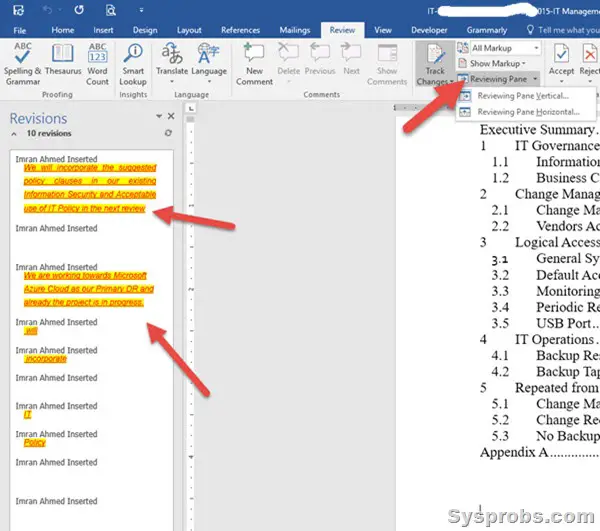 3) More options.
You can find more markup options to see the original or with the changes in the document. Clicking on the 'All Markup' drop-down button will give the option. 'All Markup' is selected by default, and you can see all changes in the word document.
Remember- the changes are still not saved to the original document. The owner of the document can accept or reject the changes.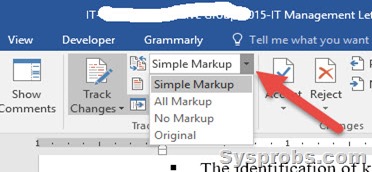 4) You can accept the changes one by one or all at the same time in the document. Also, you can block authors to edit the document.

Another great feature is 'Compare.' You can compare the original document against the modified document by various authors in one view for better understanding before accepting the changes. Clicking on the 'Compare' button will bring the options to compare.
Read Also- How to change centimeters to inches in Word
5) Comments area in track changes is useful when more than one user edits the document. It allows to leave comments for each change or paragraph and show them in the review panel. Justifications and recommendations for modifying the particular content can be shared online through this comments field.

To disable the track changes, simply disable this option in 'Review' tab of  Word 2019. I hope this guide is helpful to understand the basics of track changes in Microsoft Word 2016 (and 2019/Office 365 which are similar) and use it effectively.