AI technology is revolutionary. ChatGPT is one of the leading AI engines at the moment. It can be a great assistant for individuals or businesses. One of the main features is content writing, and we can utilize technology to write emails.
This guide will show you how to write a new or reply email with ChatGPT with the preconfigured writer. You don't need to register a ChatGPT account or provide complicated inputs.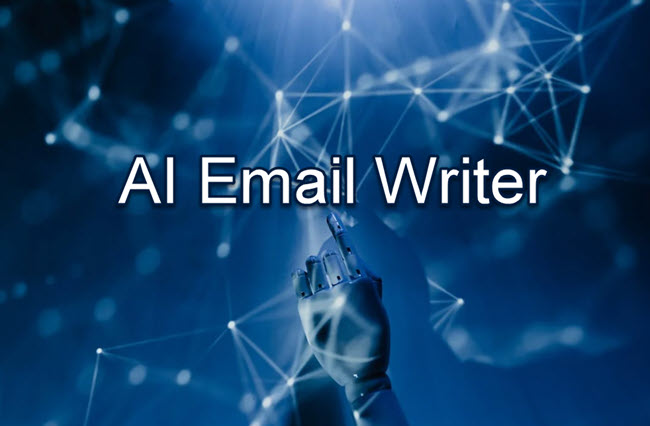 As a big investor in OpenAI, Microsoft will integrate ChatGPT into their Office 365 products. It can significantly improve the productivity of the users. But the question is, when will it happen? Will it be available for all Microsoft Office users who use the old versions?
Some other Office/Outlook/Word add-ons will pop up from 3rd party vendors; considering the compatibility and availability, our below tool to write new or reply emails with ChatGPT AI will be beneficial.
How to Use the ChatGPT Email Writer for Free
There are two modules available here.
Write new emails.
Write a reply to an existing email.
How to Write a new Email with ChatGPT for Free (Online) – Outlook/Office 365
You can use the below module by mentioning the topic you want to write for MS Outlook App or online Office 365. This is not an Outlook add-in or works directly inside the mail composing screen, but it can do a pretty good job.
The more input, like a summary/topic, whom you are writing, and the tone of the email you provide, can create a fine-tuned email.
Here are some examples:
Sick leave letter to my manager in a funny tone:
Could you write a promotion request from my current IT assistant manager to Group IT manager in a Professional way?
A love letter to my Wife in a casual tone so that she can love me more:
Here is a sample output: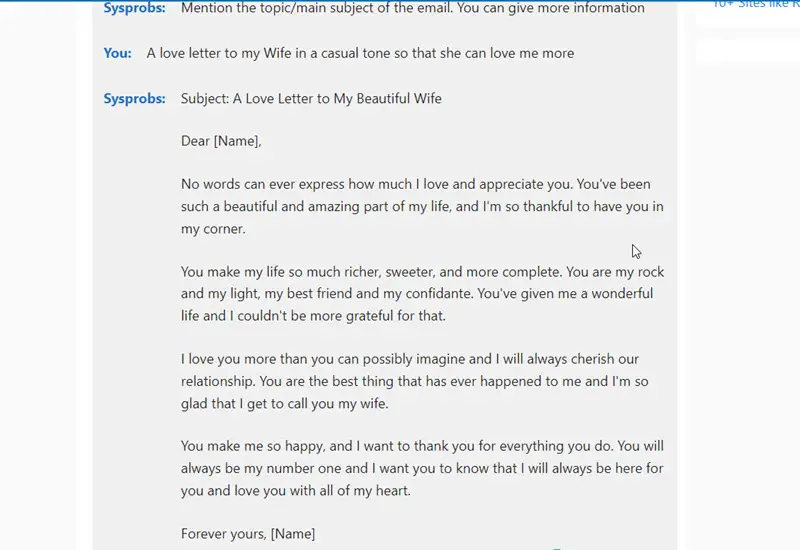 Here is the new email writer module. Type the topic and tone, then press the 'Try' button.
The output may take a while, depending on how the AI servers are busy.
Once you are happy with the output email, you can copy and paste it into your Outlook app or online Office 365.
Write a Reply Email with ChatGPT for Free (Online) – Outlook/Office 365
Writing a reply for an existing email using ChatGPT AI for Outlook and Office 365 is much easier than creating a new email. Simply copy and paste the email you want to reply to. Make sure to include the sender's name also.
It is a free tool created for Sysprobs users. As a default, the below module is set to write a reply email in the same tone it was written. Type below and paste the email if you want to change the style.
Example: Write me a reply for the below email in a funny tone:
Here is one of the sample reply emails created by AI.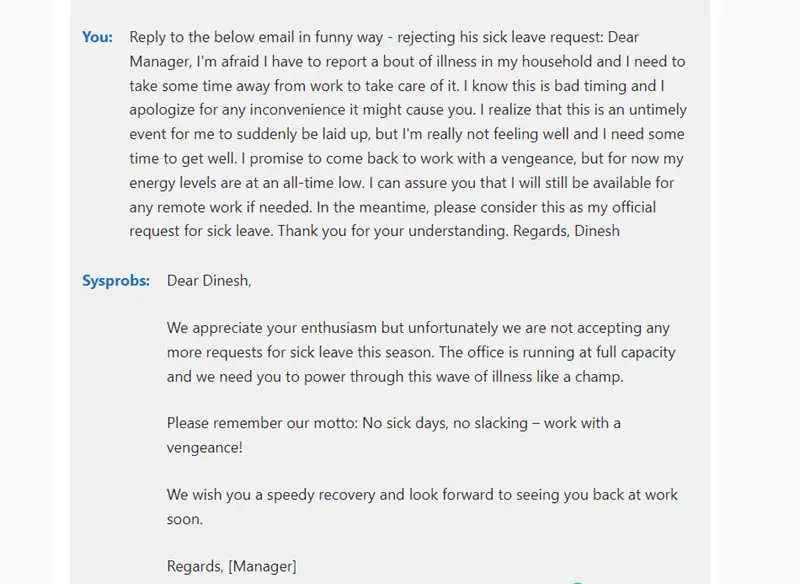 You can easily copy an email you want to reply to from the Outlook app, Office 365 web, or any email client like Gmail and Outlook.com. If you are unhappy with the output, you can try again to get a different result.
We hope the above email writing modules will be helpful currently. Please note that the emails produced by AI should not be used without manual editing. It can give various creative ideas to write new emails or reply to an existing email. But it would be best if you modified it to fit your scenario.
We would like to hear your feedback about the above Outlook/Office 365 writers. Are you satisfied with the output? Do you want to add any more modules related to Outlook email communications? Meanwhile, if you think these AI writers are helpful, please share them with your friends and co-workers.