Sometimes, you may need to insert the angle symbol in the Word document you prepare. Unfortunately, this symbol is not available on the keyboard.
Few people wrongly add the 'greater than' symbol on the keyboard. Since that is incorrect, this guide shows how to add the angle symbol in Microsoft Word 365/2021/2019 and other older versions.
Ways to Insert Angle symbol in MS Word
The angle symbol is part of the 'more symbols' in the MS Word insert tool.
Under the Font type, select Cambria Match, and then the subset is Mathematical Operators.
Also, the shortcut is 2220 and Alt + X
Simple Steps to Follow
1) Keep the cursor where you want to insert the symbol in MS Word.
2) Click on the Insert tab, then Symbol.

3) Select more symbols.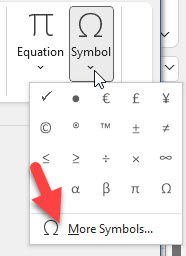 4) Select 'Cambria Math' under Font. To find out the angle symbol easily, select 'Mathematical Operators'.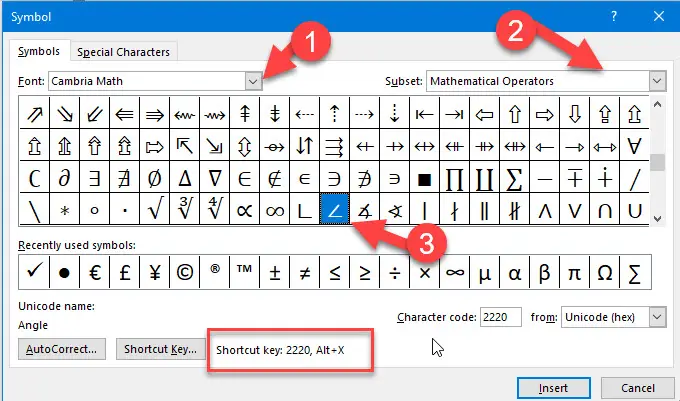 Here you will find the angle, measured angle, Spherical angle and other related mathematical symbols. Also, you can see the shortcut keys for each symbol when you select them.
You can insert ∠  by clicking it.
5) Next time it will show under the recently used symbols to add it quickly.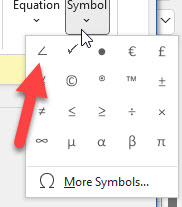 Alternative Method: Keyboard Shortcut
Type 2200 on your MS Word document and press Alt+X on your keyboard. You will notice that the 2200 number will be converted to an angle symbol.
Search Online and Insert
If none of the built-in methods works on your Microsoft Word in Windows 10 or Windows 11 computers for some reason, you can search online and copy the angle symbol.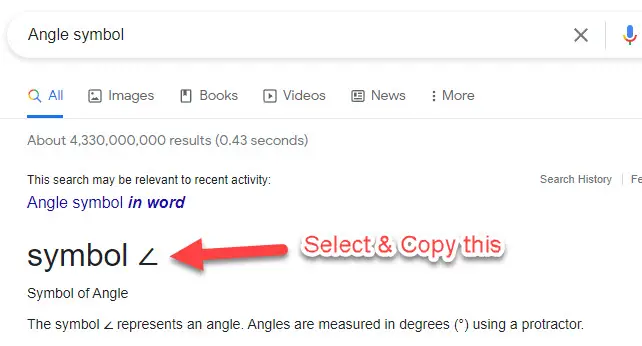 We mentioned all three possible steps to insert the angel symbol on an MS Word document. By the way, you can use these same methods to insert angle symbols on Excel, PowerPoint and Microsoft outlook as well.