We faced several strange issues on our email Exchange 2007 environment in recent time. It took some time to investigate, analyze, find a solution and fix it without distracting mail services. It used to show always high CPU usage in Exchange user monitor tool for a particular user and high RPC average latency. When it occurs, the particular user experienced slow downloading and updating new emails in MS outlook and some other email-related strange problems. This guide explains more about the issues and how we fixed them in this article.
We had a clue on these issues after using Exchange user monitor tool, obviously, we can guess that something is wrong when a user consumes more than 95% of CPU (exchange store CPU) all the time. But really we could not finalize that this particular user is causing other all mail issues on the server.

We faced two types of issues related to mail. One from Exchange 2007 mailbox server and another one from the particular user's side.
Issues on Exchange Server
1) The particular user was consuming almost 95% to 100% of Exchange store CPU which is not healthy for the environment.
2) RPC average latency is very high, it used to touch 100% continuously. Somewhere in Microsoft site, I read that if it goes more than 20%, then something seriously wrong in the exchange environment.
3) Downloading and updating inbox in MS outlook became very slow. It used to show hours to download/update emails which are just in KB size.
4) Delay in sending and receiving emails.
Issues from Particular user's side
The user is having 4 ActiveSync enabled (iPhone, iPad, and Android) devices with Windows 7 –Outlook 2010 laptop.
1) Calendar entries are not synced properly among the devices.
2) If an appointment in the calendar is postponed by his secretary or himself to another date, it will be okay for some time, but comes back to the previous date again later.
3) Recurring reminders pop up even after deleting them.
4) Most of the contacts synced from Exchange server show email address with IMCEAEX prefix, that looks really weird without proper email domain address.
5) Always some complaints about his contacts and calendar entries in his devices or laptop.
Since only this user is facing these types of issues, though there are more mail users with several ActiveSync enabled devices, we could suspect that something is wrong with the particular user's mailbox or configuration, or one of his devices.
Also, we can't just disable or remove ActiveSync devices from this user account for testing purpose, because he is a high profile user in the company.
To see whether his mailbox is healthy and not corrupted, we decided to move the mailbox from one storage to another one with skipping corrupted messages option. Believe me, that solved all issues.
How to Fix it?
To remove the corrupted items from a particular mailbox, we decided to move mailbox to other storage with 'skip corrupted messages' option. This will skip the corrupted entries in the mailbox which was digestible in our case compared to the issues we faced. Better to take a full mailbox backup before doing this move.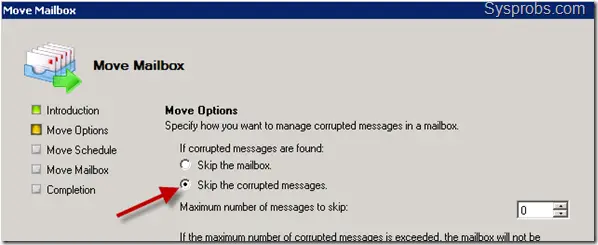 All our issues of high CPU usage in exchange user monitor tool, RPC average latency, and particular mailbox issues were solved once we moved the mailbox from the existing storage group to another one. Below is the screenshot of current good RPC Averaged Latency counter on Exchange server, earlier it used to be around 100%.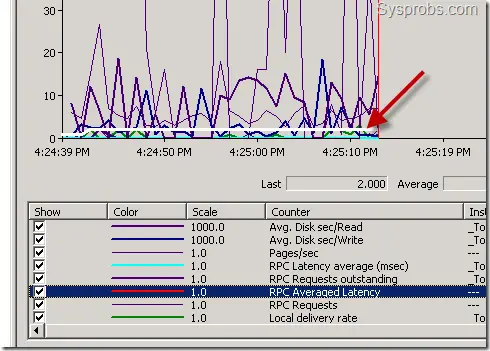 If you are facing similar kind of issues on Exchange server or for a particular user, possibly the particular mailbox is having some corruption. If you have a good copy of the mailbox in backup, you can restore and see whether it is helpful. Moving to the different storage will skip the corrupted entries in the mailbox and you will get a good copy of the mailbox in different storage. Once the corruption is fixed, the particular mailbox and Exchange server will start working well.