Whenever Oracle releases updates for their best and free virtualization software VirtualBox, you must update the extension pack to get extra features on the guest virtual machine. If you use some of the advanced features such as USB 3.0/2.0, VirtualBox RDP and PXE boot for Intel cards inside a virtual machine on Windows 10 or 8.1 host, then you must upgrade VirtualBox extension pack to the latest version. This small guide shows how to download and install VirtualBox extension pack on Windows 10/8.1 and Windows 7 host machines.
We have earlier published few guides on installing VB guest additions on Windows 10 and how you can use VirtualBox to install and test Windows 2012 R2 server at your home PC.  Normally if you open a saved or new virtual machine without updating the extension pack, you will get an error message informing about USB2.0/USB3.0 and extension pack issue. The particular virtual machine can't be resumed without removing some of the configurations or updating the extension pack to the latest version.
If you want to start the virtual machine without installing the latest extension pack, you can simply disable USB2.0/30. support under VM settings as below.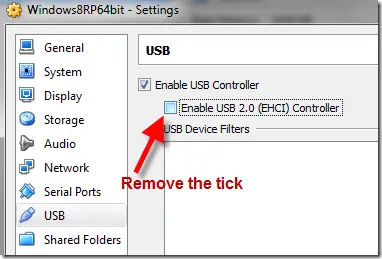 As shown below, if you select USB 2.0 or 3.0 support without having the latest extension pack, you will get the following warning message.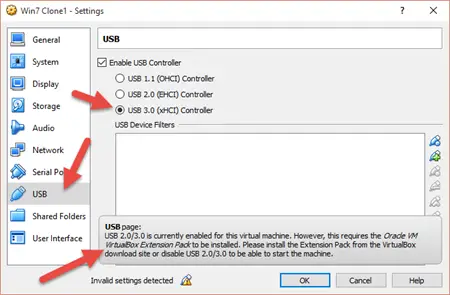 Download the latest version of Oracle VirtualBox extension pack from the home page as shown below.
Important Note: You must install the same version of extension pack matching with your installed VirtualBox.

You can find the older version of extension packs or new versions under the respective version number at this location.
Two Methods to Install VirtualBox Extension Pack
Method 1
Download the file from above link. It would be in 'vbox-extpack' file extension format in Windows 10/8.1.  Once you open the file, VirtualBox would open and ask for installation. Click install to start the installation on Windows 10, it will be updated automatically if you have the previous version.
You must have the administrative privilege to run this package on a Windows computer. Even you can right-click the file and select 'Run as Administrator'.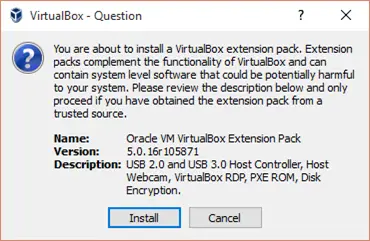 Check out these laptops that comes with a powerful processor and enough RAM to run virtualization software and have multiple Operating Systems at your home or office laptop.
Method 2
Go to File –> Preferences in the menu, then select Extensions option in VirtualBox console. From here you can browse the downloaded extension pack and install it on Windows 10.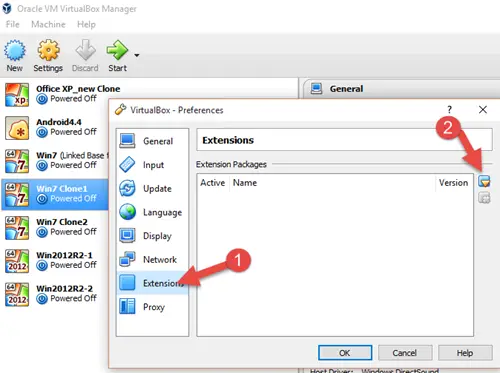 You can view the previously installed extension packages in the same place. Uninstalling an extension package can be done here by selecting the pack and click remove button.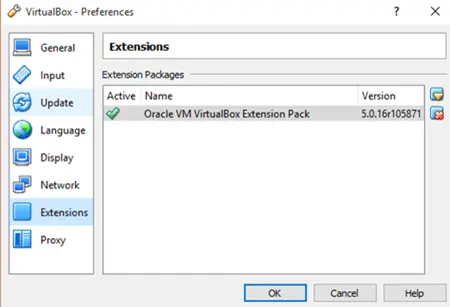 This installation will fix the warning message of USB 2.0/3.0 support on Oracle VirtualBox and now you should be able to start new or saved virtual machines without any issues. Another few additional features will be available now. USB 3.0 feature will allow your guest virtual machines to access the data faster from the attached physical USB drives/Disks on a host computer.