OpenSUSE is one of the popular Linux distribution which is widely available for server and desktop computers. It has many desktop flavours such as Cinnamon, GNOME, KDE Plasma and more. In this guide, we will be showing how to install the latest OpenSUSE in VMware workstation with Windows 10 host that is applicable for Windows 8.1 and 7 too. Then we will see how to install VMware tools and confirm it.
At the end of this guide, you will find the download link of the latest OpenSUSE LEAP 15.1 pre-installed VMware image. It is zipped by 7zip program. You need the 7zip program to extract and get the VMDK virtual disk file. We are hosting this file from our own cloud; hence it is fast and secured.
The installation of OpenSUSE on VMware workstation or VMware player is straight forward. Even the VMware tools installation will be done automatically, thanks to VMware and its integration with the installation.
Steps to Install OpenSUSE LEAP 15.1 on VMware
If you prefer to use the pre-installed image to avoid below installation steps and save time, you can directly go to download section at the end of this guide.
1) Download the DVD image of LEAP 15.1 from the official site here.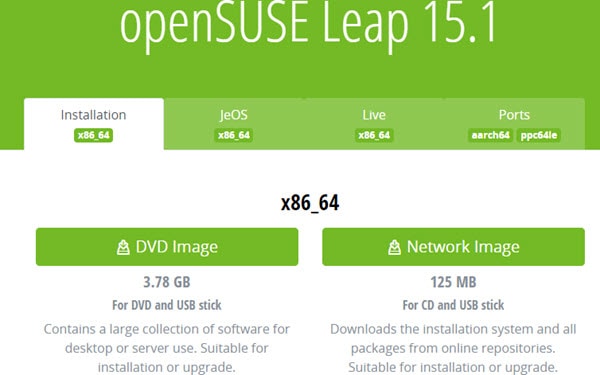 2) Create a new VM in VMware. I highly recommend having the latest version of VMware workstation or player.
Choose the ISO file you downloaded. VMware will detect the OS type and set the configuration accordingly.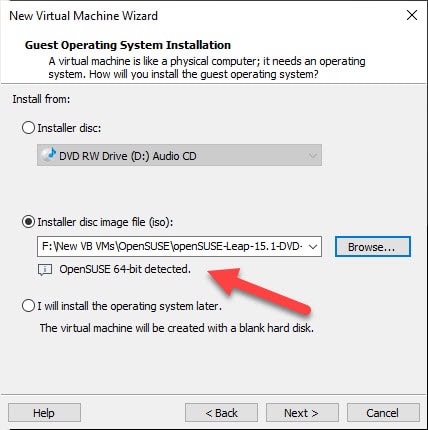 3) Set minimum 20GB disk space and store it as a single virtual disk file.
4) Before pressing the 'Finish' button and power on the VM, press 'Customize Hardware' to change few settings based on your physical computer resources.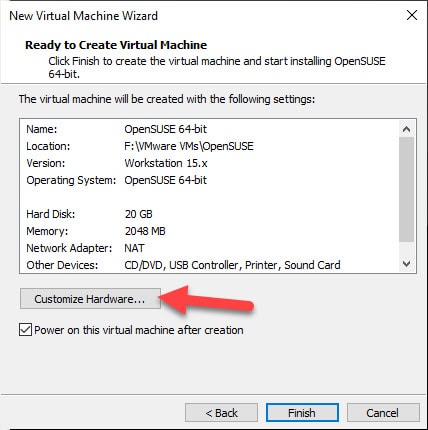 5) Usually, I increase the number of processor cores and RAM. In this case, I set 4 processor cores and 4GB RAM for OpenSUSE VM in VMware. You can adjust these settings based on the free resources of the host computer.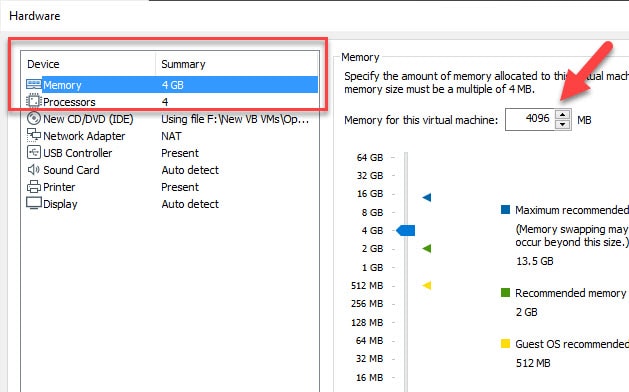 6) Power on the VM.
7) Make sure to select the installation option as we are going to install the OS on the hard disk.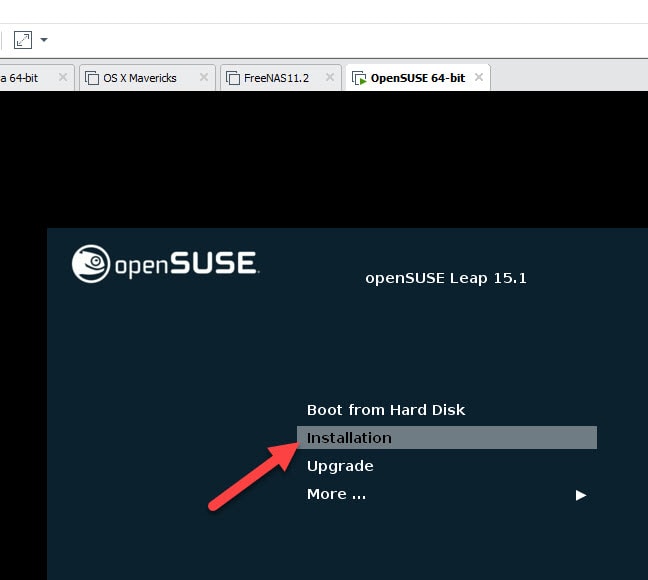 8) Other installation steps are easy to follow. If you have an active Internet connection, you should be able to check for the OS updates and install them.
9) Choose the flavour of OS. In this example, we are installing OpenSUSE 15.1 Leap desktop KDE plasma environment. Other versions such as GNOME or Server should work fine in VMware.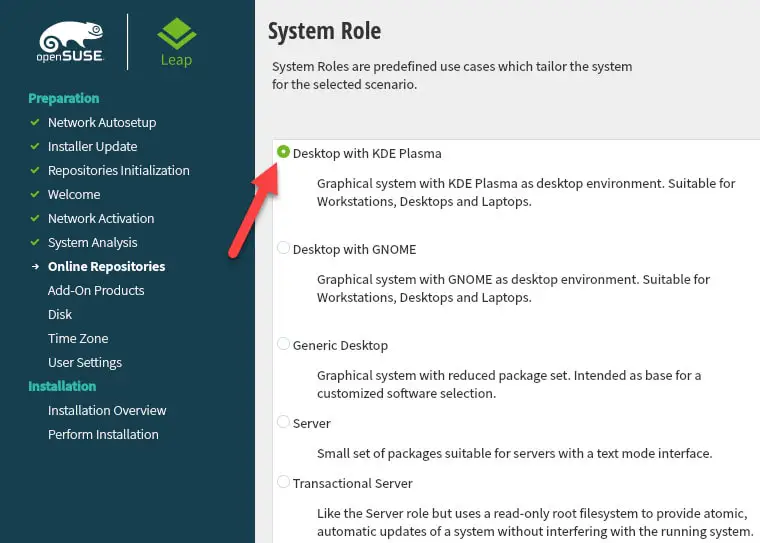 10) It will take some time to complete the installation. Sit back and relax.
11) As mentioned earlier, the VMware tools will be installed automatically. You will get the nicely enhanced display, full-screen options and all other features which come only after VMware tools installation once the main installation completed.
We have completed the installation now. If the virtual machine is performing slow or you need to give more workload on the virtual machine, always change the processor cores and RAM to meet the expected performance.
Also, having a VM on SSD physical disk work well to improve the speed of a virtual machine.
Setup VMware Shared Folders in OpenSUSE with Windows 10
All Linux OSs work the same way when it comes to set up VMware shared folder with Windows 10/8.1 host computers. VMware shared folders feature allow to share a partition or folder between host and guest machines without using network protocols. It uses the VMware kernel feature to share the data easily without any network limitations. By the way, this feature can work only after installing VMware tools on the guest machine.
To set up the VMware shared folders and access Windows 10 disk partitions in Linux VM, you can refer our earlier guide about setting up a shared folder between Fedora and Windows 10. You have to follow the same steps to make it work in OpenSUSE Leap 15.1
Here is the working screenshot where I can access a folder from OpenSUSE VM that stored in Windows 10 host computer partition.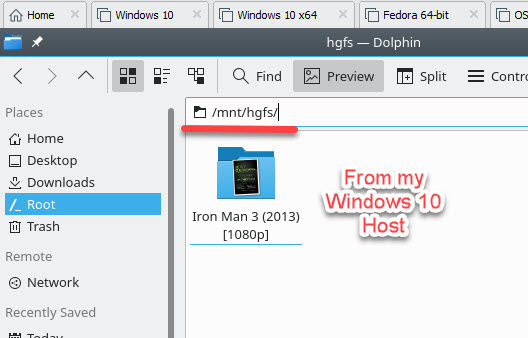 Download link of OpenSUSE 15.1 Leap VMware Image
Here is the download link for the VM we have demonstrated in this example. Configure enough hardware resources to the virtual machine. Instead of creating a new hard disk, choose the existing hard option and browse the disk file (VMDK – after the extraction) you have downloaded.
The VM should be up and running in 2 minutes.
Hope this guide and uploaded image are useful in having the latest OpenSUSE version on your Windows or Mac OS computer.
User name – Sysprobs
Password – sysprobs123