When a tech business needs to swiftly establish a presence in a region without expertise or a team, it might use the Build-Operate-Transfer or BOT model. This business engagement model and project financing approach focus on establishing a research and development team in a different country. Once such a team's been created, the client receives all intellectual property and personnel back from the subsidiary.
However, other ways exist to create an office or a team in foreign locations, like cooperation with an IT recruitment provider, such as Alcor, which specializes in hiring Senior and C-level candidates for tech product firms in Eastern Europe. So let's take a closer look at the benefits and drawbacks of the Build-Operate-Transfer model for product IT companies and discuss a better alternative!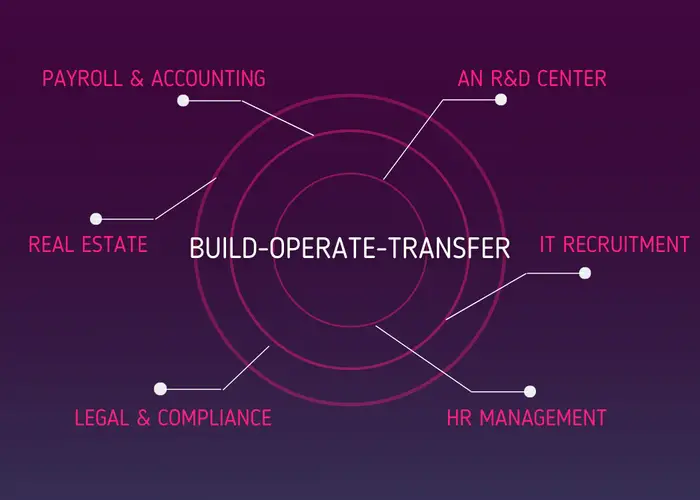 Why is the Build-Operate-Transfer Model Beneficial for IT Business?
Due to the challenges of getting started in certain locations, many tech businesses may be hesitant to establish their presence there on their own. First, in certain countries, you need to register a legal entity to run your business in compliance with the law. Secondly, when screening candidates, it's important to consider cultural differences. The BOT procedure provides a means of negotiating these primary obstacles to an establishment in a foreign country.
A BOT model involves contracting the establishment of a new subsidiary to an outside firm with preexisting operations in the target country. This firm must be familiar with local circumstances and have connections to get the resources and employees they need rapidly. The BOT provider includes the client in the process to ensure that the client's values and quality standards are upheld.
The subsidiary is established during construction. It entails getting the business off the ground by registering it with the appropriate authorities and opening bank accounts. Then, they may start looking for places to rent an office and procure the needed supplies and furniture unless the client decides to go fully remote. Then, the firm hires potential branch leaders and begins staffing the new division.
During operation, the newly formed subsidiary matures into a fully operational business. Administrators, HR specialists, and accountants are employed to achieve financial independence. The underlying framework is set up to guarantee the system's independence and conformity with the contracting firm's specifications.
However, the client will become the legal owner of the subsidiary only during the transfer phase. Everything, including IP rights, documentation, and employees, will be transferred to the client if a BOT provider is reliable and trustworthy.
Benefits of the BOT Contract
Here are some notable advantages of the BOT model:
Wide Range of Talents
If you're located in the US or Western Europe, you've probably seen by now how difficult it is to find and recruit qualified local staff. This is because businesses of all sizes in the area's IT sector are always on the lookout for skilled programmers.
However, the BOT model gives you access to a large pool of IT talent in off- and on-shore locations. In Eastern Europe, for instance, there are more than a million people working as software developers. They are fluent in English and have great technical abilities in JavaScript, Java, Python, TypeScript, PHP, C#, and C++ and have graduated from top colleges in the STEM fields.
Substantial Cost Savings
Developing countries with a robust IT community, such as Poland and Romania in Eastern Europe, are ideal locations for a Build-Operate-Transfer R&D office. Costs like office space and developer pay are around two to four times less here than in the United States.  
Polish programmers and other IT experts hired under a B2B contract are subject to income taxes ranging from 8.5 percent to 12 percent. Meanwhile, software engineers in Romania do not have to pay income tax on their salaries.
Full Operational Back-up
Your information technology provider in the outsourcing country will handle all administrative requirements, including recruiting and tax guidance. In this approach, you can devote more time and energy to developing your main company and less to managing day-to-day operations.
Compliance with the Legislation in the Offshoring Location
A reputable R&D provider will employ attorneys with worldwide experience and credentials in IT law. They'll ensure your offshore office can operate legally and get you set up with the paperwork you need to transfer your R&D.
Three Risks of the BOT Model in the IT Niche
While BOT has several advantages, you should know the following three challenges.
Candidate Offer Declines
You won't have any takers for your job offerings if your organization is new to the offshore market. Even worse, not all BOT providers can aid in solving this issue by promoting your brand in the local IT community.  
Employer branding as part of your offshore strategy is essential for the success of the Build-Operate-Transfer paradigm in the IT sector. For example, they will kick off your branding campaign, establish your presence in the regional technology press, and completely incorporate your company's ethos.  
Commitment Concerns
There might be complications with the final transfer of ownership of a Build-Own-Transfer structure if it wasn't yours from the start. Some BOT providers play the role of an employer by hiring software developers instead of you. So, it's possible that engineers won't know whom to notify. In addition, some developers may refuse to work if you don't have their formal consent before switching them to another employer, forcing you to reopen the job positions again and start the recruitment process from scratch. To avoid this, make sure your vendor is only involved in the day-to-day operations of your research and development center.
Inadequate Knowledge of Business Operations
It is often believed that only companies offering professional IT services (such as software creation and testing) can implement the BOT engagement model. However, since R&D requires administrative assistance, many companies are ill-equipped to construct and manage R&D, meaning they may not provide qualified legal, accounting, financial, HR, or other support. Avoid wasting resources on inefficient offshore by working with a provider with expertise in setting up R&D departments for businesses like yours.
Difference Between the BOT Model and IT Recruitment Services Company
Now, let's delve into a more detailed comparative analysis of the BOT and IT recruitment models.
| | | |
| --- | --- | --- |
| | BOT Provider | IT Recruitment Agency |
| Primary Purpose | The branch will eventually be transferred back to the public sector. | To recruit and place IT professionals. |
| Financing | Private organizations handle it primarily. | The client company, which pays for the recruitment services, typically handles this. |
| Ownership | The recruited employees belong to the client company from the beginning. | It could be long-term, depending on the client's hiring needs. |
| Service Duration | Long-term contracts span several years to decades. | Could be long-term, depending on the client's hiring needs. |
| Stakeholder Involvement | It often involves multiple stakeholders, including government bodies, private investors, construction companies, and the public. | Usually involves the agency, the client company, and the candidates. |
Opt for IT Recruitment Services of Alcor
Alcor's IT recruiters are skilled negotiators and HR experts. At the same time, our IT researchers analyze the Eastern European tech market, construct a profile of the ideal candidate, and tap into relevant candidate resources. They understand how to sell the benefits of working for your organization to prospective employees.
They provide access to 600,000+ skilled developers from Eastern European countries and help you establish your overseas development team based on our hands-on knowledge of local markets. The average vacancy closing time is three to six weeks; they give actual outcomes, not just assurances. The majority of software developers provided are asked for an interview (4 out of 5). On average
With the above special services, you can forget about the risks of the BOT model since you are the owner and decision-maker of the team and the product from the beginning.