By default, the pop-up blocker is enabled in Windows 10 Internet Explorer 11 and Microsoft Edge browsers. It is good in some cases to avoid distraction from pop-ups such as Ads, malware clicks, and another unwanted stuff on the web browser. At the same time, it may block few genuine pop-ups, dialog boxes and, download pop-ups. The below quick tip shows you how to turn off Internet Explorer and Microsoft Edge browse Pop-up blocker in Windows 10/8.1. This method is identical for all the latest Internet Explorer versions such as IE11, 10, 9 and Operating Systems including Windows 10, 8.1 and server Operating Systems like Windows 2012 R2 and 2016 Nano.
You have 2 options to disable pop-up blocker in Internet Explorer;
1) Completely turn off the Internet Explorer pop-up, or
2) Turn off this for specific sites only.
Completely Turn Off Internet Explorer Pop-up
Remember, completely disabling this option will disable the pop-up blocker for all websites whether you trust or not. Be aware of the consequences by it.
1) Go to Menu (by pressing Alt key when the IE opened), click on tools –> Pop-up Blocker then select to turn it off as shown below.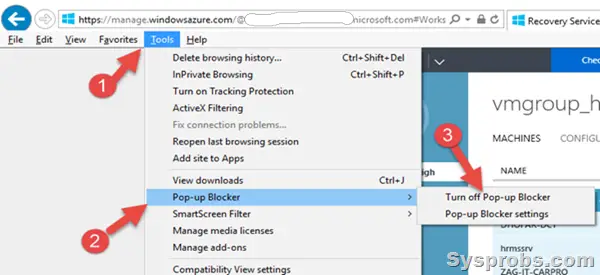 Above setting will disable it for all websites in particular user profile. If you are aware of what to click and not to click on the pop-up windows, then you are good in this option.
Turn Off IE Pop-up Blocker for Specific Web Sites Only
Let's say that you do not want to turn it off completely for all websites. But you need to turn it off for specific genuine sites only, like Microsoft, Symantec and other sites which usually pop-up for downloads, dialog box, and any other information. Follow these steps to disable the pop-up blocker for specific websites.
2) If the pop-up blocker is enabled, when a website sends pop-up, IE will give a message to enable once or allow always for a particular site as below.

Allow Once – One time you can see the pop-up from the particular website.
Allow Always – It will white list this particular website from pop-up blocker and show the pop-ups from this website always in future.
3) If you click on 'More settings' from here or 'Pop-up Blocker settings' from step 1, you can manually add your favorite sites and set the security level of blocks here. This place gives more control to manage pop-up blocker settings in Windows OS.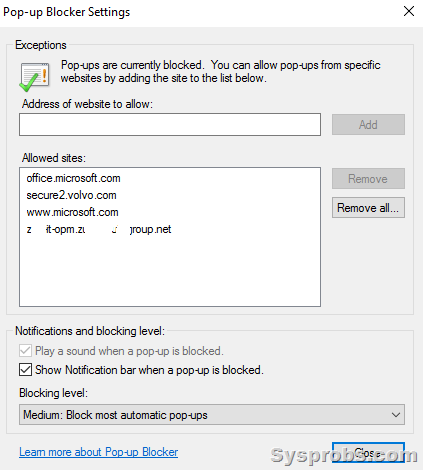 To turn on the pop-up blocker for all sites or particular sites, you can undo the same steps you did earlier.
Turn Off Pop-Up Blocker in Microsoft Edge
To disable or enable pop-blocker in Microsoft Edge, follow the below steps. By default, the pop-up blocker is enabled by default, that means you are not going see any pop-up windows while browsing the Internet if you have not disabled it manually as shown below.
a) In Edge browser, click more options (3 dots) and settings as shown below.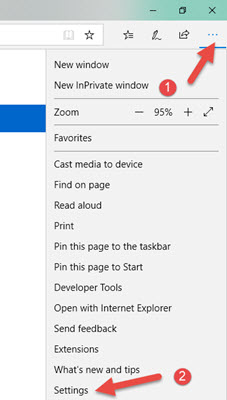 b) Scroll down and click on Advanced Settings.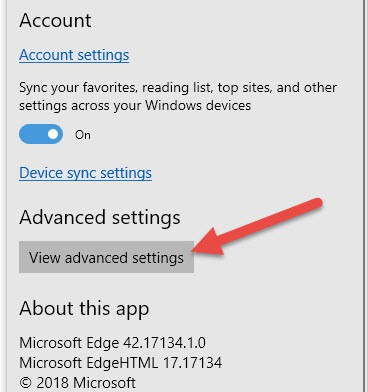 c) As mentioned earlier, you will see that pop-up blocker is on by default in Edge browser, make it off to turn off the pop-up blocker in Edge browser in Windows 10.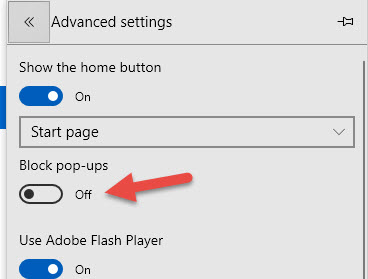 That is the way of doing it. To enable it back, visit the same places and on the pop-ups block.