The power of virtualization is here, yes, you can run the latest Oracle Solaris 11.1 on Windows 8 or 7 PC. This will be an great opportunity to learn latest Solaris 11.1 with the same existing desktop or laptop without any additional hardware. This guide shows where to download the pre installed virtual machine image of Solaris 11.1 and how to run it on Windows 8 (applicable for Win 7 and XP) using VirtualBox.
The pre installed image is created and uploaded by Oracle on their site, so you do not need to worry about the stability and security of the image. Registration is required to download the image. Oracle allow only registered users to download the pre installed images and other downloads from their site, so you must register and the registration is free.
Earlier I have showed how to run Solaris 10 on Windows 7 easily with pre installed image. I'm sure the following steps will be helpful to install and use Solaris 11.1 on Windows 8 PC by using Oracle VirtualBox.
How to Install Oracle Solaris 11.1 on Windows 8 with VirtualBox
1) Make sure you have latest VirtualBox and extension pack on the host computer.
2) Visit this official Oracle site to download Solaris 11.1 Virtual machine for VirtualBox.
Under x86 Architecture VMs, select the proper download as shown below after accepting their license agreement.

3) You need to extract the download. It will be in ova (Open Virtual Appliance) file format.
Open VirtualBox program and select 'Import Appliance'. Press 'Open Appliance' in the screen.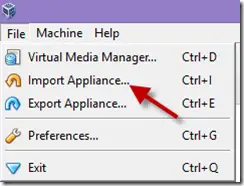 4) Browse the extracted ova file.

5) You can modify the hardware/virtual machine configuration in next screen. If you wish to give more or less RAM, processor cores, you can do it here. I let it start with pre configured default settings. But selected to Reinitialize the MAC address.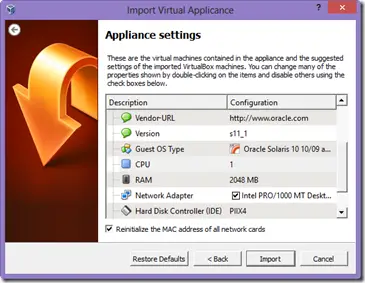 6) By pressing 'Import' button, the import process will start and run.

7) We are almost done. Once the import process is completed you can see a new virtual machine in VirtualBox console. If you wish, you can modify the VM settings here before powering on the VM.
Start the Solaris 11.1 VM now. You need to go through few basic initial setups and create user name with password.
That's it. You will land on the latest Oracle Solaris 11.1 beautiful metallic type desktop. It's just amazing to have the famous UNIX server OS on Windows 8 as virtual machine. I'm sure it will be very helpful to study and experiment more things on this OS. Even if you have more hardware recourses on host computer, you can run one more Solaris 11.1 OS with this same method.
The best part is, VirtualBox guest additions already installed in this pre installed image. So, you will get the best graphical and network performance straightway and with other features of guest additions.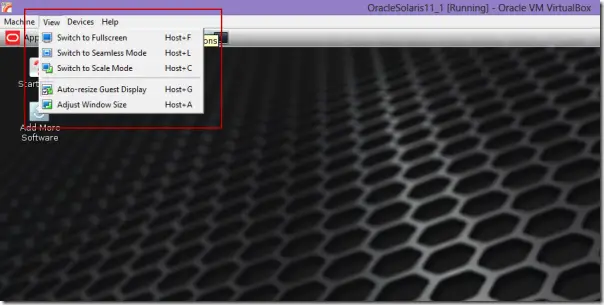 Better take a snapshot before do anything from this point. Enjoy.
Is this useful or are you facing any issues with this method?, feel free to share below.