Unfortunately, Oracle VirtualBox is missing virtual machine cloning tool. If you need to copy or clone a virtual machine without reinstalling OS and other applications, then you are in trouble with VB.  This post explains how to copy and clone virtual machines in VirtualBox with CloneVDI GUI tool, a third party software.
VMware has a great built-in cloning tool, allows to make two types of cloning very quickly. Earlier I have published a similar post that can be done in command prompt. It works well with 'VBoxmanage' command. I recommend reading the post before continue reading.
The CloneVDI tool does the same command execution but in Graphical User Interface (GUI).
Steps to Clone Virtual Machine in VirtualBox with CloneVDI Tool
1) Extract the downloaded zip file. Installation not required.
2) Before starting the process, let me explain how it is going to work.
This tool clone the hard disk file only. So before start using a cloned disk, you have to create a new VM with the very similar configuration of original VM and attach the cloned VDI file.
This tool does not clone VM configuration XML file.
Snapshots files must be merged with the original VDI file before using the CloneVDI Tool. Why? if a Virtual machine has several snapshots and you are running the latest version of VM, then the original VDI file will have the system state before the first snapshot created.
Here is the example, I'm going to clone Fedora Virtual machine which is having several snapshots.  Hard disk details as shown below.

1– is the original disk VDI file which is having system state before any snapshots taken.
2 – is the disk file currently virtual machine is running.
We can't clone the 2nd file, because it is not complete disk ( it is just a snapshot hard disk file).
if we clone the 1st VDI file, then we will not get all changes done after the first snapshot.
Then, how to proceed?
3) if you do not want the latest state of VM, then you are free to clone the original VDI file. But if you want to clone current machine state, then delete all snapshots. Deleting snapshots will merge machine's current state to original VDI file.
4) After removing snapshots, open CloneVDI.exe from extracted location and browse for VDI file you want to clone.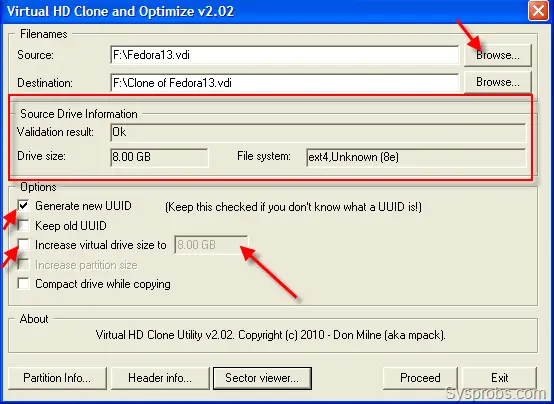 Make sure validation result shows Ok for the disk. Each disk in VirtualBox Virtual media manager should have different UUID, so keep the ' Generate new UUID' ticked. Increasing virtual disk size also possible with CloneVDI tool.
That's it, Press Proceed button to start the cloning.
5) Progress runs as below.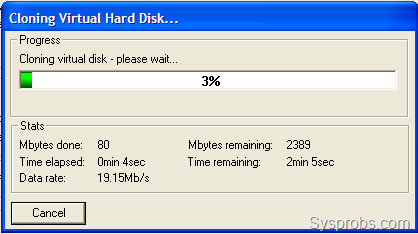 6) Once successfully completed, create a new virtual machine with exact OS type and version. Other settings can be slightly different, such as memory size, processor cores, network type.  Select existing disk option while creating the hard disk and attach converted disk.
It's better to attach the disk to the same storage controller mode and type in the new virtual machine to avoid issues.
See Also
How to Add SATA Hard Disk to Virtual Machine in VirtualBox
Yes, Cloning virtual machines in VirtualBox with CloneVDI tool is very easy and straightforward. I'm sure this method will be useful to create multiple machines in VB without reinstalling everything.
I demonstrated these steps in Windows XP 32Bit host computer, let me know if you face any difficulties.  Don't forget to leave comments or subscribe to Sysprobs.