Windows Virtual Machine
This step by step method easily explains how to install and run windows 7 virtual machine in Sun VirtualBox. Sun VirtualBox nicely supports windows virtual machines and as per my experience, windows virtual machines work faster in sun VirtualBox than other desktop virtualizations software.
Windows 7 comes with nice features and works really fast. If you are a Windows Vista user, definitely you can feel the difference between vista and windows 7 since you wouldn't be happy with windows vista. To check the new operating system windows 7 with your all programs and hardware drivers, better to install in one virtual machine and check the compatibility with your day to day IT life.
Follow the steps to install Windows 7 on Sun VirtualBox.
1)      Select New and press Next.
2)      Give a name for Virtual machine and select Windows 7 from drop down box
3)      Select the Memory size for windows virtual machine in next screen. It depends on how much physical memory you have in your physical machine. I recommend to allocate minimum 1GB  ( 1024MB)
4)      Create Hard disk for virtual machine. To create the new disk, select the option as shown below.
5)      Press Next and in the next screen select 'Dynamically expanding storage' option which will help to reduce the hard disk space usage.
More information about both types can be found in the same screen.
6)      Hard disk file name and location can be changed in next screen.  Based on the windows virtual machine operating system you are installing, you can set the size for the hard disk. 20GB is enough to install windows 7 and some other important software.
7)      You can press 'Finish' to complete the hard disk creation and virtual machine creation.
8)      Summary of windows virtual machine created can be seen as below
9)      Since this a new windows virtual machine without operating system installed, we need to boot with windows 7 installation CD. It can be done under 'CD/DVD-ROM' option as shown above. Click the link to mount ISO file or select your physical CD/DVD ROM with Windows 7 installation DVD.
10)   If you are planning to install by DVD, select 'Mount CD/DVD Drive', then under 'Host CD/DVD Drive' select the physical CD Drive letter.
11)   If you are going to install windows 7 by ISO file then select the second option. Any ISO files added in Sun VirtualBox CD/DVD Images  can be listed out by drop down box, so if windows 7 ISO image already added, you can select it. Otherwise click right side add button to add the image.
12)   Press Add button and browse for the ISO image file. Once it's recognized correctly, it will be added under Sun VirtualBox images.
13)   Once CD/DVD or ISO Image successfully mounted to windows virtual machine, check the summery of the machine to confirm the CD/DVD ROM changes.
14)   We are ready to start the installation of Windows 7 virtual machine in Sun VirtualBox. Click Start to start the machine.
Installation steps are very easy and normal.
Select 'Custom (Advanced)' mode installation.
15)   Select the hard disk partition you want to install Windows 7. In our example its 20GB free hard disk. If you want to create partition on it, select 'Drive Options'. Otherwise click Next to start the installation. Automatically Windows will create partition in full space, format and start the installation.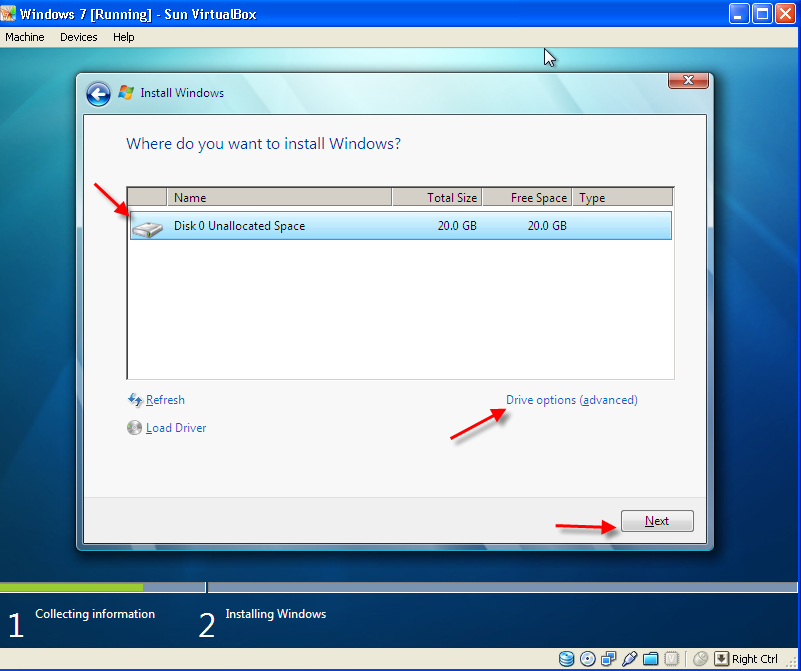 16)   Installation will start once hard disk is ready.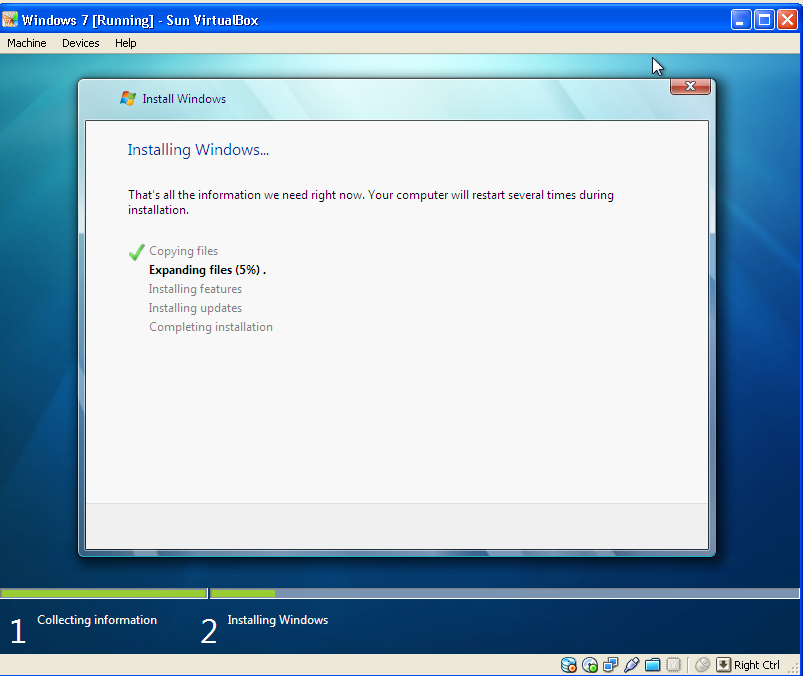 17)   That's it. After the initial configuration in windows 7 such as, user name, PC name, and product key, your windows 7 virtual machine ready to run.