Are you using VMware workstation? then you may need to read this article discusses the explains Virtualbox advantages than VMware workstation. Both desktop virtualization software has advantages and disadvantages.  Here, I have listed out the few advantages of VirtualBox.
Before go further, let's understand something. Oracle VirtualBox is a free product. It is an Opensource desktop virtualization software anyone can download and install for free on Windows, Mac and Linux clients. In another hand, VMware workstation is a paid program. VMware has a free product which is called 'VMware Player'. It has minimal features compared to their paid version VM Workstation. So, here we are comparing a free product with a paid product.
I don't have statistics of results between both desktop virtualization software to prove the difference, but all the below points came out from my experience by using both products. If I'm missing any important advantages in below list, then please mention them in the comments area.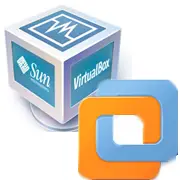 (VirtualBox vs VMware) Oracle VirtualBox Advantages
1) Free to Use
Yes, it's a cool advantage in VirtualBox. It's completely free to use for a home for personal use. You have to buy a license if you are going to use in the production environment. But, VMware workstation is not free to use anywhere.
About VMWare pricing check  here
About Virtualbox pricing for Enterprise License check here
2) Open Source Virtualization Software.
It's an open-source virtualization software, so if you know to programme, here we go, you can develop and customize it. You can make it work with many apps, Operating Systems and Interfaces.
3) Patches and Updates Available
Patches and updates available for VirtualBox more regularly. Support for new Operating System as guest and host gets added quicker than VMware. Everybody likes Open source and love to develop it. So, all bugs and vulnerability are gettings fixed very quickly.
Download the latest version with patches
4) Less Resource Usage in Host
Compared to VMware workstation, Virtualbox uses less memory and processing power on a host computer. Without powering on any virtual machines in both software, if you check the resource usage, you will find that Virtualbox uses fewer resources in the host. That will help the host OS and its applications to work smoothly. That is a clear indication that VirtualBox is the suitable virtualization software to use on the low or old type of hardware desktops and laptops.
5) Performance of Virtual Machine
Virtual machine (guest OS) works faster in VirtualBox than VMware workstation. You can feel the better speed in booting, working and shutting down in VirtualBox than VMware. This is another main advantage when you switch on more than three virtual machines at a time, VirtualBox handles it well on a host computer.
6) Saving and Resuming time of Virtual machine.
Saving and resuming a working virtual machine is faster in VirtualBox. Even though VMware tries to improve this in their recent products, VirtualBox still does better.
7) VirtualBox supports VMDK
You can directly use VMDK (VMware Hard disk file) in VirtualBox. So any virtual machines created in VMware workstation can be opened easily in VirtualBox without any conversion. But, VMware doesn't support VDI (VirtualBox Hard disk file). VirtualBox supports cross-platform virtualization products. This makes life easy if you plan to move to VirtualBox from VMware workstation.
Read more about accessing vmdk in virtualbox
8) Start Virtual Machine from Shortcut
Virtual machines in VirtualBox can be easily started from shortcuts. You can place shortcuts of each virtual machine on the desktop and start them directly, without opening the main console and start from it. It makes accessing virtual machines easy and quicker. But in VMware workstation, you have to open the VMware workstation main console and power on each virtual machine.
Read more about how to create a shortcut for a virtual machine inside virtualbox
Above advantages are very basic and any ordinary user can feel them. Share your comments about more advantages of Oracle VirtualBox than VMware workstation, if you are a VirtualBox fan and user.
As things keep changing and every software vendor does their best to improve their products, this comparison may change with the latest releases of the products.