In today's digital age, reliable and efficient antivirus software is crucial for protecting your computer and personal information from malicious attacks. With the increasing number of cyber threats such as viruses, malware, and ransomware, it is important to have a robust defense system to keep your computer and data safe.
This blog post will discuss the 8 best free antivirus options for Windows 10//8/1 and 11 users. We will be comparing the top options available in the market and evaluating their features and performance. We will also discuss the pros and cons of free antivirus and guide you on choosing the best option for your needs in 2023 for home and business PCs.
We mentioned the unique features of each Anti-virus solution with Pros and Cons that would help you to decide on the correct PC protection software.
Installing a 3rd party anti-virus software on your Windows laptop or desktop is essential to protect against viruses and online attacks. Installing the best antivirus for Windows Operating Systems can improve the system's performance and guarantee maximum protection against nasty viruses, spyware, malware, hackers, and phishing sites. Everyone wants their system to be safe, but most are reluctant to use paid services or pay the renewal fees.
Here is a quick list of our recommended best free Antivirus solutions for Windows 10/11 and 8.1:
Avast Free Antivirus
Avira Free Antivirus
AVG AntiVirus Free
Bitdefender Antivirus Free Edition
Comodo Antivirus
Sophos Home Free Antivirus
Panda Free Antivirus
Microsoft Defender Antivirus
Since Microsoft has recommended installing third-party antivirus software on your Windows 10 to fight against advanced virus attacks, selecting and installing one of the best free Antivirus software is always better. You can disable or remove the Windows defender, as explained here.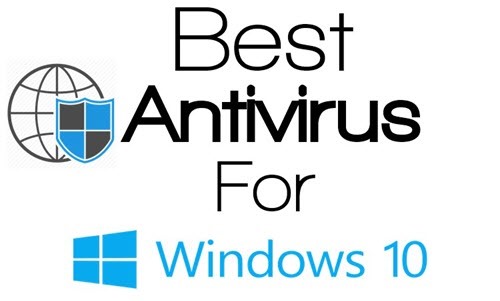 The solutions below are fully compatible with Windows 10 with their unique features, making it easy to select the right choice for your Windows.
Top Rated Best Free AntiVirus for Windows 10
Avast is one of the most preferred full-featured internet security solutions. It's not difficult to see why this is one of the top choices for Windows 10 or 8.1. It's incredibly easy to install, and simple UI and lightning-fast virus scans make it a perfect choice for everyone.
The best part is that it uses minimal system resources, meaning it won't bog down the user's PC, a major reason why people with old PCs depend on Avast for their virus protection needs. It includes an updated menu from where the latest updates can easily be downloaded and a built-in firewall to improve protection from cyber-attacks further.
One of the key features of Avast Free Antivirus is its real-time threat detection. The software utilizes advanced algorithms to detect and block malware, viruses, and other cyber threats in real-time, providing users with near-instant protection against new and emerging threats. Additionally, Avast Free Antivirus includes a built-in firewall, which helps to protect your computer from unauthorized access and hacking attempts.
In addition to the common security tools, such as Anti-malware Protection, Anti-spam, Software Updater, and SafeZone, Avast includes some exciting features;
Browser Cleanup utility to clean up the browser from unwanted software
Intelligent Antivirus, which uses new DynaGen technology to protect the PC
Silent Firewall to protect the PC from hackers
Pros
Easy to install
Do Not Track technology
Verify unpatched applications
Cons
Difficulty in removing the right software from the list of blocked programs
Next up on the list is Avira Antivirus. Avira is the top-rated and popular security solution to protect your PC from viruses, adware, spyware, or malware. The decent scanning speed, excellent usability score, and ability to deal with the most significant threats are some of the highlighted features of Avira Antivirus.
Moreover, the antivirus uses only limited resources, making it easy to load and use other applications without lag. Before installing any new software, ensures that the software is compatible with your PC and helps avoid crashes.
Like Avast, Avira includes built-in firewall protection but also has a bonus. It has a child monitoring service that allows you to monitor what your children do on social networking sites, automatically flagging friends who appear to be adults and identifying possible profanity, drug or alcohol references, or depression-warning signs. There is, however, one downside to Avira, if you have a PC with less-than-stellar specs, it will slow down during scanning.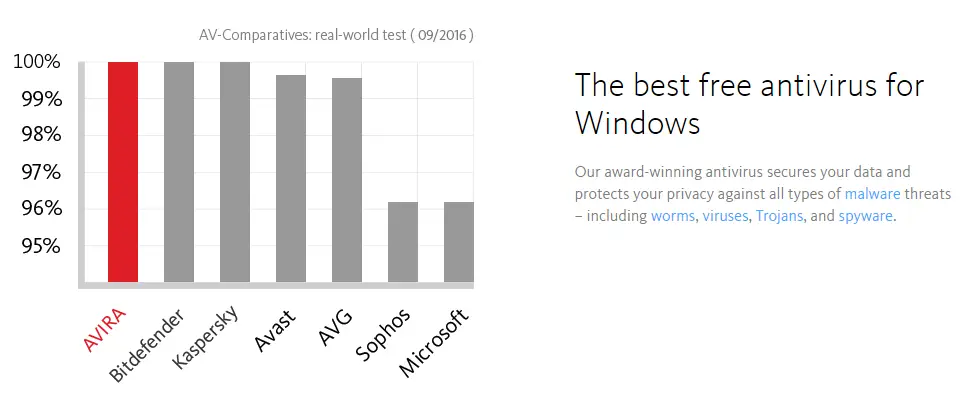 Pros:
Ease of use
Simple UI
Continuously monitors the PC
Automatically scans for compatibility with software
Quick Scan
Least impact on the performance of the system
Cons:
Frequent pop-ups from the Avira Notifier
Can Antivirus software slow down the modem computers? Let's find out from the below video.
AVG antivirus is a heavy hitter against malware, but that is primarily true for the paid version. The AVG antivirus has incorporated many useful features which can make you safe while surfing the internet. The smart and simple user interface makes things much easy for the users to carry out the operations with a few clicks. The advanced settings and good localization have taken it far ahead of its rivals.
The free version is no slouch either; it's enough for most of our malware removal needs thanks to its superb virus detection engine. AVG's UI is rather clunky; some users might struggle to navigate it. It is best suitable for people who have a better understanding of how Antivirus programs work.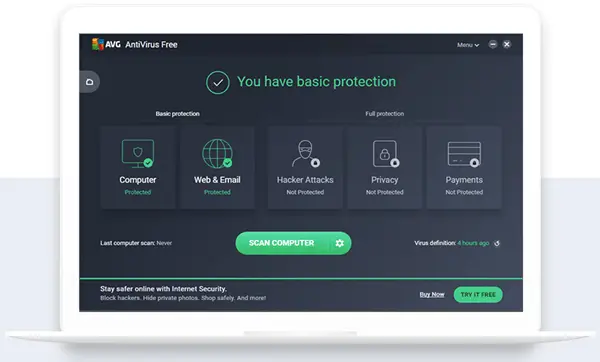 Pros
Best rating from almost all independent labs
Very effective in removing threats from malware-infested test systems
Do Not Track technology
PC tune-up analysis
Cons
Resource Hog
The latest Bitdefender Free Edition is a complete suite in itself. It offers basic protection from the latest viruses and security from malware and phishing scripts; Bitdefender provides real-time protection, antiphishing, autopilot, and anti-malware protection.
You can install free Bitdefender software on any number of devices independent of platform type. You can download antivirus on Windows, Android, and Mac devices for free. Once you download and run the installer, it will scan the system for any active malware that could hinder the installation process. The Bitdefender user interface is simply offering you many options to choose from on a single screen.

The best feature of Bitdefender is its auto-pilot mode which is always 'On' by default. The autopilot will silently secure your PC, laptop, smartphone, or tablet from all malware and phishing attacks so that you can do your financial transactions or save your data without any threat of being hacked.
Among all the free anti-malware products, Bitdefender is a strong contender to be on the top, considering its all-around performance.
Pros
Centralized interface to manage all the devices
Protects devices silently
Simple User Interface
Quick and Easy Installation
Outstanding Lab results
Cons
Some threats can be eliminated only in rescue mode.
The Comodo version is a "feature-filled antivirus software" that is free. Comodo offers a nice-looking interface. It offers a number of themes like classic, modern, Lycia, and much more. The main screen consists of a large block showing the current protection status.
If everything is protected, the block will appear green in the case of some cyber-attack, or if some of the components are disabled, the rectangular block will become red. On the right side of the screen are other components that include manual scan, updates, Run Virtual, and unblocking applications (from the sandbox).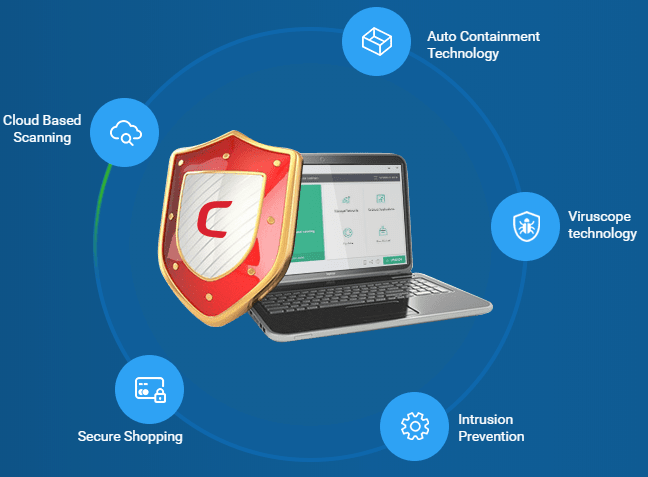 The installation of Comodo is tricky. You have to be careful and read the installation screens carefully before clicking yes or next since any laxity during installation will install Yahoo as a home page in all browsers.
Similarly, after the installation is complete, a Geekbuddy service will pop up asking for remote scanning and remedy of malware. If you accept the offer, thus Geekbuddy will later ask you to pay for remote services. So I don't recommend paying for any of their services since the Comodo 10 free antivirus software is perfect for overall protection from any cyber-attacks.
The best part of this free antivirus is the sandbox virtualization feature. It can easily create a virtual desktop and all your applications and browser run in a sandbox. Any changes done to files by malware or phishing attacks are temporary and can be reset by clearing the sandbox.
Pros
Premium features like HIPS and Sandbox in the free edition
Option to create a rescue disk
Safe Comodo Dragon (Chromium-based) browser
Good-looking user interface
Cons
 Not convincing lab test reports
Sophos Home possess business-class features to protect Mac and Windows-based devices at Home and for noncommercial purpose. It can protect the systems from ransomware, viruses, and malware. The interface is clean and simple to use. Apart from a local interface, Sophos has a user-friendly management console to control the settings and analyze the reports of multiple systems.
The installation is quite easy; you need to register and add the computers irrespective of their locations. Unlike many free antivirus software, Sophos does not ask for any credit card details. Above all, there are no irritating pop-ups or ads.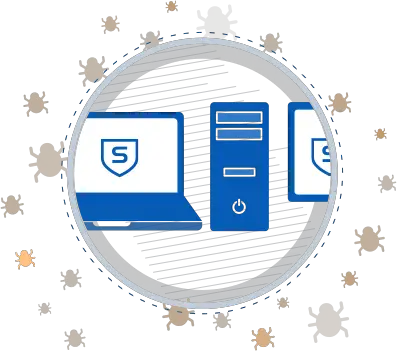 Sophos automatically blocks your devices from phishing websites, malware, and fake sites. This free antivirus also offers web filtering to block content inappropriate for kids and families. The advanced proactive protection protects devices from known malware and real-time threats by analyzing the behaviour of files and programs.
Pros
Sophos Home has won awards from AV comparatives, Softonic, Softpedia, and Tom's guide for the best protection.
Free protection for up to 10 computers
Simple yet effective UI
Parental control
Cons
UAC security asks for user credentials each time while opening the UI
Panda is one of the lightest antiviruses regarding consuming device resources. It has a simple and attractive interface with various useful utility buttons. The interface is beautiful, with natural landscaping in the background. Panda is a great companion for your device, protecting it silently from exponentially increasing malware, phishing, and virus attacks.
Installation is easy and lets you customize the settings during installation, but you can also alter these settings later after installation. Panda has developed an improved safe web component that provides a robust shield against online phishing and fraudulent sites that attempt to steal vital information related to financial transactions or email accounts.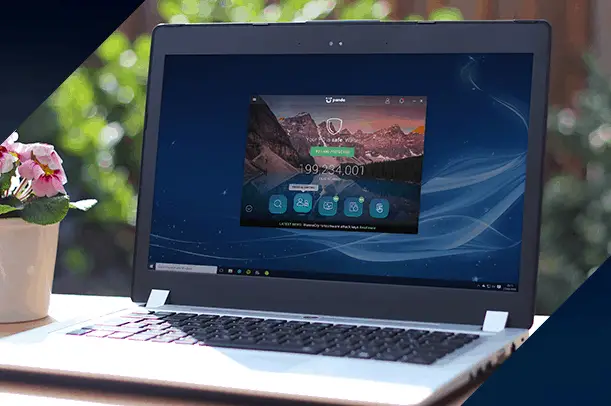 Panda free edition offers many bonus features, including USB protection which scans USB drives automatically when inserted, Process Monitor to view a comprehensive list of all the processes executed on the device, and Rescue Kit to weed out malicious programs that hinder the booting of your system.
Pros
Quick and Lightweight
Premium features like USB vaccination and rescue disk included in the free edition
Overwhelming independent lab tests reports
Cons
Pop-ups to register for a paid version
Overall a good and lightweight antivirus, and if you have access to the internet all the time, it is a recommended option in the year 2023.
We highly recommend reviewing and installing one of the above free AntiVirus software on your computer. The built-in Windows Defender could be very basic antivirus protection that can't fight against all the latest viruses and threats attacks.
Microsoft Defender, previously known as Windows Defender, is a built-in antivirus software with Windows 10 and 11. It is a free and lightweight antivirus solution that protects against common threats like viruses, malware, and ransomware.
Microsoft Defender Antivirus has some distinct advantages compared to other free antivirus options, such as Avast Free Antivirus, AVG AntiVirus Free, and Avira Free Antivirus. One of the main advantages is that it is built into the Windows operating system. It is always up-to-date with the latest security patches and updates and does not require separate installation or maintenance.
Also, Windows defender can work with low system configuration, which makes it well-suited for older or low-end computers. Additionally, Microsoft Defender Antivirus offers tight integration with existing Windows 10/11 security features, such as the SmartScreen filter, which alerts users when they are about to visit a harmful website.
In terms of protection, it is well-known that Microsoft Defender Antivirus is not as feature-rich as other free antivirus options. But it is still proven effective in detecting and blocking common threats and is constantly updated with the latest security updates.
Pros
It is built-in into the Windows operating system.
It uses minimal system resources.
It is good enough to provide basic protection against common threats.
Cons
It does not include additional tools.
It may not be as effective in detecting and blocking new and emerging threats.
Pros and Cons of Using a Free Antivirus
Now let's discuss the pros and cons of using free Antivirus software on your Windows computers.
Pros:
Cost: One of the main advantages of free antivirus is that it is typically free to download and use. This can be a significant cost-saving measure for individuals and small businesses.
Basic protection: Free antivirus software can protect against common threats such as viruses, malware, and ransomware. This can be a good option for users who want to protect their computers from the most common threats.
Easy to use: Many free antivirus software is designed to be easy to use, with simple and intuitive interfaces that make it easy for users to navigate and customize settings.
Regular updates: Free antivirus software is updated to protect against new and emerging threats.
Try Before Purchase: If you plan to get a paid version, it is better to try a few free products before deciding on the final product. Even you can try (simulate) against specific virus attacks and see how each antivirus works in a sandboxed environment.
Cons:
Lack of advanced features: Free antivirus software typically has fewer features and capabilities than paid options. This means that free antivirus software may not provide the same level of protection as paid options.
Limited customer support: Since there is no direct customer support, you may have to rely on online forums or documentation for help.
Potential for false positives: Free antivirus software may have a higher rate of false positives, which means it may flag legitimate programs or files as malicious.
Limited real-time protection: Some free antivirus software may not provide real-time protection, meaning they only scan the computer when prompted.
Alternatives for Free AntiVirus for Windows 10: Paid Software
Each of the above companies has its paid version with advanced features and network protection. They work better as firewall protection and block network/online threats while you surf online. If you are looking for alternatives to free antivirus software, the next option is to buy the paid version of your favorite PC protection software.
Other than the above three antivirus software such as Avast, Avira and AVG paid versions, you can consider this below-paid antivirus software. Most of them provide 30 days trial period with full options. You can download them for free and try them on your PC. Assess the performance of your Windows 10 computer during the trial period and then decide on the purchase.
Kaspersky: A famous and powerful antivirus software for your PC.  They are good at researching and fighting against new viruses and threats.
BitDefender: Their famous suite for home users is a great deal for the money. It works smoothly on any computer and doesn't require more resources from your computer.
MacAfee: Their suite is also famous for virus protection. The software can fight against the number of threats that a PC can have. Their network and firewall protection are super powerful.
Final Thoughts
Antivirus programs are fantastic at what they are designed, which removes malware, and with them being free, it would be foolish not to install one.
Whether you want a program with a low footprint, a heavy hitter that can detect the most well-hidden malware, or one that can do both, my list has you covered. Go ahead and select one of the best free antivirus software for Windows 10/11 and download them for free.
Additionally, it is essential to keep your operating system and software up to date, be cautious of suspicious emails and websites, and use a reputable anti-malware program. Regularly backing up important files can also protect you against malware and ransomware.
Do not miss trying the trial versions of paid software if you are looking for more protection at a cost.