Here you will be finding basic and simple troubleshooting tips for Windows Remote Desktop connection problem. You can apply and check every method mentioned below when you can't connect to a Windows 10 or Windows 7/8.1 computer with RDP client from another computer. Understanding the requirements of RDP (Remote Desktop Protocol) and how it works will solve most of the problems.
The Remote Desktop connection utility helps to take control of other computers over the network and work like you are sitting in front of them. When it comes to Windows 7 and later Operating Systems such as Windows 10 and 8.1, we can't connect remote desktop easily because of the default security settings. This article explains how to enable remote desktop connection in Windows 10 and Windows 7, so all versions of Windows OS users can connect remotely.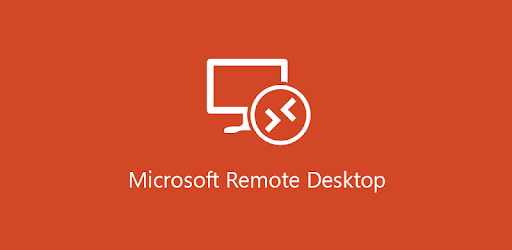 6 Steps to Fix Remote Desktop Connectivity Issue in Windows 10/8.1/7
Before dive deep, make sure you have the active network connection between both computers. If no network communication, obviously, the remote desktop will not work.
Since it uses RDP packets to communicate, your routers and firewalls should not block this packet. The following methods are applicable for server versions such as Windows 2012 R2, 2016 and 2019 also when the remote desktop is not working.
1) Allow Connection for All Versions
By default, remote desktop is disabled in the latest Windows Operating Systems. To Enable it, Right-click 'My Computer' and select Properties.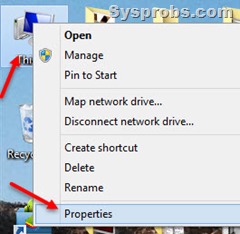 Got go Remote Settings as shown below.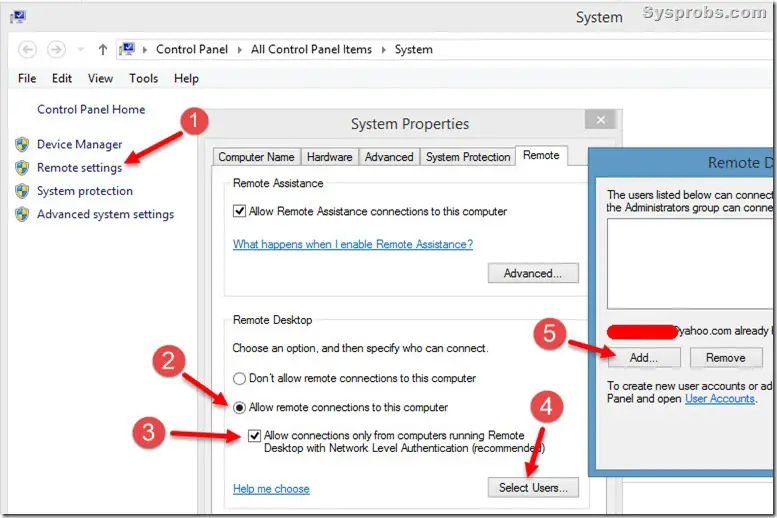 Two options are available to enable remote desktop connection in Windows 10.
Select Allow connections from computers running any version of Remote Desktop to allow people using any versions of Remote Desktop or RemoteApp to connect your computer. This is a good choice if you don't know the exact version of the client, but it is less secure than the second option and not recommended. Also, you need to use this option if the request comes from older versions of Operating Systems.
Select Allow connections only from computers running Remote Desktop with Network Level Authentication to allow computers using the Remote Desktop or RemoteApp version which supports Network Level Authentication to connect your computer. This is the most secure choice. Since most of the recent Operating Systems support this authentication method, it is highly recommended to use this option.
Enable RDP in Windows 10
Windows 10 has similar settings to enable RDP connections.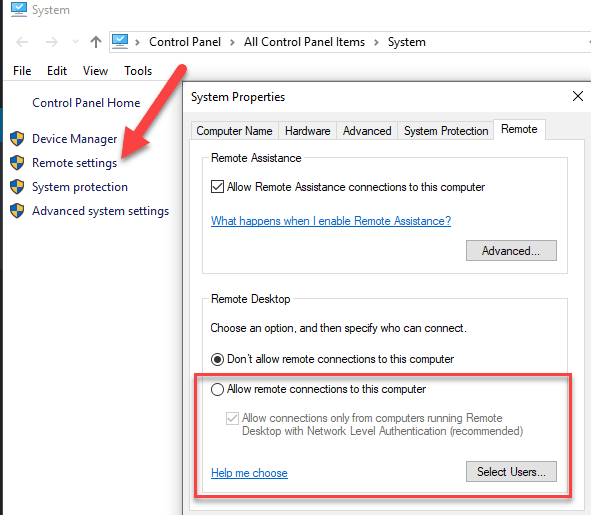 If the Network Level Authentication option is enabled, the older versions of remote desktop clients can't be used to connect the latest Windows Operating Systems.
2) Allow Remote Desktop Connection in Windows Firewall.
The remote desktop connection uses RDP (Remote Desktop Protocol) that is blocked in Windows firewall by default. But, when we enable Remote desktop connection (as described in step 1), it automatically gets enabled and allows incoming remote desktop connections in the firewall. To confirm it, go to Windows Firewall in control panel.
Click on Allow programs… option as shown below.
In the next screen, you can see which programs are allowed or blocked in Windows Firewall.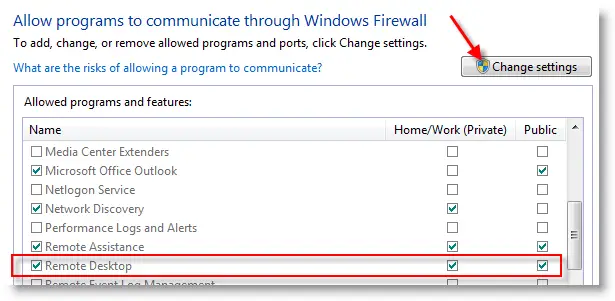 In the above example, Remote Desktop is enabled in Private and Public networks in Windows 7. To change any of the options here, first press 'Change Settings' button and modify. Similar settings can be found and used in Windows 10 as well.
If you are using third-party firewall protection tools, then you need to enable the incoming RDP protocol to make it work.
Remote Desktop connection works with RDP traffic on TCP 3389 port.
3) Allowed Remote Desktop Users
Here is one more consideration when we can't connect Remote Desktop to a Windows computer.
Not all users can take the remote desktop connection to other computers. Only the local administrators, administrator group members, and 'Remote desktop Users' group have the ability to use remote desktop connectivity. If you are trying a user account which doesn't have this privilege, then the remote desktop will not work.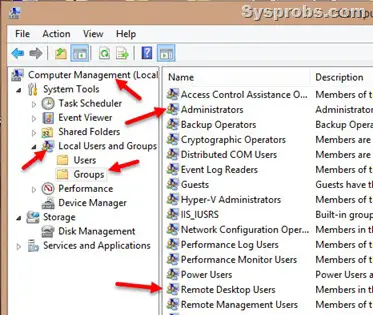 If domain (Active directory) setup is in place, the access of remote desktop connectivity works according to the group policy and permissions. Make sure that the user name you are trying to connect a Windows computer is in the appropriate access group.
Read Also: Simple Tip to access the Facebook desktop full site on your smartphone
4) Check the Remote Desktop Services
All services related to Remote desktop connections are disabled by default. Once you enable remote desktop (as mentioned in the first step) access, these three services will start automatically. These services should be up and running all the time to accept the incoming remote desktop connection.  If you can't connect RDP to a Windows 10, then you must check these services also.
Go to Computer management, then Services. Look for following services and make sure they are running.

5) Try This If Remote Desktop Connection is Slow
Sometimes the RDP connection will be slow and experience the poor display performance due to slow network connectivity. If you use Windows 8.1/10 remote desktop connection through WAN (Wide Area Network) or the Internet, then you will be facing this issue.
Usually, we can use the RDP connection for basic tasks only, and not for any multimedia or high graphical required activities over the network. Therefore the screen resolution and color depth settings can be reduced to have better experience in a slow network. To do that, before making the connection, change a few settings in display properties of RDP client in Windows 10 or 8.1.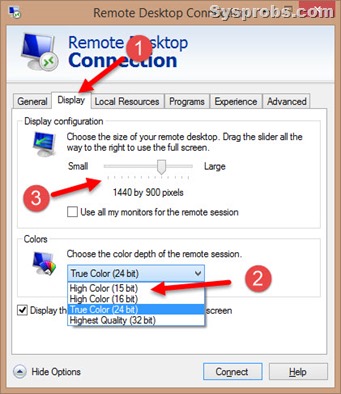 Changing the settings to lower color depth (15 bit in Windows 8.1 as marked by 2) in Remote Desktop Connection program will improve the performance by using minimal bandwidth in slow network connections. Also, reducing the display (in pixels as marked 3) resolution can help in seeing the remote computer in smaller/limited screen size which can hugely improve the performance in a slow network.
5) Connect Remote Desktop to Windows 10 from Outside Network – Internet
If you like to take Remote desktop connection to your Windows 10 or 8.1 through the Internet from anywhere in the world, then there are specific configurations need to be done in the Internet router. Here are a few considerations.
1) The port forwarding should be enabled in the Internet router to forward any incoming RDP connection on public IP (or DNS name) to internal Windows 8.1/10 computer which you like to connect via RDP over the internet.
2) Your home/office internet should have public static IP or DynDNS with a dynamic IP address. Because your internet modem gateway should have a valid static IP or name to be able to accept a connection on the internet.
6) Third-Party Free Apps
This can be the ultimate and simple solution with the additional features if you are looking for a product that can replace tradition Windows remote desktop utility.
These programs will work through the Internet without any changes on your home Internet router or firewall. But unlike Microsoft's built-in RDP client, some of the free programs require someone to install and accept RDP connection from the destination computer.
1) Ammyy Admin
2) AeroAdmin
Conclusion
Hope this guide is helpful in troubleshooting Windows 10, Windows 8.1/7 and MS server remote desktop connection issues on your home or office network. Also, there are few tweaks and other third-party programs mentioned here to overcome the connectivity issues from the Internet and WAN.