Sometimes you will not have any idea how your hard disk getting full. Finding the large and hidden files which take more space on the disk partitions is a difficult and time-consuming job. Though there are some Windows 10 features to see the large files, those steps also slightly complicated and not like the tool we are going to use here.  This article explains how to find large files on disk by using a free called WinDirStat in Windows 10/8.1 or any other Windows OS versions. Some of the system folders such as Temp, Temporally Internet files and Anti Virus quarantine folders consume more space on disk without our knowledge.
The WinDirStat tool is helpful to see file and folder size in one view as disk treemap. It has a nice graphics view that helps to identify the folder/files which takes up the C or D drives. It does not only help to find the large files but also to delete them directly from this tool without going to normal Windows explorer.
Follow the steps to use WinDirStat and find large files in Windows 10
1) Download and install WinDirStat (Installation is very simple). Even it has the portable version that works without installation.
2) In the first screen, you can select all drivers or single partition or a folder. Though the below screenshots taken in the older version of Windows, still all screens are applicable in the latest Windows Operating Systems.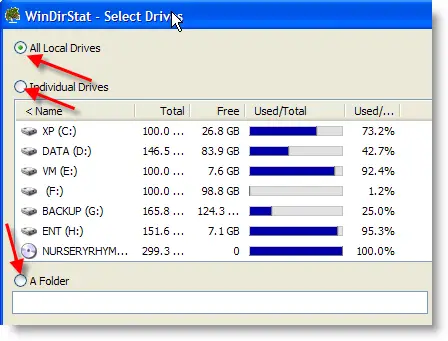 If you have lots of files and folders inside one folder select 3rd option 'A Folder'. In this example, I'm selecting 'Individual Drivers' (DATA -D drive). Select a drive and click OK
3) Progress of scanning can be seen by below indications. Let the scan complete and produce disk treemap report.

4) Here is the output once scanning completed.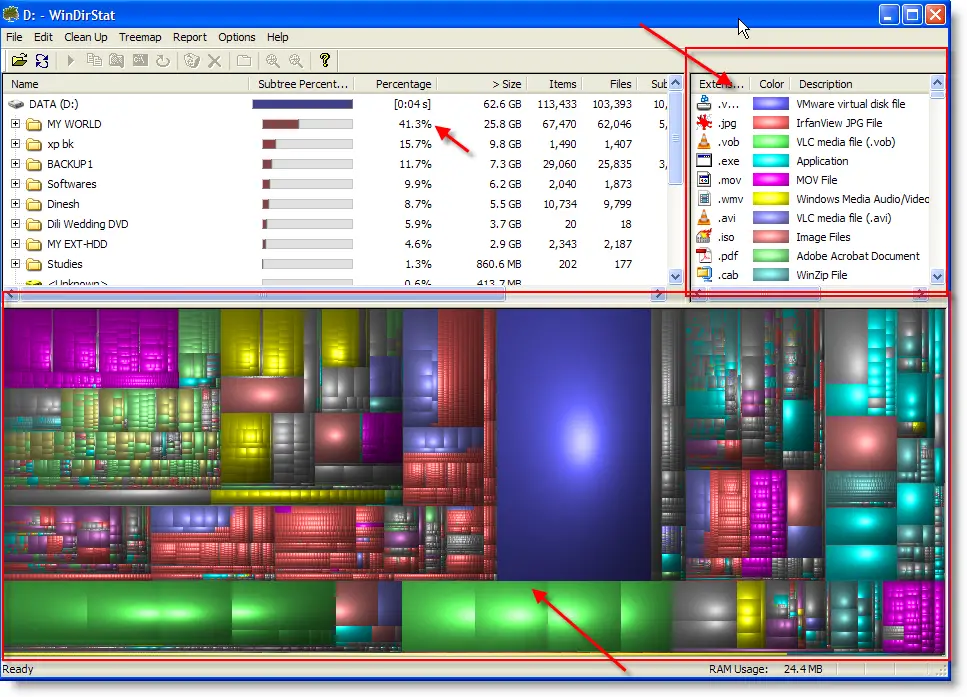 a) The first top portion shows the summary of the disk and folder. The result starts from largest to smallest. So, the first folder is the largest folder in a particular disk or partition. In this example 'MY WORLD' folder is the largest folder which consumes 41.3% of disk D.  Some more information of particular folder such as actual size, items, files and folders inside also visible here.
b) The second top right portion is related to treemap which is at the bottom. It displays the colour of each file extension.
c) The bottom portion is the treemap of a disk. It is almost like physically you are seeing the disk with each file's location. It can give an idea which type of file is bigger and saved in the disk by the colour combination.
5) In my example 'MY WORLD' is the largest folder in D drive. Then which is the largest file in drive D? It's very easy to find out by WinDirStat. As you can see one large blue rectangle is consuming more space in the treemap. That is the largest file in drive D. See below.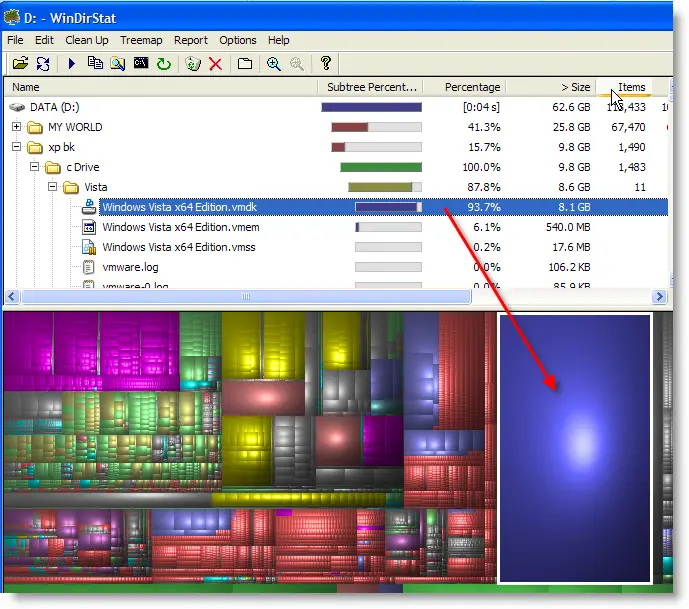 I just click on the blue rectangle; it shows the actual file in the top portion. It's a VMware vmdk file with 8.1GB, and consuming 93.7% of the parent folder (Vista).
From here you can perform similar Windows Explorer tasks such as opening and deleting files and folders. You can clean up disk space here without going to normal Windows explorer and again locate these larger files/folders.
When you click on any of the colour portions in the treemap, it expands and gives details in the top portion.
6) Also, when you click on a file type at top right, it displays all same file type files in treemap as shown below.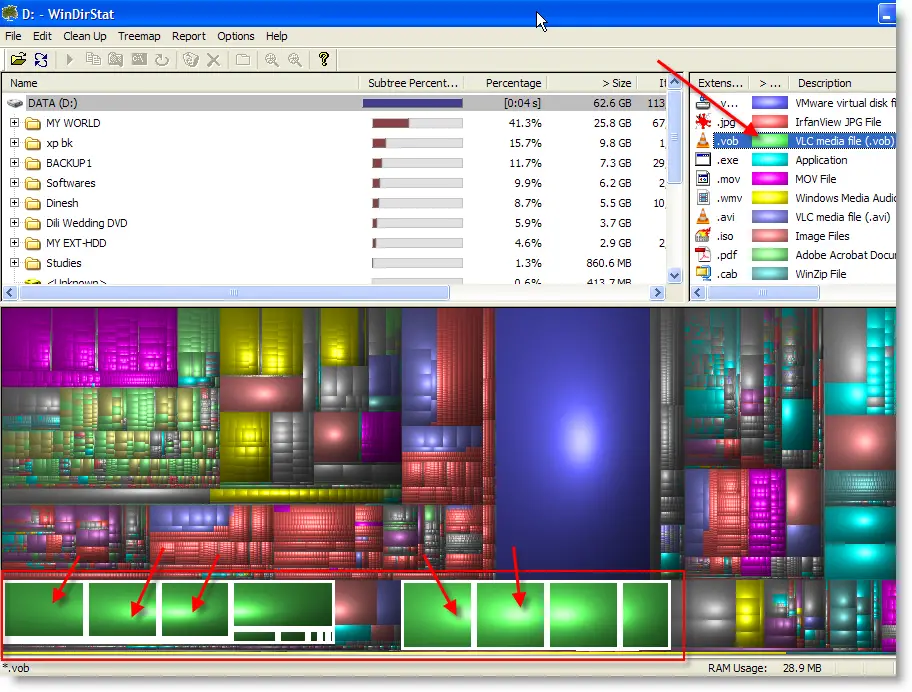 When I clicked on .vob files (Green) in extensions, it showed the all .vob files location in the treemap those are located on the same disk/partition.
In my experience, WinDirStat free tool helped me a lot to solve disk space problems. Sometimes you or your users don't have an idea about folder or files sizes in a disk. As I said earlier some system folders grow every day, and you can't right-click and check the size for all of them. So whenever you want to find the largest file or folder in a disk with a free tool, WinDirstat becomes very handy.