This could be an issue/bug with VMware workstation to handle unexpected shutdown or restart of the host computer while a virtual machine was working. Recently I received an warning message when tried power on a virtual machine as "The Virtual Machine Appears to be in Use". It was a bit strange message because I just opened the VMware workstation few seconds ago. How can the be in use?
While trying to find out the solution, I came to know that this error may occurs when an unexpected shutdown or restart happens in host computer while the particular virtual machine is working. That was true in my case because my host computer (Windows 10) was restarted accidentally before this incident.
This is the warning message  "Virtual Machine Appears to be in Use" error in VMware Workstation with Windows 10 host; you may face same issue on other hosts Operating Systems like Windows 8.1, and Windows 7.

The Solution
The work around to fix this issue is very simple. You are getting this error because some of the temporary working files of particular virtual machine are still available on same location.  Normally these files get deleted when the guest virtual machine shuts down gracefully.
In may case, I could see following folders inside the same virtual machine's working folder. These were the folders causing the problem to power of VM.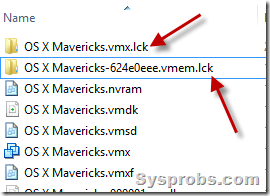 Close the VMware Workstation Program
Delete the folders with .lck file extension.
Open the VMware workstation program
The particular, it should start and work normally.
If you can't delete these .lck folders, make sure that VMware workstation is closed properly.
After deleting above .lck folders, I could able to successfully start the virtual machine on VMware workstation in Windows 10 host.
I hope this simple guide would be helpful.