FreeNAS OS is one of the best choices to create iSCSI disks and ZFS files systems in local PC with the normal hard disk by using a virtual machine or physical computer. The latest 11.2 version is a complete revamped distribution with new features and graphical user interface. Also, the system requirements had been increased to have FreeNAS OS, hence you need a better computer.
I have used Openfiler and FreeNAS for my virtual storage requirements, somehow I prefer FreeNAS for easy installation, management and configuration. In this guide let me show how to install the latest FreeNAS version on VirtualBox as a virtual machine and virtualize the physical hard disk and create some network storage such as iSCSI disks.
System Requirments
The recommended RAM size for FreeNAS is 8GB, so to get the optimal performance you must be able to allocate 8GB RAM for the virtual machine. Your Windows 10 or any other host computer should have enough physical RAM to manage this.
Allocate more the 2 processor cores
Attach a minimum of 2 virtual disks. 1 disk will be for OS and another one to create iSCSI disks.
Steps to Install FreeNAS on VirtualBox (Windows 10 Host)
1) Download the latest ISO from the official site here.
2) Create a new virtual machine in Oracle VirtualBox,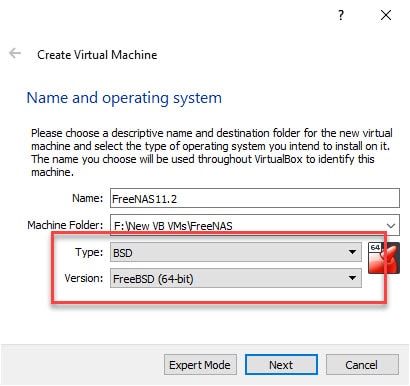 Select Operating System as – BSD and Version is – FreeBSD (64-bit)
3) Allocate memory size (Minimum 8GB) and create a new hard disk. I suggest creating a small hard disk VDI file to install OS, then add few more hard disks to create iSCSI disks and storage pools. Even you can attach the extra virtual hard disks later if required.
4) Now mount the downloaded FreeNAS ISO file to CD Drive of the virtual machine.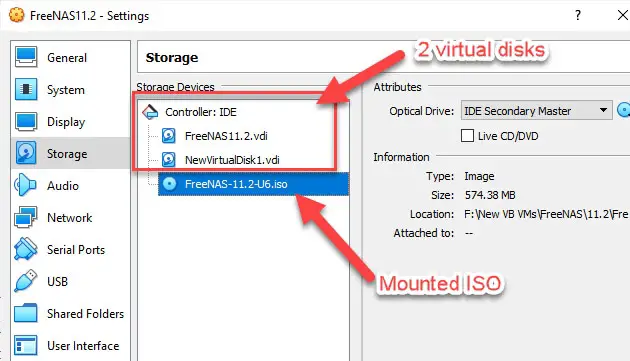 5) Usually, the VM will be created with just one processor core. It is recommended to increase the CPUs. I set 4 cores.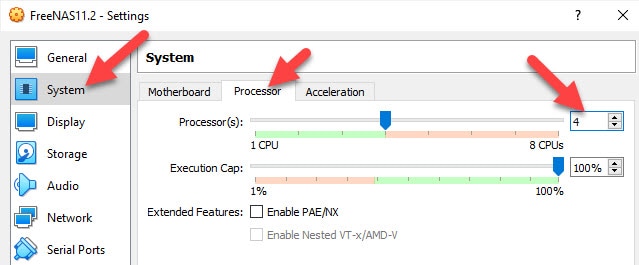 Power on the virtual machine and continue the installation. It is simple and straight forward.
6) Make sure to select the correct disk to install the OS. We keep the other disk to create some network storage shares.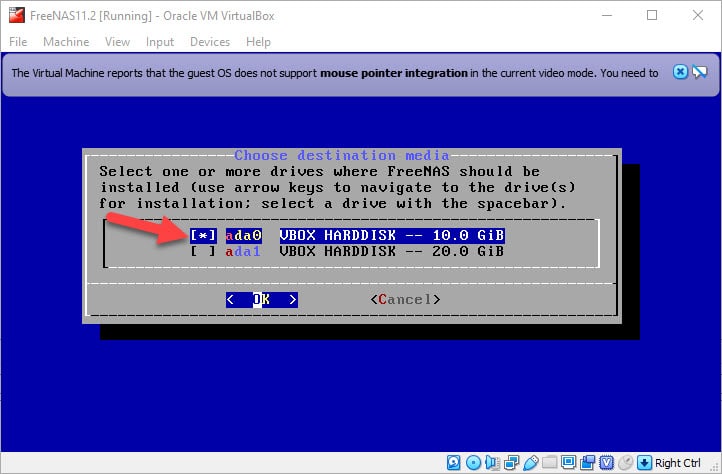 The installation will be completed smoothly. Remove the ISO file and restart the FreeNAS virtual machine.
7) Make sure VirtualBox virtual machine's network configured properly (NAT, Bridged or Host-only) to communicate with other virtual or physical computers.
Once the virtual machine booted, you will see the home screen as below. We can configure some of the initial settings here.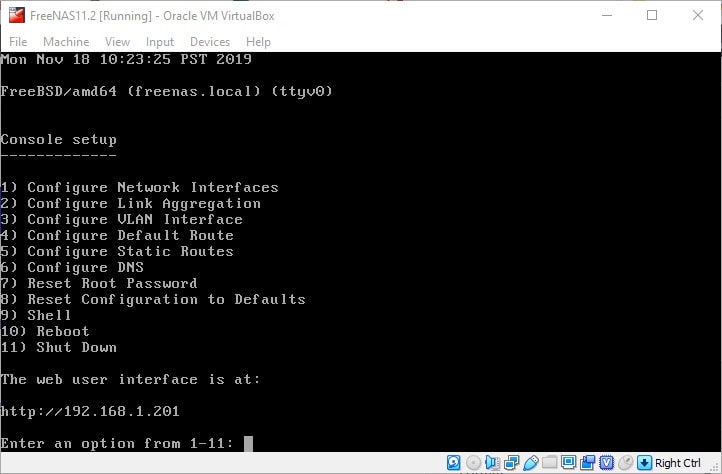 To know more about configuring static IP in FreeNAS and iSCSI disks, please read the below guide. I have demonstrated the steps in creating iSCSI disks with FreeNAS on VMware that is applicable for Oracle VirtualBox also.
In this case, FreeNAS is ready to connect via a web browser, make sure your client PC can ping to the virtual machine's new IP.
8) Open the internet browser and type http://192.168.1.201 (the IP you see on your screen). The user name is 'root' and password what you set during the installation. This will bring the main page of FreeNAS 11.2 which is totally different from earlier versions.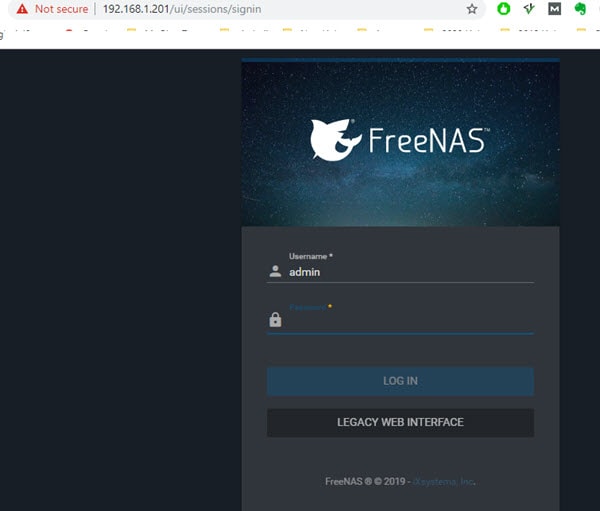 We can use the additional new virtual harddisk to create iSCSI disks in FreeNAS server that is running on Oracle VirtualBox. For more steps, click the below link.