Sometimes we get stuck in a situation where we have to install Windows OS 10/11, and we don't have a bootable Windows DVD or USB drive.
In such situations creating a bootable USB on another device that is loaded with Windows 11 does the job.  This article will explain and show how to install Windows 10/11 on a new PC without an operating system.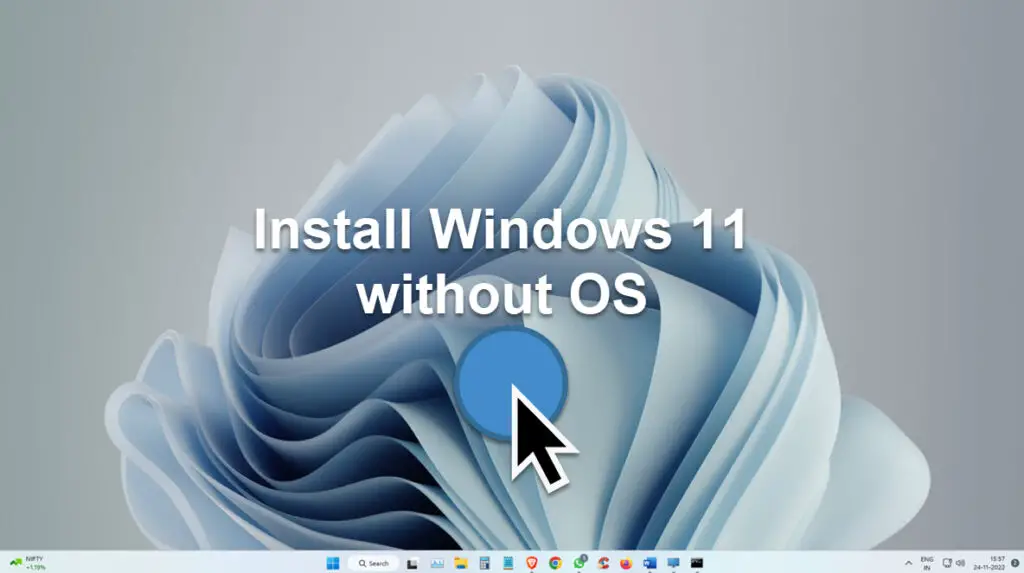 There are a few different ways to do this, but we will show you the most common and easiest method. We will also provide some troubleshooting tips if you encounter any problems. Catch us after the jump!
How to Create a Bootable USB From Another PC and Install?
If you don't have a Windows disk or internet access, you can create a bootable USB from another PC and use it to install Windows on your new PC. Here's how: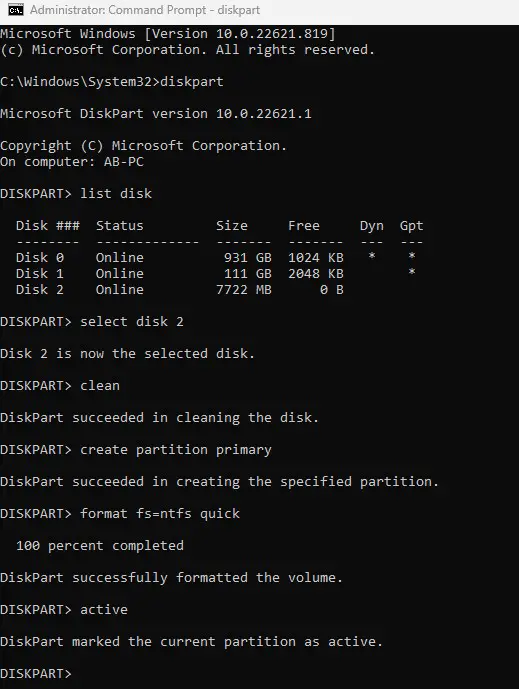 Connect the USB drive to your other PC.
On your other PC, open the command prompt and type "diskpart".
In the diskpart prompt, type "list disk" and press Enter. This will list all of the disks connected to your PC.
Type "select disk 2" and press Enter. This will select the USB drive as the target disk. If your USB drive is not Disk 1, change the number accordingly.
Type "clean" and press Enter. This will erase all data on the selected disk.
Type "create partition primary" and press Enter. This will create a new primary partition on the selected disk.
Type "format fs=ntfs quick" and press Enter. This will format the new partition as NTFS with a quick format option enabled.
Type "active" and press Enter. This will make the new partition active so that it can be used for booting purposes. Now, type "exit" twice to close both prompts. Your bootable USB drive is now ready!
Copy all of the contents from your Windows installation media (DVD or ISO file) to the newly created boot.
You are all set to install Windows 10/11.
How to Install Windows 11 on a Laptop Without an Operating System?
You can follow the below steps to install Windows 10 or 11 on a fresh PC without an existing OS. If your laptop is not booting or doesn't come with a copy of the Operating System, then using a bootable DVD or USB is the only solution available to fix this. Here is the process to do this: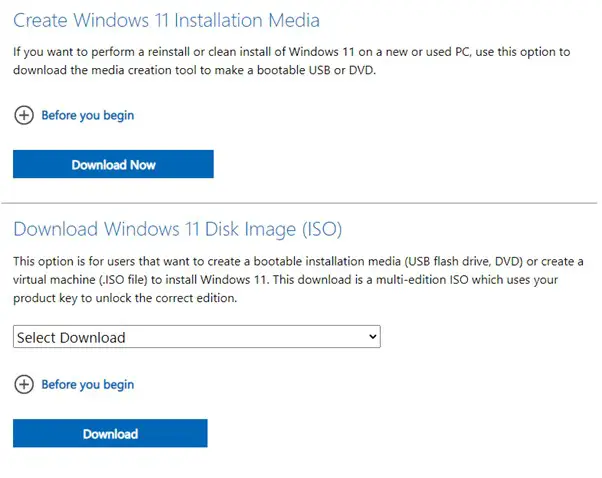 Go to Windows 11 website here on another PC and click on download Windows 11 Disk Image.
A setup file will be downloaded, launch the application
It will download the Windows 11 copy in the temp folder located under C: drive /ESD
Once the file is downloaded, it will ask to insert a USB or DVD to make a bootable drive 
Insert a supported USB drive and run the setup
It will format the USB and turn it into a bootable Windows 11
Now start and boot it using a USB stick. If you see a message that says "Press any key to boot from USB/DVD drive…", press any key on your keyboard.
If you don't see this message, you may need to change your computer's boot order. You'll need to enter your computer's BIOS settings to do this.
This is usually done by pressing a key during start-up, such as F2 or F10. Consult your computer's manual for more information on how to do this.
Once you're in the BIOS settings, look for something called "Boot Order" or "Boot Priority Order".
Follow the on-screen prompt to complete the setup
This process will take 15-20 min for the installation to complete.
Follow our earlier guide about installing Windows 11 in VirtualBox as a virtual machine since the installation process is the same.
How to Troubleshoot Installation Problems
If you're having trouble installing Windows, there are a few things you can try:
Make sure your computer meets the minimum system requirements for Windows. You can find these requirements on Microsoft's website.
Check to see if your computer has an optical drive. If it does, make sure you use a USB flash drive.
Boot your computer from the installation USB flash drive. To do this, you'll usually need to change some settings in your BIOS or UEFI firmware. More information is available on the PC manufacturer's website.
Once you've booted from a bootable USB flash drive, follow the on-screen instructions to install Windows.
If you're still having trouble, try contacting Microsoft Support or your computer's manufacturer for help.
Conclusion
Installing Windows 10 or 11 on a new PC without an Operating System is easy. You just need to ensure you have the right tools and follow the instructions carefully.
After following the above guide, we hope you can now install Windows on a new PC without an OS. Do let us know your thoughts in the comment section below.