After you have successfully installed the Mac OS X on VMware Workstation as VM on Windows host and you are facing the issue on getting the full resolution, this post will be helpful. As you aware that macOS is not officially supported as VM on Windows host, we have published several Hackintosh methods to install it for testing purpose. Since it is not official, you may face several issues inside the VM when you use it. The screen resolution issue is one of them.
The following method shows how to overcome the problem. The big advantage of this method is it supports multiple screen resolutions and widescreen Mac OS X support also.
There is a manual method to increase Mac virtual machine screen size, which is mentioned here. This method allows getting only one screen resolution at a time and widescreen resolution is not supported.
Here, we will see how to increase screen resolution to multiple options include widescreen for Mac Leopard virtual machine inside VMware Workstation or Player.
Simple Steps
1)      Download the Mac VGA driver for VMware here.
2)      Install the package in Mac OS X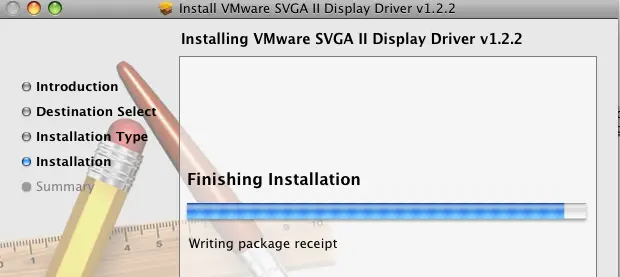 3)      Restart the Mac Virtual machine. That's it. Now you can see multiple screen resolution options in the Mac virtual machine.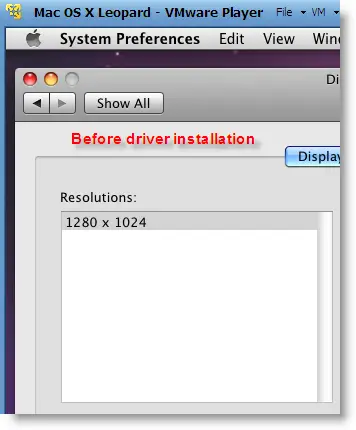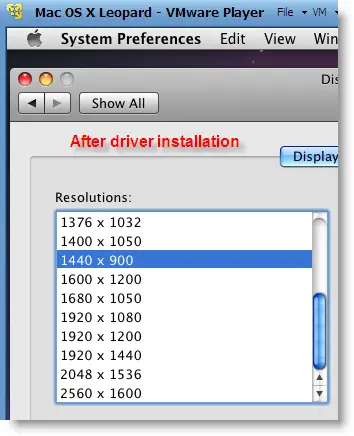 This driver worked well in VMware workstation and VMware Player for Mac virtual machines Leopard and Snow Leopard. We have not tested on the latest version of Mac OS since the driver was not updated by the developer for some time. If you want to try on the latest version, it is highly recommended to take a snapshot of the VM before you try the drive. You can easily recover the VM to earlier working state in case this driver creates the problem on the latest Mac OS versions.
You can try this method to increase Mac OS X screen resolution if you are running Mac on VMware by following methods.
Install and run Mac on VMware Workstation
Install and run Mac on VMware Player
Don't forget to drop a comment if this method useful for you or face any difficulties.