Having a solid backup and restore software for your server virtualization infrastructure is highly essential to protect business-critical virtual machines and application. Easy backup/restore is one of the main advantages of having a private cloud (virtualization environment) at the data center than the physical servers. Selecting the suitable and best backup software for the Microsoft Hyper-V or VMware vSphare/ESXi is always critical because you need to meet the technical and IT budget requirements in your organization. This article lists out a few important considerations and tips to select the best backup software for Hyper-V or VMware hypervisors.
There are plenty of free and paid backup software available in the market. Selecting the correct and best backup software mostly depended on the type of hypervisor, host Operating System, Virtual machine Operating Systems, the applications running inside the VM's, cluster/non-cluster environment, storage in use, complexity/time of backup and restore jobs, cost of the backup software and the support by the vendor.
10 Things to Check While Selecting the Best Backup Software for Hypervisor
As I have worked in IT infrastructure environment for more than 10 years in managing the virtualization setup and backups, I'm listing the 10 things which reflect my real life experince and knowledge.
1) Support of Host and VMs OS
Obviously, the software should support your existing hypervisor OS such as Windows 2008 R2 (v2) or Windows 2012 R2 Hyper-V (v3)/2016/2019 or VMware vSphare versions. If the host OS is officially not supported, then you will face some issues in installing the backup software, scan host server, and virtual machine resources. Regarding guest OS, make sure it can take a backup of the virtual machines you are hosting. For example, if you have several versions of Windows, Linux or even Solaris VMs, can it work with them?. The guest OS compatibility is highly important for proper backup and restore (to perform Item level recovery to recover something inside the virtual machine).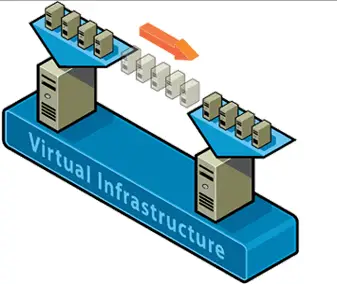 2) The complexity of Backup and Restore
The backup software should be easy to install and use. Some of the hypervisor backup software is very easy to install and deploy. They have good GUI installation screens, built-in database features and able to discover the existing setup of a hypervisor without any additional configurations. On the other hand, other software need to be installed with high technical knowledge and in complex topology.  You may need to set up several servers, run a few scripts, modify some of the configurations, and several other components to be installed. Making a small mistake somewhere may hamper the entire backup installation solution.
Also the backup and restore procedure should be simple and in non-complex format. Few programs provide very easy and cool backup jobs creation, execution, scheduling, and monitoring tasks views. At the same time, few programs will have complex screens and options to run the backup or restore jobs which will be an extra headache.
3) The time of Backup and Restore
Though we already mentioned the ease of backup and restore jobs, the 'time' is very important when you have more virtual machines to back up in a short time. The virtual machine backup time mainly depended on the technology, features, tweaks and acceleration methods the backup software uses.  It's always highly recommended to install the demo version or do a POC of the backup software to find out the suitable product for your IT infrastructure environment. If one software can backup a virtual machine faster than other software and restore procedure also same, then you must consider buying the fastest backup solution. That will save time and allow you to to take more backups during the allocated time which is mostly at night time.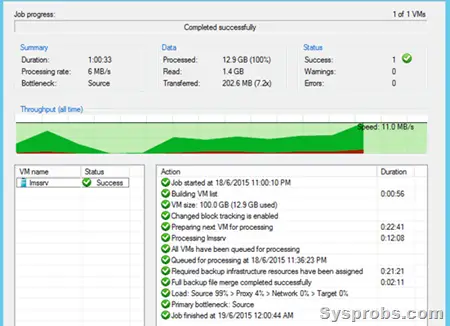 4) Backup and Restore Technology
The technologies used in software to perform backup or restore are considerably major part in deciding which software is good. It influences the time of jobs. If the particular hypervisor backup software supports all kind of latest technologies, products, and hardware in the market, then mostly it will support your environment too. Integrating with your existing hardware such as storage, network devices, and its features will improve the performance and time duration of the backup/restore. For example, if you are hosting virtual machines on NetApp storage and the backup software supports NetApp integration and its features (such as NetApp LUNs, snap mirror etc), then it is going to work well for your private cloud.
Usually, hypervisor backup software uses Microsoft Windows shadow copy service to take the backup of virtual machines on Microsoft Hyper-v. It's having several drawbacks such as slow backup and restore. But if the backup software supports hardware VSS writer in storage level, then it will use the storage VSS writer to take backup without affecting the performance of host and guest machines. It's fast, simple and not much load on the hypervisor host server. Also, the restore will be faster than traditional snapshot method. Some software will install their own VSS writers to make the backup and restore smooth. In this case, you have to see how compatible these 3rd party VSS writers with the storage and hypervisor host.
5) Application and files Awareness inside the VMs
This is another feature you must consider while selecting the best backup software for Hyper-V or VMware. Some of the virtual machine backup software can read inside the virtual machines and understand the applications running inside, they are application awareness. By using this type of software, you can perform item-level recovery whenever needed by using virtual machine backup. For example, if you have a virtual machine backup of the domain controller, you can restore an OU or user from Active Directory by using it. Remember: you do not need to install any agents or clients inside guest virtual machines, it purely works from VM backup level. It's a nice and useful feature you must consider when you want to protect your virtual environment.
Here is the item level recovery of Active Directory object by Veeam backup software.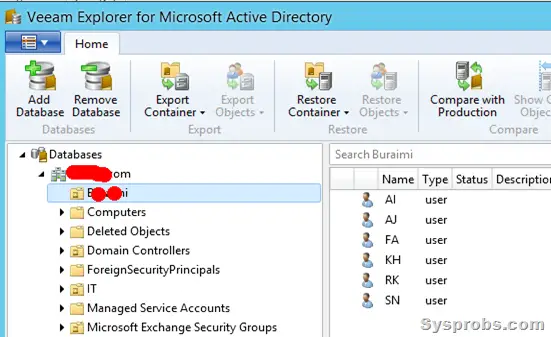 6) Support of Backup Destination
Check whether they support the backup destination mediums that you are using currently or will be using in the future. For example, can you back up and store a virtual machine to your existing tape library? do they support it? or how about SMB share? or iSCSI or NAS disks?. You must verify the compatibility and flexibility of using your existing destination mediums.
7) The cost
Of course, this is the major part while selecting the final product for your hypervisor private cloud setup. First, decide your environment size, the number of virtual machines, supported hosts and other features you will be needing from the backup software. Then decide whether you can accommodate these required features without buying additional hardware and with the lowest cost backup solution. Buying a high-end backup solution but not using all features of it is an unnecessary expense in the IT budget. Always select the solution which is having needed features for the better price.
8.) Support and upgrades
How quickly you can get the support from the vendor? can they support physically or telephone or online? do they provide patches and upgrades for the price you pay or you have to renew the licenses to get updates? if so, how much is the cost of it?. Consider these facts while selecting the backup solution for your Hyper-V or VMware hypervisors.
9) Monitoring and notifications
Some software provides monitoring and notification features. The backup and restore process can be monitored by a web portal and you can allocate access to other IT staff with specific roles. Notifications can be set to send as an email or SMS about successful or failed jobs. These type of features will enhance the backup/restore procedures and allow better monitoring and task allocation by sharing IT duties in the organization.
10) Dedicated VM backup or Other Backups too
Though we are considering about hypervisor backup software, how about additional features from this software? For example, can they backup physical servers or physical file/folder locations or how about the backup of the backup server? These types of add-on features will bring more value for the backup software and worth the money spending on this software.
Wrap Up
I hope these above points will give some ideas on selecting the best backup software for your Microsoft Hyper-V2 or V3 and VMware vSphere servers. It's almost like a one-time investment and you can't change the virtual machine backup software just like that if they do not work at your data center. Prior analysis, POC and proper investigations are highly required to select the best backup hypervisor software to protect the private cloud.