If you are person taking your iPhone and iPad backups through iTunes on your Windows computer, you may face the situation to change the backup location to a different drive. iTunes stores the backup usually under the user profile folder on Windows OS computer. If you have multiple iPhones and iPads to be backed up, then definitely you will run out of space on C drive. How to change the iTunes backup location to the different drive on Windows 10, 8.1 or even Windows 7? Here is the simple way I'm going to demonstrate.
Especially if you have small C drive or the C drive is an SSD hard disk type, defiantly it is not recommended to store your 64GB iPhone or 128GB iPad backups on this drive. I have experienced the same issue, and this below method worked for me to change the backup location to a different drive on my Windows 10 desktop computer.
The Default Location of iTunes Backup
iTunes store the backups under user profile folder here.

Unfortunately, there are no settings available in iTunes program to change the backup location. iTune will keep detecting the same place for backup, but here we will be using a Windows OS feature called symbolic link to point to a different folder which resides in a different partition.
How to Move the iTunes Backup location of your iPhone, iPad to Different Disk/Partition on Windows 10/8.1/7
1) Create a new backup folder on the different location (it can be a different folder, partition, disk or external disk storage). I have created the new backup folder in 'J' drive with following folder structure. I'm going to move the iTunes backup from 'C' drive to 'J'.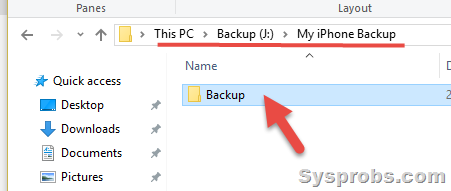 2) Go to the original backup location which is under your user profile in C drive. Rename the 'Backup' folder that was created by iTunes already. I changed 'Backup' to 'Old_Backup'.

3) Now open the command prompt. You can press 'Shift' key on the keyboard and right click on the empty space in this folder to open command (select 'Open command window here' from the menu) prompt from this location itself.
4) Now we will be creating a symbolic link in the default iTunes backup location and point it to the different new folder we created.
Type the following command;
mklink /J "%APPDATA%\Apple Computer\MobileSync\Backup" "J:\My iPhone Backup\Backup"

You should get the successful message saying that junction created as above.
5) Now you would see the new 'Backup' folder with symbolic link icon on the normal iTunes backup location. This link will redirect the files/data to the new location we have created. By this method, when iTunes takes backup of your iPhone, iPad, that will go to the new location.

Now, if you run the backup from iTunes, it will push the backup to the new folder location through this junction (symbolic link) folder.
Hope this will be helpful in changing/moving the default iTunes backup location to different folder or disk partition on Windows 10,8.1 and Windows 7 computer.