Aswidsagent.exe is an executable file from AVG software responsible for checking new viruses and malware that may affect computers. This program keeps running in the background and is always on. This article will talk more about what is aswidsagent.exe and how to remove it from Windows 10/11 PC.
AVG acquired Avast software's back in 2016; even before this aquation, the file aswidsagent.exe was part of the software and is still bundled by AVG in its free AVG Antivirus program.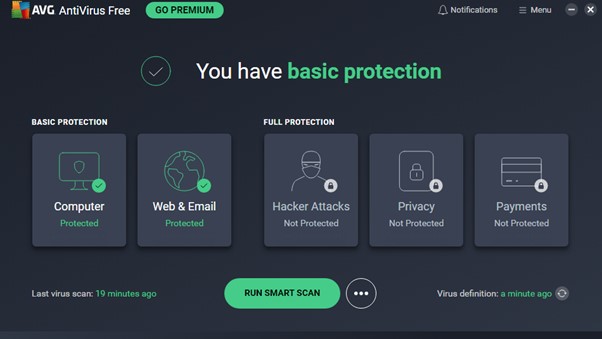 As this file keeps running in the background, one can quickly locate the .exe file in Task Manager and understand more about its system usage when it keeps running.
There are times when the Virus or malware attacks aswidsagent.exe and changes its behaviour. Due to which the file starts to behave mischievously and starts to cause an issue with the computer.
Some possible causes of the aswidsagent.exe file getting corrupt and reported issues are high CPU usage, performance, and high memory or disk usage.
In some other scenarios, due to any recent changes or updates in the AVG software program, the .exe also starts to cause trouble.
To identify whether the current aswidsagent.exe file visible under Task Manager is an open file from AVG or not is to check the file location. As we know, the file is part of the AVG Antivirus program, and it should be ideally available under C:\Program Files\AVG\Antivirus.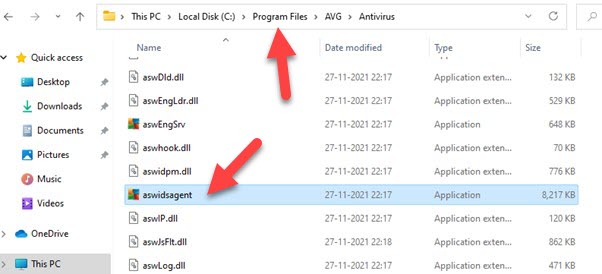 While verifying its location, if it is not available under the above site, it is not the original AVG packaged aswidsagent.exe. The user should get causes and should get rid of them as soon as possible.
As we now have an idea about this particular file and its usage on PC. Let's now talk about how to get rid of it if it is causing a system bottleneck.
How to Remove aswidsagent.exe From Windows 10/11 PC:
As aswidsagent.exe is part of the AVG Antivirus program, if you are looking for a way to get rid of this file, unfortunately, it is not currently available possible. End-user has to remove the program as a whole and should get a different antivirus program.
To begin with, the AVG program can be uninstalled from the Windows control panel, but if in case of any trouble removing the program, the user can download AVG Software Clear Remover.
Do a right-click on the AVG Clear Remover tool by going into the downloaded location and selecting "Run as administrator".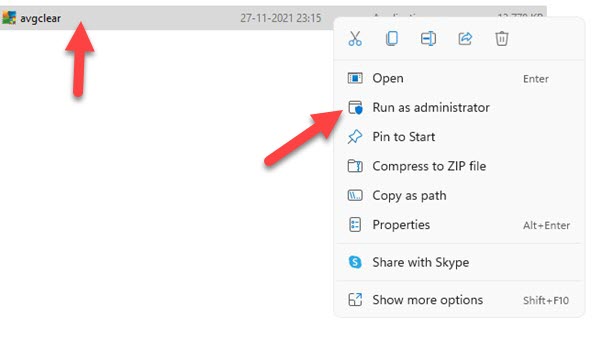 In the next step, the AVG Clear Tool will scan the system for the AVG Software currently installed and then gives a pop-up message asking for permission to reboot the PC in Safe Mode and then complete the uninstallation process. Click "Yes" and let the cleaner tool run.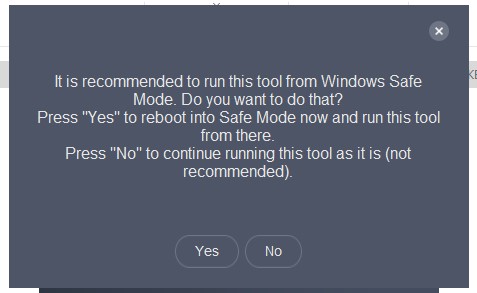 After clicking "Yes," it will ask again for confirmation one more time; hit "Yes", and it will now restart the computer in Safe Mode and starts the uninstallation process on its own.
Safe Mode will ask for user permission to remove files and folders associated with AVG again, hit "uninstall", and the clear tool will remove the files and folders.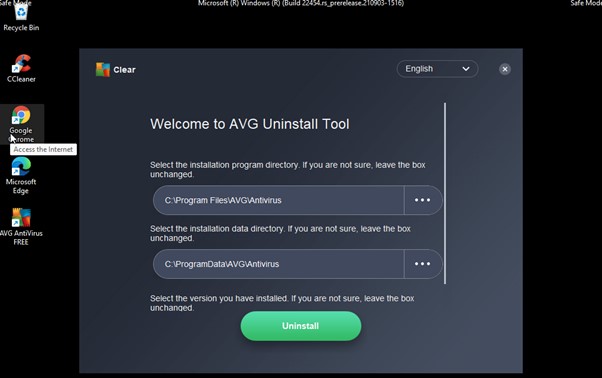 After the files and folders are removed, the tool will display a confirmation message and ask to reboot the PC to remove the rest of the dependency files that will be removed from Windows when the system is rebooted. Click on "Restart Computer" and let the PC reboot into normal Mode.
That's it, the aswidsagent.exe file is no longer available in the system, and the user can verify the same by going into Program Files and by looking AVG folder or searching for the aswidsagent.exe file in the search bar.
If Virus infects the system and after removing the AVG software, it doesn't get better, the user should run an SFC scan on the PC and let the Windows locate and fix any issues caused by the virus attack.
One of the simplest ways to fix aswidsagent.exe problems is to use the SFC scan or system file checker programme.
The utility will assist you in fixing the damaged file that is creating the issue on your system.
Follow these instructions to run the SFC scan:
In the Windows search box, type the command prompt.
By right-clicking on it, you can run it as administrator.
After entering the command prompt admin window, type SFC /scannow. Let the SFC scan the computer, find and fix any issue.
Once done, restart your computer to make changes permanent.
FAQ's on aswidsagent.exe:
Is aswidsagent.exe a legitimate file?
Yes, it is a part of AVG software, and it is responsible for keeping the system protected from virus and malware attacks in real time.
How to remove aswidsagent.exe only from a computer?
It is not possible to remove just the aswidsagent.exe file, as it is one of the core features of the AVG antivirus program. Hence in order to remove aswidsagent.exe user has to remove complete AVG software. 
What to do in case of high disk usage by aswidsagent.exe?
If the user notices high disk usage in Task Manager for a certain duration of time, then there is a chance that the system got affected by a malware attack. Users can try removing the program to see how that helps.
Can aswidsagent.exe cause damage to the computer?
As AVG digitally signs aswidsagent.exe hence, it doesn't cause any issue with the computer. But in case it gets affected by any malware or virus attack, it can cause system failure and crashes.
Can aswidsagent.exe affect the network or display performance?
Yes, if aswidsagent.exe is affected by Virus, it starts to cause a system-wide performance issue. It is ideal for keeping a tab on Task Manager and handling such scenarios when they occur.
Is aswidsagent.exe present in other AVG programs as well apart from AVG Free Antivirus?
Yes, the aswidsagent.exe is also present in the AVG software analyser and Behaviour Shield program, so if those applications or features are enabled in the program. There is a chance of it affecting the system performance.
Just like aswidsagent.exe, many such programs keep running on Windows PC. They come with a purpose, and if it gets infected or damaged, it starts to cause system-wide issues. In this post, we have tried to cover all topics related to aswidsagent.exe, do let us know your thoughts about this and how you got rid of it when you encountered a similar issue in the comment section below.